Kensington Market is the 'hip' area of Toronto with lots of independent stores.  There are also hundreds of cafes and restaurants offering up treats from around the world. What better way to explore this area then with a Sweets Tour where you can sample some of the best that Kensington Market has to offer!  Read More...
More Things to do in Toronto with Kids
ROM Museum in Toronto in lots of fun with a kid's area and loads of interactive displays and exhibitions. 
CN Tower is a must do! Not only can you see the view and lie on your back on a glass plate so you can see the ground.
There are huge moose and bears to see, yummy food to eat and if you are very brave and over 13- you can walk around the edge!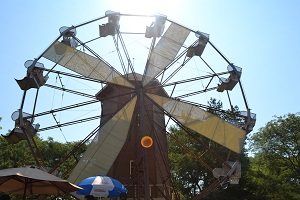 Toronto is a bit of a concrete jungle, but just a 15 minute ferry ride from downtown is beautiful Centre Island. Plan to spend the day with the kids here swimming at the beach,  splashing in the wade pool, checking out the rides at Centreville or catching a bite at a waterfront restaurant!  Read more...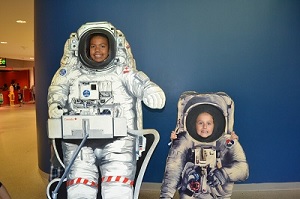 More Fun Things to do in Toronto with Kids!
Want to spark a love of Science in your children? Visit the Ontario Science Centre where there are hundreds of interactive exhibits that they can climb on, touch and experiment with.  There is a specially designed area for those under 8 and plenty to keep the minds of the older kids engaged! Read more...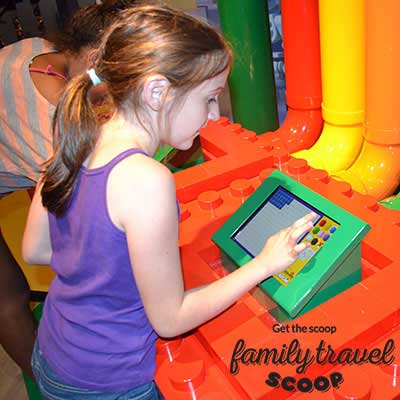 Legoland offers plenty for young kids!  A great way for them to use their imagination to build cars, buildings and more!  Take a class and learn how to build something, watch a 4D movie or climb on the jungle gym!  They even offer up healthy meals in their cafe.  Read more...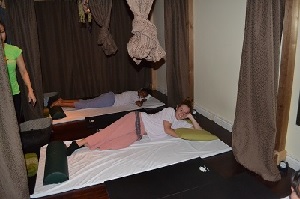 You will no doubt do a lot of walking on your family trip to Toronto!  The perfect way to relax after all that is a Thai massage at Urban Nirvana.   It is a fun activity for teenagers and their parents!  Located downtown in the heart of it all.  Read more....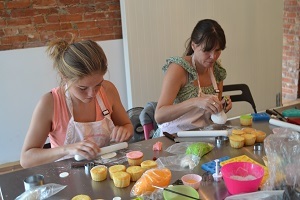 Want to get the creative juices flowing?  Take the whole family to a cupcake decorating class at Le Dolci.  Here you will be shown how to create those pretty designs you see in the window! Learn how to decorate with fondant as well as different piping techniques.  Read more....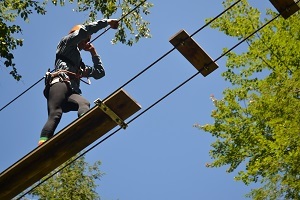 The Treetop Eco Adventure Park is not to be missed!  Spend a few hours with your children enjoying the challenges of this obstacle course in the trees!  There is a children's course just for the little ones or a 3 course adventure that gets progressively more challenging!  Swing, climb and zip your way across!  Read more...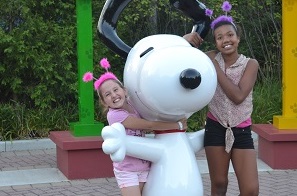 Canada's Wonderland is a guaranteed hit with the kids!  This amusement park is packed full of rollercoasters, spinning rides, a water park, games and shows!  There are gentle rides for toddlers and small kids right up to terrifying, mind blowing rides for the teenagers.  Read more....
Things to do in Toronto With Kids
Family Friendly Toronto Hotels
Banting Inn Toronto
Banting House Inn is a charming bed and breakfast located in the heart of Toronto.  They have a family room that can sleep up to 6 and you are in walking distance to many of Toronto's attractions including a lovely park with botanical gardens!  Not your cookie cutter hotel but a warm hospitable stay in the city! Read more.....
Chelsea Hotel Toronto
The Chelsea Hotel has got it all for families!  They offer family rooms, interconnecting rooms as well as a pool with waterslide,  a kids playroom and a teen centre.  The robot in the lobby is a real hit with the kids!  The Eaton Chelsea is located in the middle of the action in downtown Toronto. Read more...
Family Friendly Toronto Restaurants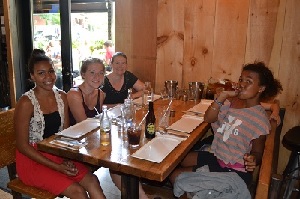 Your family won't go hungry in Toronto with its eclectic mix of everything from dim sum, falafels, jerk chicken and more! One of the standouts for us was Barque Smokehouse which offers up everything from BBQ ribs, chicken and all the trimmings. Delicious!  Read more.
What was your favourite thing to do in Toronto with kids?
More Ideas in Toronto with Kids and Beyond
Touring more of Ontario? 

Check out these:

Seeing the rest of Canada?

Home

›

Canada

› Toronto