Tasty Tours Toronto

Great walking tours for kids in Toronto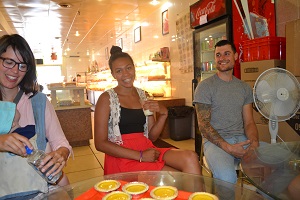 Tasty Tours Toronto runs walking tours which include stops at the best food outlets in the city, but unlike other wine or gourmet food tours this one is for those with a sweet tooth! Tasty Tours has received rave reviews by the Huffington Post, Toronto.com and Yahoo! Canada. The tours are dedicated to all things sweet – chocolate, pastries, cupcakes and candy. Our guide Audrey was amazing! She can tell you about the history of the sweets and how the delicacies are made in all parts of the worlds-it is obviously a passion of hers.
Of course you'll see some cool Toronto neighborhoods on-route but the main focus of the tours is the sweet treats. The company offers two tours, the Trinity Bellwood Chocolate Tour and the Kensington Market Sweet Tour. We went on the Kensington market tour and it was awesome-a  really great thing to do with kids on the weekend! In fact kids between 7 and 12 years get discount prices and under 7s go free so it is a great bargain!
The tours are not history or sightseeing tours, they are really focused on the sweets and having a good time. 
Tasty Tours Toronto:
Kensington Market Sweet Tour
On this tour you'll learn about the history of sweets and visit 6 sweet stores. You'll get to sample a few treats at each location and get discounts if you choose to purchase any to take home. The Kensington Market Sweet Tour will introduce you to a number of multicultural sweets in one of the city's most culturally diverse neighborhoods.  The tour takes about 2 hours and there are a maximum of 10 people in each tour.
We tried delicious egg tarts, churros, doughnuts, chocolates and baklava on our tour- the kids loved it and were so excited to see where we were going next. 
Walking between each store takes 2-5 minutes and so the tour is suitable for people who aren't really into walking. This tour is almost entirely vegetarian and can be partially vegan.
The tour runs on alternate Sundays at 11:30am and costs C$30 per person (including tax) and C$10 for kids.
Tasty Tours Toronto: 
Trinity Belwood Chocolate Tour
For true chocoholics this tour takes you through some of Toronto's smarter neighborhoods, Queen West and Dundas West which are on the edge of Trinity Bellwood Park. The tour visits 5 unique stores where you'll be able to sample the delicious chocolates and chocolatey candy and meet the store owners.
Along the way you'll learn about how chocolate is made and the nutritional value of chocolate. You'll also find out why we crave it so much! The tour is completely vegetarian and can be partially vegan. This tour is run on alternate Saturdays at 3:30pm and lasts for about 2.5 hours. A maximum of 10 people participate in the tour.
The walking part of the tour involves walking 5-15 minutes between each of the stores. The price for adults is C$35 (including tax) and C$15 for kids.
So if you're wondering what exactly you'll taste on this fun and tasty tour...you'll just have to wait and see! Visit the Tasty Tours website to book a tour or get more information.

Things to do in Toronto With Kids
Home

›
Canada

›
Toronto

›
Tours for Kids