Jamaica Family Vacations

Visit Jamaica With Kids
This is our Jamaica family vacation guide because Jamaica is a favorite of ours! You can't go wrong with sun, sand and reggae music! You can sit back enjoy the beaches or explore the island and soak up the local flavour.  The lush countryside will provide you with many child friendly activities like zip lining, river rafting and even bob sledding! Jamaica is not just beautiful beaches-take this opportunity to teach your children about the unique Jamaican culture.
If you are traveling with a baby or toddler you will be able to buy diapers in the grocery stores in town. They are harder to find in the resort areas. They are generally more expensive than back home though!   The pavements are in a state of disrepair so strollers are not very useful (though a lightweight stroller may be handy around the resort). A baby knapsack or carrier would be ideal.
---
Jamaica Family Vacation
Negril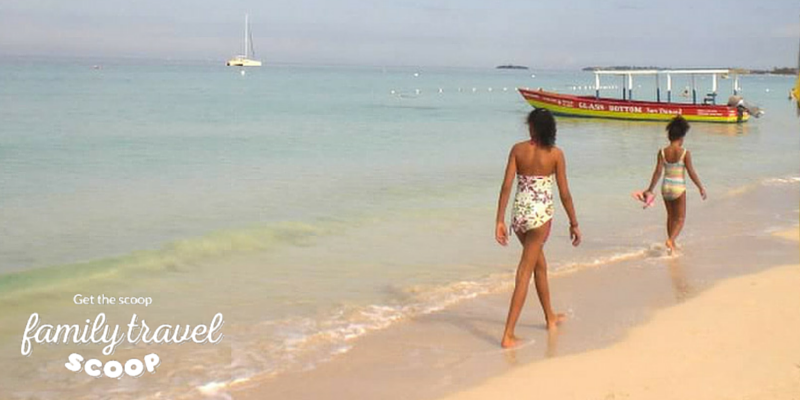 Negril is one of the most popular spots in Jamaica for a family holiday! You can't go wrong with 7 miles of beach and stunning cliff side restaurants where you can watch the sunset. You can really experience the laid back vibe of Jamaica here!
There is plenty of fun attractions to keep the family entertained here. Kool Runnings water park is always fun as well as a visit to watch the cliff divers show off at Rick's Cafe! Check out these
Negril has the best of both worlds, choose from fun all inclusive family resorts with all your meals, drinks and activities included or choose a small Negril hotel where you can experience all that Jamaica has to offer.
Jamaica Family Vacation
Montego Bay
Montego Bay is home to the lively Hip Strip where you will find beautiful beaches, great shopping and tasty restaurants. Step off the plane and your vacation begins!  There is lots to explore with your brood-don't miss the river rafting on the nearby Martha Brae or feeding the birds by hand at the Rockland bird sanctuary.
If you prefer to book independently there are many choices of lovely family hotels. Or if you would rather stay in an all inclusive resort, there are several family friendly options!
Jamaica Family Vacation
Ocho Rios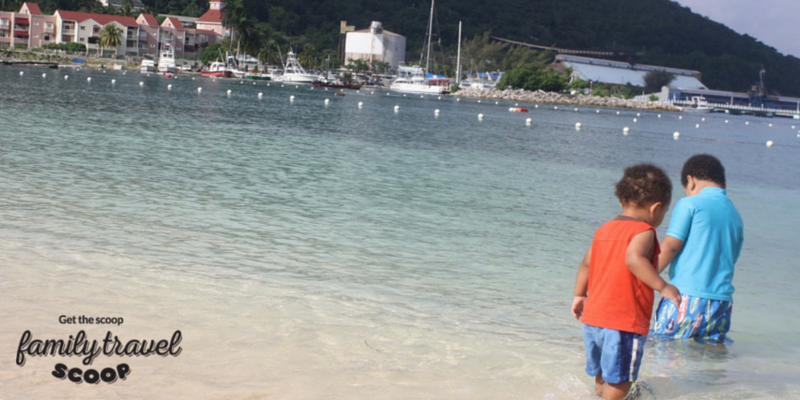 Ocho Rios is a great town to visit. It is home to the famous Dunn's River Falls (which your family can climb!). It is popular stop for cruise ships and has lovely beaches.  Older children won't want to miss a chance to climb the amazing waterfalls as well as ride the bobsled down the nearby Mystic Mountain!

If you prefer to have entertainment, meals and drinks all taken care of then choose one of the fantastic all inclusive options in Ocho Rios. Or if you want to enjoy the local scene a bit more than stay at one of the family hotels in town.
Jamaica Family Vacation
Jamaican Food For Kids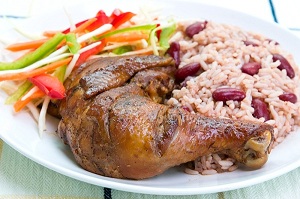 Jamaican food is delicious. My kids love it-we have to make regular visits to the Jamaican restaurants in our town when we are missing it! There is nothing better than jerk chicken from a street side vendor with fresh sour dough bread and a refreshing juice! Some of the highlights are:
Curry Chicken
Ackee and saltfish
Fresh baked beef patties
Soursop juice

Don't miss out on these Jamaican food your children will love!
More family travel articles!
---
---
Home

›
Jamaica
---