Wilderness Tours : A Cool Thing to do with Kids

White Water Rafting in Ontario, Canada
We had an amazing adventure with Wilderness Tours on their Gentle Family Rafting Trip on the beautiful Ottawa River. Now this is something every family should experience!  

It was the perfect mix of tranquil paddling along the majestic river where we could soak up the fresh air and amazing views combined with lots of heart pounding experiences as we navigated the rapids both in and out of the raft!  
We were greeted with a smile and a laugh by Bonnie at the front desk who welcomed us to the resort.    Betty was the head trip guide for the day as well as our own river guide.  She has 19 years experience and we felt very safe the whole day!  She was also lots of fun to hang out with and very kind to our children.    Our group consisted of 2 moms, 2 teenagers and an 11 and 9 year old.  (Minimum age for the Gentle Family Rafting Trip is 7 years old).    
We had our initial orientation course, rented our wet suits (complimentary wetsuits for kids under 12) and a go pro (helmet cam) and boarded the bus.    At the equipment shack we got our life jackets,  helmuts and paddles.  Here we had our safety briefing and boarded our rafts.   The river guides are a friendly and fun loving bunch but we could also see that Wilderness Tours and the river guides takes their guests safety very seriously.   
We paddled along the calm waters , enjoyed the scenery and practiced our paddling and white water rapids techniques.    The first rapids were definitely the craziest of the day!  We had a second guide hop on our raft to help us out. Betty and Tom expertly navigated the rapid as we screamed in terror (the moms!) and excitement (the kids!).   This one definitely gets the heart pounding and if you get through this rapid you know you can handle the rest!   One of the rafts did flip completely over and evict its passengers,  we watched all the guides spring into action and quickly help everyone to the shore.   A couple of kids did get a bit banged up. They were not wearing their complimentary wet suits which would have helped prevent their scrapes and bruise. The staff were very caring and made sure the kids were happy and smiling before boarding the rafts to continue along.
We floated along and went through another set of rapids, took a quick dip in the river and had a few water fight battles with the other rafts.    Next up was the Butterfly rapids where we body surfed through the rapids, yes no comfy raft to protect us, and yes the Moms did it too!  We were directed to the right spot to swim out to then we floated on our backs and let the current sweep us through the rapids.  This part of the Wilderness tours are optional but it is one of those things where you are thinking-hmmmm do I really want to do this?  And then after you are so glad you did!  It was loads of fun! We didn't even panic as we watched all 4 of our kids continue riding the current down the river as we could see the guides ready to catch them down stream.    After that we paddled straight up to a rapid and enjoyed our own raft jacuzzi as the waves pummeled us.
Lunch was delicious! We stopped along the shore where we were greeted with a cup of piping hot soup, trail mix, chips and drinks as we waited for the BBQ to fire up.   We had our choices of chicken burgers, hamburgers, hot dogs,  sausages and veggie burgers.    The lunch site has toilets,  a fire to warm up next to and lovely big rocks to catch some sun on and enjoy the view of the waterfall. 
With our belly's full and our batteries recharged we continued on down the river.   There were a few more rapids to experience.   The kids loved jumping in the river and holding onto the raft as they floated through one of the more gentle rapids and doing 360 degree turns in the raft as we crossed one of the more exciting sets of rapids! 
At the end of our adventure we enjoyed a cold drink as we boarded the bus back to camp!   What an amazing day we experienced together as a family.   Fresh air,  amazing scenery,  lots of laughs and  excitement and some good old fashioned exercise!   We LOVED it!!    
More Wilderness Tours Info
You can turn your Gentle Rafting Tour into a 2-day adventure with the raft and rod tour where you also do some catch and release fishing and enjoy some fun on an inflatable kayak.  Wilderness Tours offers all kinds of tours including the High Adventure Rafting Tour (ages 13 and up),   kayak tours and lessons as well as mountain biking rentals.    Bungee jumping is also available for those 18 and up (shoot us moms just didn't have time to fit that one in-we were too busy sipping watermelon cocktails at the bar).
Details of all the Wilderness Tours available here.  
The Resort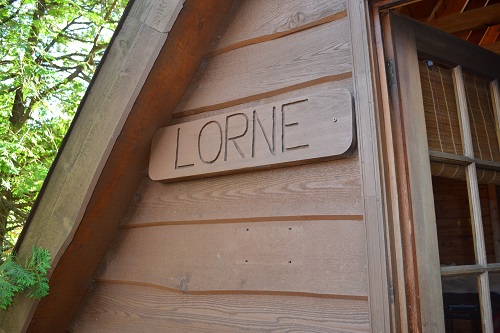 We stayed overnight in one of the beautiful chalets at the resort.   It slept all six of us comfortably and we even had a 3 piece bathroom,   mini fridge, coffee maker and space heater.   Now this is my kind of camping!    Tenting,  cabins and lodge accommodation are also available.  
We had dinner and breakfast included with our stay.   Dinner was great- we started with the salad bar and then feasted on steak, baked potatoes, mushrooms and cheese cake. 
The  kids had chicken fingers and fries.   We had a hearty breakfast before we headed out on our rafting trip.   Fresh fruit, bacon, eggs and home fries and lots of coffee!
The resort has plenty to keep everyone entertained.  With a swimming pool, hot tubs,  pool tables and live music at night! It was quite lively in the evenings with everyone hanging out by the fire pit enjoying a beer or cocktail.    Each night there is a kids movie with complimentary popcorn.  
They have a rock climbing wall, kayaks and stand up paddle boards to try out as well as volleyball courts,  horseshoe tossing and a giant chess board.
The kids are already asking to go back-we all agreed this was one of our greatest adventures yet!
Home

›
Canada

›
Ottawa

›
Wilderness Tours