Unforgettable Family Vacations in Vietnam

Vietnam with Kids
Family vacations in Vietnam are filled with exciting experiences. There are lots of unusual things to do in Vietnam with kids. It has a diverse landscape with beautiful beaches, the stunning Karst mountains in Halong Bay and bustling cities such as Hanoi! And hey you haven't really lived until you have crossed a street with your family during rush hour!

Vietnam is a great place for teenagers. They can spend hours exploring the markets for clothes, DVDs and souvenirs (believe me-mine loved them!) Children will enjoy visiting one of the cultural theme parks or a ride on a cyclo through those crazy streets. Toddlers and babies will thrive while watching a water puppet show!


Citizens of most countries do require a visa to enter Vietnam. If you come from a country that does require a visa each family member (including children) will require one. You must make these arrangements before you travel.

It is a bit chaotic on arrival-at least it was for us - we had the visas but had to wait in line. Suddenly the officers went to lunch and left us there saying we needed to wait one hour before they came back! My sister and her kids made it through and had to wait on the other side for us. Anyway, it wasn't the best start to the trip but we still love Vietnam.
Cultural Activities + China Country Facts + Country Games + Coloring + Fun Quizzes and more for kids 4-13!
Vietnamese Food For Kids
Your family will get to taste the delicious Vietnamese food. The fresh fruit ice cream in Vietnam is a great treat for the kids. Crispy spring rolls and Pho noodle soup are usually a hit with kids!

One of the best things to do in Vietnam with kids is to take a cooking class together. Don't miss out on sampling the many exotic fruits. We did this and my kids loved it - it is great because now we can recreate some of the meals back home in Canada!
Hanoi With Kids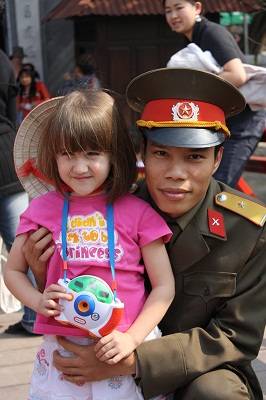 Hanoi is a great place to begin your family vacations in Vietnam. This bustling city has lots of exciting things for your kids to discover. The Old Quarter has lots of sights to explore including temples, fruit markets, night markets and local Vietnamese restaurants. There are several peaceful parks and lakes to visit when you want to escape the hectic streets for a while with your family too. We went to the lake everyday and got ice-cream for the kids and just people watched from the benches.

If you are wondering where to stay in Hanoi with kids, we will recommend some fantastic Hanoi family hotels. There are several budget friendly hotels (really good deals!) to choose from as well as serviced apartments and luxury accommodations.

There are lots of unique things to do in Hanoi with kids. A visit to the water puppet show is a must do. The kids will also learn a lot from a visit to the Museum of Ethnology where they can explore the houses of various minority tribes and play some local games.


Halong Bay With Kids
Halong Bay should be at the top of your list for places to travel to in Vietnam with children. The views are amazing. After a few days in Hanoi you will want to enjoy some peace and quiet. believe me!
I love this place -it is amazing! Really breathtaking views!

Spend a night or two on a traditional Vietnamese junk. Your children will have a great time exploring the caves, fishing for squid or learning tai chi when you travel to Halong Bay. This is one of the most beautiful places in the world and was recently named one of the Seven Natural World Wonders.
Ho Chi Minh City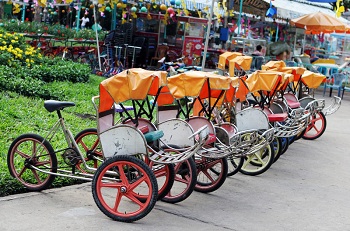 Ho Chi Minh City, or Saigon as it is also known, is another great destination for families traveling in Vietnam. This city is located in the south and is steeped in history. It is located near the Saigon River.

There are several options for family friendly Ho Chi Minh hotels. There are serviced apartments, luxury villas or cheap family hotels to choose from.

Ho Chi Minh City has lots of family friendly attractions. The kids will enjoy a trip up the Saigon River to see life on the water. The Cu Chi tunnel will give them some insight into the Vietnam war. There are several cultural theme parks with rides, games and shows that the whole family will enjoy. Check out the best things to do in Saigon with kids.


More family travel info!
---
---
Home

›
Vietnam