Things to Do in Ottawa with Kids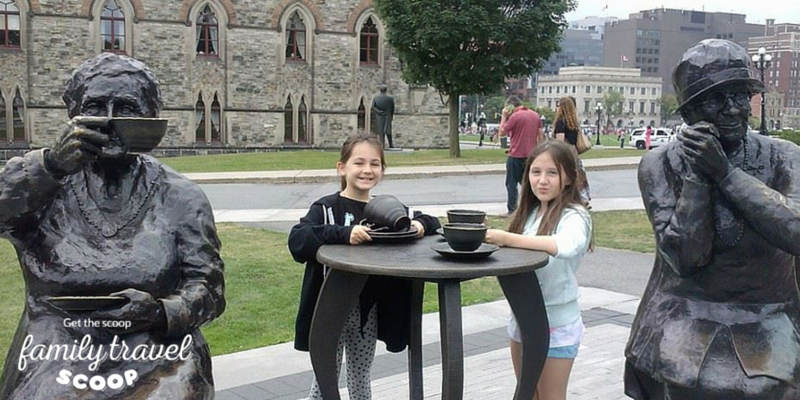 There are so many great things to do in Ottawa! Ottawa is a fabulous place to visit with kids!   Canada's capital city provides plenty of fun attractions for children of all ages.  It is a lovely city with lots of green space and parks and a great walking path along the Rideau Canal.   Just across the river is the beautiful Gatineau Park with beaches, trails and unforgettable beauty in the fall.    There are plenty of family-friendly festivals including Winterlude, the Tulip Festival and you can't beat Canada Day celebrations at Parliament Hill.
Things to do in Ottawa & Gatineau 

Visit Paul's Boat Cruises and enjoy an exciting cruise down the Ottawa River. Beautiful scenery and interesting facts. The kids love sitting at the front of the boat and pointing out the sights! There is a light food selection on board if you would like to have an ice cream or a snack while on board!
Visit Byward Market and explore the trinkets and shops. Make sure you stop and have a Beavertail- a Canadian treat of a pancake-like dessert with Nutella or other yummy toppings! There are often street performers and other entertainment going on as well!

Calypso is the biggest waterpark in all of Canada. There are a 100 acres filled with water playgrounds, slides, aqua loops, wave pools and lazy rivers.  Don't miss out on this family attraction on a hot summer day! We spent a full day here and all the kids want to go back! There are some pretty cool slides and wave pools to enjoy! This really is an all age attraction -there is something for everyone from babies to teens! One of the best things to do in Ottawa!Read more....
The Haunted Walk will thrill the kids with spooky ghost stories on this excellent guided tour of some of Ottawa's most famous landmarks!   Take a  stroll along the canal,  through the parks and around the town and hear about some of the supernatural experiences.  Read more..
Little Ray's Reptile Zoo is a fun day out for younger kids.  With cobras, alligators, tarantulas and huge birds kids are sure to love Ray's! Getting close to many reptiles and learning about their habitats and feeding sessions, make for a great day out for kids! A lovely thing to do in Ottawa!
Valleyview Animal Farm is a great place to get up close personal with animals! With puppet shows and train rides, petting zoos and educational talks kids will love this place!Llamas, horses, sheep and ponies are housed at the farm. Don't forget to visit the duck pond!
More Fun Things to do in Ottawa with Kids!
Funhaven

is one of Ottawa's newest attractions.  There is no way your kids can be bored here-with bumper cars, climbing walls, ball rooms,

laser

tag, arcades and more!   Great for kids of all ages from babies to teenagers and yes even you big kids! 

Read more...

A visit to Nordik Spa-Nature is a must do for those travelling with older teens (16 and up)!  This outdoor spa has it all: hot pools, cool pools, saunas, massage services,  hammocks and bean bag chairs.  Experience the beauty of the Gatineau Hills while pampering yourself! This is one of the most interesting spas we have visited outside of Europe. Our teens had such a great time being pampered! The spa is located in Chelsea, Quebec about 20 minutes drive from downtown Ottawa. Open season round so you can sit in the hot tubs in the snow as well!  Read more...
Cool off on a hot summer's day at Mont Cascades waterpark.   Pools, water playgrounds, slides and plenty of rides to keep the whole family happy! Everyone loves a cool down in the summer.   

Read more...



More things to do in Ottawa with Kids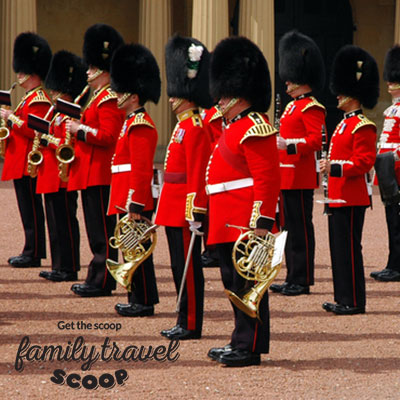 Changing of the guard at Parliment Hill is a must do as well! Kids just love picking a spot on the ground and watching the 15 minute ceremony. It's very colourful and watching the guards is a unique experience (much like the one at Buckingham Palace in UK). This runs only in the summers. 

If you visit in the summer be sure to check out the

light show at Parliment hill called Mosaica! It is a bit late

but older kids and teens will love it!
Canadian Children's Museum is a great place to visit for kids of all ages. Children are given their own passports and then travel the world and visit a variety of traditional landscapes in the museum. It is highly interactive with dress up, puzzles and lots of hands-on activities to partake in. You can spend hours here so allow enough time! 
Read more about Ottawa at Tourism Ottawa. Ottawa is hosting the women's FIFA World cup this summer!


Family Day Trips From Ottawa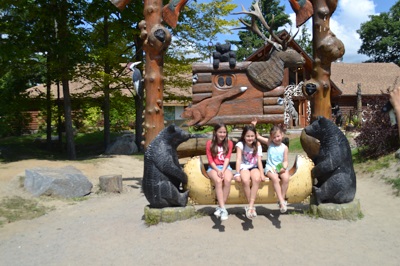 A wonderful day out in Montebello just an hour from Ottawa is at Parc Omega! See Canadian wildlife up close- deer, moose, beavers, bears and more. Don't visit this beautiful, scenic experience.
Whitewater Rafting in Ontario
Are you looking for an adventurous family outing?   Wilderness Tours is all that and more!  Spend an exciting day white water rafting with the kids.  Stay at the resort where you can camp in a tent or stay in a cabin,  rock climb, kayak and relax by the fire!   Read more....
Things to Do in Eganville
Eganville is located about an hour and a half from Ottawa and has plenty to keep the whole family entertained.  The highlight will be a tour of the famous Bonnechere caves where you will learn about the cave system and fossils found in the area.  Stop by the museum to learn about life in the days past.  And don't miss out on a walk along the new Geoheritage trail where your children can hunt for their own fossil! 
Canada's Wonderland
Canada's Wonderland is one of the best amusement parks in North America.  It is just over 4 hours from Ottawa but it can definitely be done in one day!  It is well worth the drive to have an exciting family day out. There is something for everyone here.  Loads of roller coasters, kiddie rides, water park, shows and amusement games. Read more....
.
Things to do in Montreal with Kids
Montreal's Botanical Gardens are a feast for the eyes with magnificent flowers, trails, ponds and paths. With over 22,000 species of plants your family won`t be bored!  There are themed gardens including an exquisite Chinese Garden that is not to be missed.  Kids will love the specially designed playground, greenhouses filled with exotic plants and the cute bonsai trees!  Montreal is less than 2 hours from Ottawa.
Home

›
Canada

›
Things to do in Ottawa