Things to do in Niagara Falls With Kids

2018 Canada Family Travel Guide
Going to Niagara Falls with kids? Here's our top 10 things to do!
Niagara Falls is a perfect spot for a family trip! It has a little bit of everything to keep everyone happy including great golf courses and wineries for Mom & Dad.
I have great memories of visiting Niagara Falls as a kid and finally made it back to visit with my own children. They absolutely loved it! I'm sure your family will too! You will want to stay on the Canadian side of the Falls-that is where all the action is.
Best Things To Do in Niagara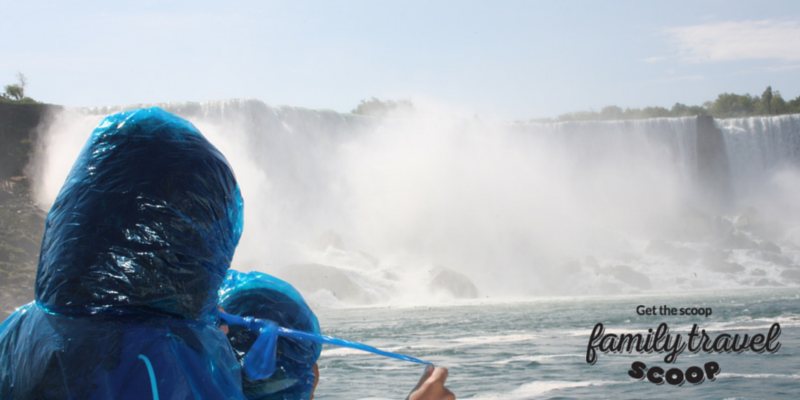 Stuff to do in Niagara Falls with Kids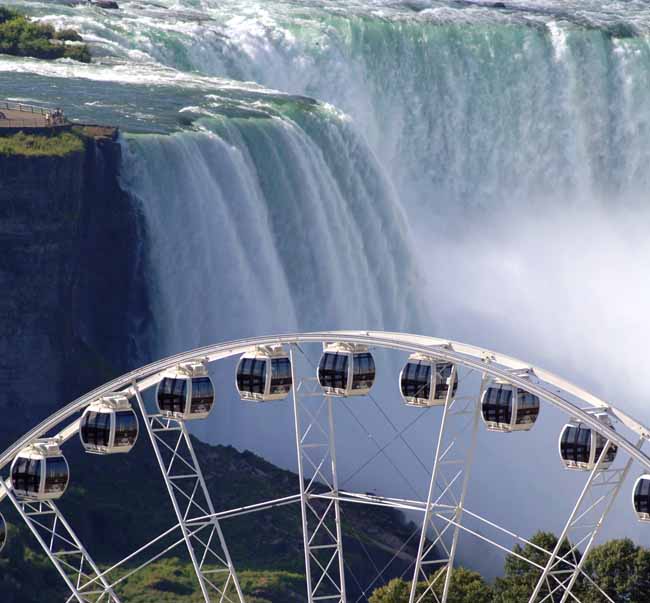 Niagara Falls
The Falls truly are one of the best natural wonders of the world! There are actually three sets of waterfalls, the Horseshoe Falls (on the Canadian side) and the American and/or Bridal Veil Falls on the US Side.
Table Rock Centre gives incredible views at the brink of the Horseshoe Falls. There is a railing for safety-just be sure the kids don't climb up on it.
You will feel the mist rising off the falls here-it's a great way to cool off on a hot sunny day. Every evening the falls are lit up with colorful lights and on holidays there are firework displays! A must seen when you are in Niagara Falls with kids!


The Niagara Parks Commission offers an Adventure Pass which is the best way to really experience the Falls. It includes the following activities at a discounted price (Kids age 6-12 have a reduced price and kids 5 and under are free) :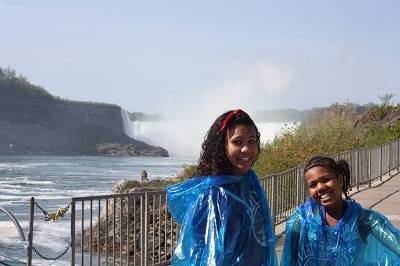 Maid of the Mist Boat Tour
This famous boat ride has been in operation for 165 years! You don't want to miss this one when you're in Niagara Falls with kids. Yo

u will receive a blue rain coat to wear and they do have child and toddler sizes too. It is a half hour ride and you start by passing by the American Falls and Bridal Veil Falls where you will get your first blast of the mist! Then its into the base of the Horseshoe Falls where you really get soaked! The boat bobs up and down in the waves and you can really feel the power of the water. It is quite exciting for kids. The railings on the boat are high here-so no need to worry and they have never had an accident. If you are travelling with a baby you can bring your stroller on board or leave it at the dock. Just be aware it might get wet if you bring it.
Journey Behind The Falls is another way to experience the Falls up close! You will don another raincoat and descend in an elevator to the base of the Horseshoe Falls. Kids will love exploring the tunnels and hearing the roar of the Falls. There are lookout points where you can feel the water pounding down beside you! This is also fully accessible with a baby or toddler in a stroller, though will be more interesting for older kids and teenagers!
Niagara's Fury is a wonderful 4D movie experience! Again you will receive those cute rain jackets to wear-yes even to the movies! (Toddler and Children sizes available). It starts with a short animated film that is perfect for kids. It is filled with lovable characters such as a beaver and white owl. It tells the story of how Niagara Falls was created. After that you head to the specially designed theatre. You stand on the stage where it snows, rains and shakes! My kids loved this! It does get dark and thunders and lightening a bit-so younger children may be frightened. You can bring strollers into both movies if you are traveling with a baby. One of the best ways to experience Niagara Falls with kids!
White Water Walk is also included in the Adventure Pass. It is a lovely stroll along the Niagara River's edge on a wooden walkway. There are lookout points with benches and you can watch the tumultuous river with its class 6 rapids! It is quite beautiful here-cool and refreshing. Ideal on a hot summer day. It is completely accessible for those travelling with babies or toddlers in a stroller or pram.

More Things to do in Niagara Falls with Kids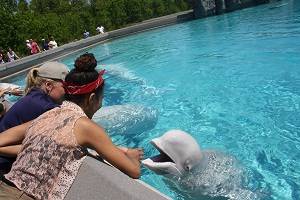 Marineland
This is a wonderful place for families. You can start the day with the show at the King Waldorf Stadium Show. Here the kids will be delighted with the dolphins doing tricks, the adorable seals and the show stealing walruses! After you can head to the amusement rides. There are plenty of rides for young children including a mini roller coaster and several fun spinning, twirling rides. Older kids and teenagers will love the Sky Screamer ride with some of the best views of Niagara Falls from way up top! Marineland is also home to the world's largest steel roller coaster!
You can buy food to feed the black bears (you throw it to them!), fish and deer. One of the best things we did in Niagara Falls was feed and touch the beluga whales! My children loved this! You can feed them fish and touch their heads-amazing! (fee). There is plenty to do for the whole family here and you could easily spend the day checking out the aquariums, shows and rides! There is quite a bit of walking involved here-so bring a stroller or wagon for the little ones, or you can rent strollers at the entrance. Another friendly place to visit in Niagara Falls with kids and even toddlers!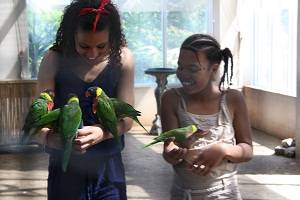 This is a great attraction for babies, toddlers and children in Niagara Falls.

---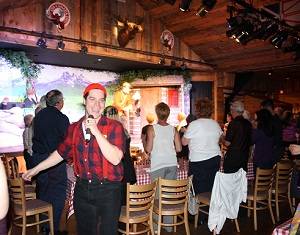 Oh Canada Eh? Show
Want to learn a bit about the Canadian culture? This is a fun interactive show featuring all things Canadian. Your kids will love singing along to the songs and dancing in the aisles. The Oh Canada Eh? show features some fun Canadian characters including a fisherman,a Mountie, Anne of Green Gables and a lovable hockey player. 
Dinner is included and it's delicious. You start with salad, French Canadian pea soup and fresh bread. This is followed by a selection of fish, chicken and roast beef from all over Canada as well as potatoes and veggies. Desert is maple chocolate cake! The show is funny and well suited for kids of all ages. Best part of all is kids are free with parents (1 child per paying adult). Don't miss this when you go to Niagara Falls with kids!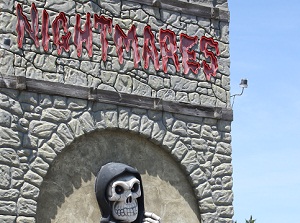 ---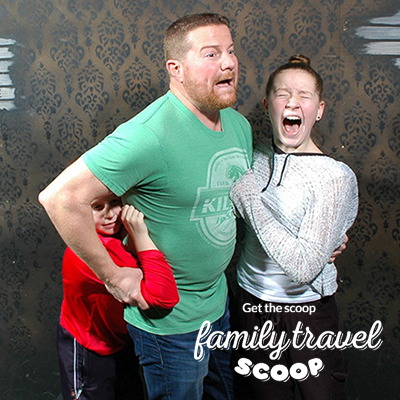 Nightmares Fear Factory
There are lots of haunted houses in Niagara Falls but if your children really want to be scared bring them to Nightmares! Over 100,000 people have chickened out-it's that scary! I won't ruin the surprises, but let's just say there are lots of twists and turns and unexpected encounters! Now there were no chickens in my family but lets just say I was hanging on tight to my teenage son the entire time as we screamed and laughed our way through.
This is better suited for older kids and teenagers or families with truly brave young children! You can even get photos at the end of your family screaming in fear! My children declared this-amazing! If you want to experience Niagara Falls with kids to the fullest, be sure to drop by Nightmares Fear Factory!

---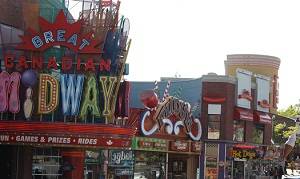 Clifton Hill is incredibly fun! It is filled with arcades, 4D movies, haunted houses, mini golf, mazes, laser tag and lots more! The Skywheel will give you can great views of the falls as you travel in a climate controlled cabin with your family. A nice place to visit for the day near Niagara Falls with kids!
Ripley's Beleive It or Not Museum will keep everyone entertained with their strange and unusual collection. Guiness World Of Records is worth a visit too, where you can see how you measure up to the tallest man, fastest drum player and fastest rubik's cube solver! If you are travelling with toddlers and small children you won't want to miss out on Brick City where you can see Niagara Falls made out of toy bricks. The Fun House and Bronto's Adventure Playground with climbing structures and ball pits are also great for the little ones.

---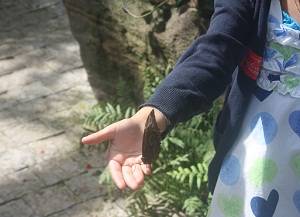 Niagara Butterfly Conservatory is another must do in Niagara Falls with kids. It is a tropical setting with thousands of butterflies flying around. Children will love catching them as they land on their hands! There are many pretty ones including the famous huge blue morpho butterflies. We spent about an hour here-just enjoying the peaceful setting (even though it was packed!) and watching these magnificent creatures flutter around us.
The conservatory is located in the Botanical Gardens. There are beautiful grounds to stroll and lots of shady lawns that the kids can run around on!

---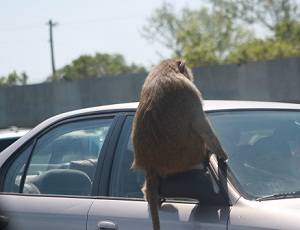 African Lion Safari is located about an hour and a half away from Niagara Falls and is well worth the drive. It is only about a half hour out of the way if you are driving via Toronto. There is lots to do here! Start with the drive through safari. You will see lions just feet from your car, monkeys might hitch a short ride on your roof or sideview mirror! Zebras will walk up to your car as well as some nosy giraffes. Just remember to keep all the windows up! Your children will be thrilled to be so close to all these amazing animals.
After the safari you can watch the elephants swim. They walk in a line holding trunks and tails-my daughters loved this. Then they scamper into the lake and splash around-great fun to watch. You can take a short boat ride and mini train ride around the park to see more animals. Don't miss the shows featuring elephants, parrots and birds of prey. Children can cool off in the water park or climb up on the play structures. My kids loved visiting African Lion Safari! This is one of the most exciting place to visit in Niagara Falls with kids!

---
Don't miss out on these Niagara Family Travel Articles!

---
Home

›
Canada

›
Niagara Falls Attractions