Best Toronto Bicycle Tours
Flowers, Cows & Chocolate Family Bike Tour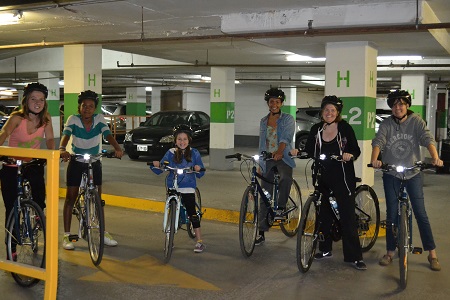 Toronto bicycle tours are the best way to explore Toronto! Family bike rides are sooooooooo fun! 
You can cover so much more ground then on a walking tour and you get to see all hidden nooks and crannies that you would miss while driving, taking a bus or the subway.  
We had a fantastic time on the Flowers, Cows & Chocolate Tour with Toronto Bicycle Tours.  Terrence and Cynthia were our guides for the day.  Terrence is a wealth of knowledge, full of interesting facts and tidbits about Toronto's history.   His passion for the city shines through!   Cynthia was our 'back of the pack' guide who made sure the whole gang was safe and having a great time as we toured the streets of Toronto. 
We started off with our safety briefing and did a quick test ride of our bikes. Helmuts, water and granola bars are provided.   Kids bikes are available too.
It was a sunny day and the perfect day for a bike ride.  We headed to the beautiful University of Toronto campus, which inspired the teenagers amongst us to want to attend this historic school one day.   We had a picture perfect view of the CN Tower with the campus greens as the backdrop.   
More Toronto Bicycle Tour Info!
Our first stop on the tour was at the Allan Gardens.  We explored the gardens and saw the orchids, cacti,  palm trees and flowers.  The kids loved seeing the turtles and fish in the ponds.
We rode around some of the neighborhoods nearby and admired the lovely Victorian houses with their colourful gardens.   Next up was the Riverdale Farm.   Here we had a chance to visit an 1800 era farm complete with animals.   Chickens, horses, pigs, sheep and the most adorable goats!  This was of course a big hit with the kids.
A refreshing ride along the Don River bike trail with the cool breeze blowing brought us to the historic Distillery District.  The once booming industrial area has now been converted into a trendy area with upscale boutiques and cafes. We stopped at Soma,  a chocolate maker,  where we sampled some of these delicious sweet treats.   Apple harvest truffles,   single origin chocolates from around the world, 8 year old aged balsamic vinegar chocolate, pineapple truffles and even a pop rock filled chocolate were some of the highlights! 
With our extra energy from the chocolate we pedaled by the financial district's skyscrapers and back to the bike warehouse.    What a great experience we had: enjoying the fresh air, some good old fashioned exercise and falling in love with the vibrant city of Toronto!   Highly recommend this tour for families with children and teenagers.
Things to do in Toronto With Kids
Home

›
Canada

›
Toronto

›
Toronto Bike Tours