Moving Abroad with kids? You need this!
A Children's Book and Moving Overseas Activity Journal


Download It Here!

Sammy's Next Move is the story Sammy The Snail who is moving to a new country! He is a third culture kid or a global nomad. Read all about his expat adventures!
He is worried about missing his friends and family back home and having to make new friends. He is worried he won't like the place he is moving too.
So many new things to experience-a new home, new school, new culture, new food!
Read Sammy's Next Move with your child and see how Sammy deals with his move overseas! If your child is a TCK or is going to become a third culture kid then this is a great book to start talking about the feelings and emotions he or she may be going through.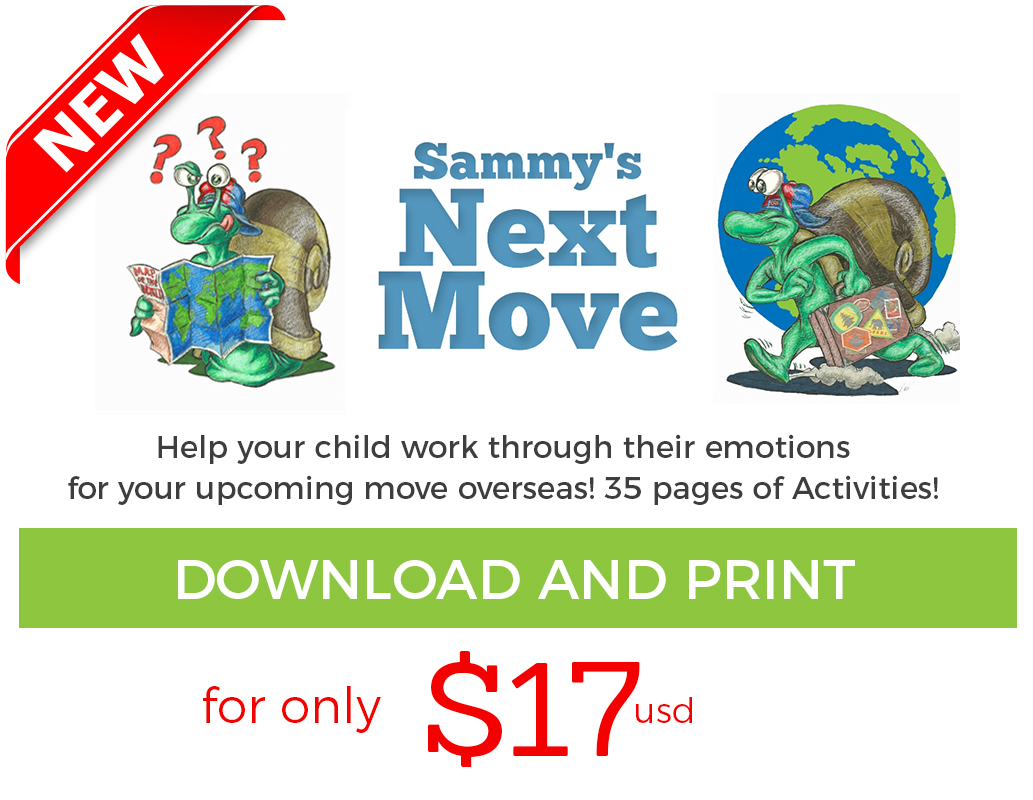 Help your child alleviate the fear and anxiety of moving to a new country by reading about Sammy the Snail's relocation to a new culture. Moving to a new country can be stressful for children but if you prepare them well children are also very resilient!
Read Sammy's Next Move with your child to prepare them for an exciting adventure living abroad! Moving overseas can be one of the bet experiences of your child's life with proper support and preparation!

Watch a video about the book

Sammy's Next Move is written by Helen Maffini. She moved to Japan when she was a child and experienced first hand the struggles of facing a move to a new culture. She has two children now herself and has moved to eleven different countries with her kids (a real international family!)
Helen is working on her Doctorate in Education and has worked in many international schools and government reform projects around the world. She has helped countless children transition to a new culture. Sammy's Next Move is her second book, she is also the co-author of Developing Children's Emotional Intelligence.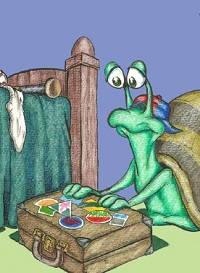 Moving Abroad with Kids
Fun TCK Project ideas are included with Sammy's Next Move that you can do with your kids to help your child adjust to a new culture. A great opportunity for children living abroad to explore their new culture and manage their emotions
Your child will learn its OK to miss their friends and family back home and they will learn strategies to keep in touch with everyone and create reminders of the great memories they have in their home country
Sammy is a snail and he carries his home on his back! A snail was chosen because third culture kids (TCK) or global nomads make their home wherever their family is. Your child will enjoy reading about how Sammy celebrates his family traditions in his new country and realizes that home is wherever Sammy the Snail and his family are!

Print a PDF copy to print or read on your computer

| | |
| --- | --- |
| Sammy's Next Move .pdf $7 | |
| Sammy's Next Move Activity Pack $17 | |
| Combo: Sammy's Next Move Book (.pdf) & Activity Pack $20 | |
---
Order Sammy's Next Move Book Version

ONLY $12.99





/center>

Order a print copy of Sammy's Next Move to be delivered to your home!

ONLY $12.99




Testimonials

I bought this book for my son before our move to Dubai-it really helped him with the transition! Thank you! Paul, Uk

My daughter Rachael struggled when we arrived in Spain from the US. We came across your book at the school and it has really helped her to openup about how she is feeling. Marisa, Spain

I used this at HKIS and this is a fantastic resource for our expat kids! Jennifer, Hong Kong

Home

›
Moving Overseas