LEGOLAND Toronto

Things to do in Toronto with kids -Legoland Discovery Centre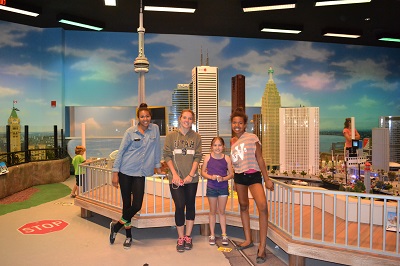 Legoland Toronto in Canada is considered one of the top family attractions in the city, if your kids love Lego bricks and building things then they'll love the LEGOLAND discovery centre. And if they don't already love Lego then they will after a visit here!
There are 3 million bricks in all on the site but the experience is not just about hands-on building.

At Legoland, Toronto the famous little bricks are featured in 4D movies. The audience puts on 3D glasses and becomes part of the action. One of Lego's most recent products – Legends of Chima is featured in the 4D films.

In the Lego Racers: Build and Test Zone kids can build trains, planes and automobiles and then test to see how fast they move. There are two exciting amusement park type rides at Legoland, Toronto. Merlin's Apprentice is a pedal ride which takes kids up into the stars. The Kingdom Quest Laser Ride sends kids off in a chariot to rescue a princess. Kids have to zap the enemies with lazar lights as they go along their rescue mission.
At "Lego Friends" kids can perform and sing karaoke on stage using a microphone they have built. For younger kids there is the Lego Construction Site where there are soft play areas, slides and soft building blocks.  At Legoland, Toronto's Miniland you can see Toronto's iconic attractions which have been created out of Lego.
 It is recommended to pre-book your Legoland Toronto tickets online to have guaranteed and priority entry. Once you arrive at the site you will need to book a time-slot for your priority entry. Adults pay C$ 22, children C$18 and kids 2 and under enter for free. These prices do not include tax. This gives you access to all the attractions and rides (including the 4D cinema). Adults must be accompanied by a child in order to enter. You can also buy an Activity Pack for C$5 which includes puzzles, stamps to collect, a limited edition Pop Badge and the LEGOLAND Discovery Center Yellow Lanyard.
Legoland Toronto Details
Legoland, Toronto is open 10am-9pm Monday to Saturday and 11am-7pm on Sundays. A visit to Legoland, Toronto can take between 2-3 hours but you are welcome to stay as long as you want.
The attraction is best suited for 3-7 year olds.
Legoland, Toronto is located at 1 Bass Pro Mills Drive, Vaughan, Ontario and there is free parking available.
Other important things to note when visiting Legoland, Toronto with kids is that socks are mandatory and if you forget yours then socks can be purchased for $1.
Also visitors are not allowed to bring food onto the premises (except if there is an issue of food allergies etc). If you want to stop for a snack there is a convenient café on site with some very cute kid friendly snackpacks.
The last stop before leaving Legoland will probably be at the Legoland store where kids will want to buy some Lego to take home.
Visit them at: http://www.legolanddiscoverycentre.ca/toronto/
Things to do in Toronto With Kids
Home

›
Canada

›
Toronto

›
LegoLand Toronto