Banting House Inn Toronto

Beautiful Family Friendly B&B in Downtown Area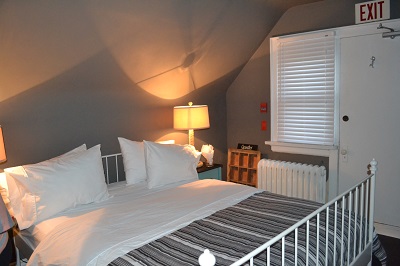 Banting House Inn
If you'd like to have a truly unique experience staying in a bed and breakfast which epitomizes Canadian character and hospitality then the Banting has something special to offer. The recently renovated rooms are inspired by the paintings of Dr. Frederick Banting. Scott the innkeeper is a charming person who went out of his way to welcome us when we arrived.

Recently the Banting House Inn and Bed and Breakfast has been brightened up and new beds, mattresses, sheets, pillows and towels have been added to the already bright mix of antiques and modern furniture. Online reviews by former guests all rave about the friendly owners, comfortable and stylish surroundings and the excellent location in downtown Toronto and we would have to agree -it is not to be missed!

Each room in the Banting House Inn has its own style and is suitable for a different kind of guest. There is The Prairies Room a deluxe room with a queen size bed which reflects the Canadian canola fields; The Jasper named after one of the country's greatest national parks is a quite retreat from the rest of the house as it is on the third floor; The Algonquin overlooks the garden and has one double bed, it is best for guests seeking peace and quiet;
More About the Banting House Inn
The Maritimes with a queen size bed is inspired by the quaint east coast; The Banting with a queen four poster bed is inspirited by the artistic style of Banting and the Canadian Room which is the largest room with two queen beds is complete with furniture all made in Canada, quilts and Canadian artwork. Each of the rooms shares a bathroom with one or more of the other rooms.
The Okanagan Room is inspired by the west coast valley (which is where we stayed!), it is an expansive space suitable for families and groups of up to 6 guests.  If traveling with kids there is the beautiful garden where little ones (and adults for that matter) can run around and let off some steam.
The atmosphere at Banting is enhanced by the authentic Canadian artwork on the walls and the period furniture which adds to the old-worldly warmth and charm while maintaining that light and airy feel.
There are interesting artistic pieces throughout the Inn which is mixed in with all the mod-cons you could want like an in-house iPad and laptop as well as WiFi access for guests throughout the house. Our kids loved the Ipads and of course the wifi!!

Breakfast is included in the room price and the best local produce and fresh ingredients are used.We had the pancakes with blueberries one day and french toast the next- awesome, delicious food! Highly recommended!
Read more here: www.bantinghouseinn.com
Fun things to do in Toronto with kids:
Home

›
Canada

›
Toronto

›
Banting House Inn