Urban Nirvana Spa, Toronto

Pamper yourself! A Fun Thing to Do in Toronto with Teens!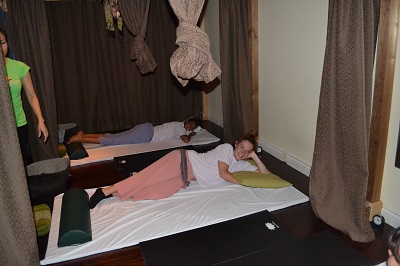 In the heart of the urban jungle of Toronto is this oasis of peace and relaxation. If you are looking for a great mother-daughter outing on your trip this is the place!  The Urban Nirvana Spa offers a range of spa treatments to soothe the soul! The décor sets the tone of the spa with Thai inspired artwork, luxurious drapes, candles, grass mats, gentle oriental music and low rise treatment beds.
We arrived at the spa and were greeted and given lovely herbal tea. The moment you walk in you can feel the stress slippiIng away! After tea, we soaked our feet in a warm bath while waiting for our appointment.
Thai Massage is the spa's specialty; the 2,000-year-old healing art originated in Thai temples and is performed the traditional way with clients lying on a low bed or mat on the floor. The massage integrates yoga with deep-pressure massage and the result is an increased range of movement.
The massage stimulates the circulation and with the use of their palms, elbows, knees and by walking on the client's back the masseuse can balance any physical energy imbalances and repair physical and emotional blockages. This is done using acupressure along the 10 Sen lines (energy lines) of the body.
An average Thai massage at the Urban Nirvana Spa lasts 60 minutes. We signed up for this and we were all excited to experience the relaxation after a busy few days in Toronto! Our daughters could not wait to visit-a teenagers dream (and mums too!)!! 
Urban Nirvana Spa Toronto
There are a number of variations of Thai massage – the Relaxation Thai Massage, Therapeutic Thai Massage, Chair Thai Massage and Thai Reflexology.
You can also have a couples massage or pre/post-natal Thai massage.
One of the specialties is the Thai massage with heat therapy which produces incredible physical and emotional relaxation. We had the Relaxation massage where we were asked what type of pressure we wanted, everyone chose medium except me as I am a wimp! The pressure was perfect!
Video of a Thai Massage

Some incredible spa treatments are on offer like the avocado body scrub, the Dead Sea detoxifying mud wrap and facials tailored to your needs. Skin Essence which is 100% organic is used for facials.
If you choose to have a spa day with your partner or friend you'll enjoy unlimited herbal tea, fruit juice and relax in the VIP lounge before and after your massage and spa treatments.
For a really pampering experience take one of their packages which include several spa experiences. For example the Royal Siam Package ($200 for approximately 2 hours) which includes a herbal heat therapy with steamed Thai compresses (90min); head and neck massage with Thai balm (15min); foot massage with oils(15min) and fruit juice and herbal tea in the relaxing lounge area.
We all LOVED our massages and felt renewed and rejuvenated! We will most definitely be back next time we are in Toronto!!
The Urban Nirvana Spa is located 5 minute walk from the Bloor Subway station at 895 Yonge Street on the 2nd floor. They are open Tuesday to Thursday 10am-8:30pm and Friday to Sunday 10am-6pm.
Things to do in Toronto With Kids
Home

›
Canada

›
Toronto

›
Urban Spa