Bali Family Holidays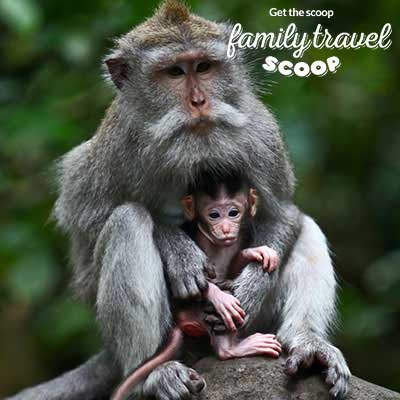 We love, love, love visiting Bali with our children! Bali family holidays have it all. It is rich in culture, a warm tropical climate, friendly people and excellent shopping! Bali is a beautiful Indonesian island with the influence of Balinese Hinduism everywhere from the beautiful temples to the intricate wood carvings. It is also extremely affordable-one of the cheapest family travel destinations.
The landscape is stunning with beaches, lush green rice paddies and even an active volcano. You won't run out of things to do here!
The kids will love surfing, hanging out with the monkeys, visiting the waterparks, zoos and even elephant rides. My teenagers absolutely loved the spas that are everywhere.
They had to twist my rubber arm for our daily visit for massages, facials, manicures and pedicures! Bali with kids is magical.
Cultural Activities + Word Searches + Colouring Pages + Fun Travel Quizzes & More! 

Bali Quick Family Guide
Where Should I Stay on Bali Family Holidays?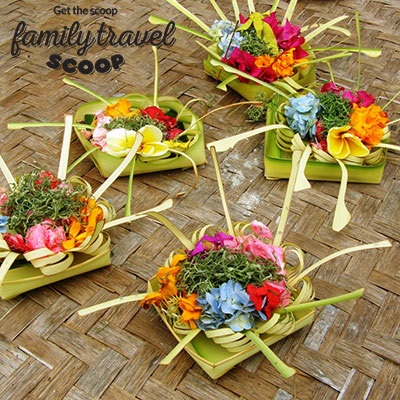 Ubud is located in the interior of Bali and is the arts and cultural center of Bali. It is definitely worth spending a few days of your Bali family holiday here!
This place is a feast for the eyes with rice paddies to stroll through and beautiful gardens everywhere. Don't forget to pick up some lovely artwork such as the batik paintings and wood carvings.

Kuta is the most popular beach destination. This is a great spot for fun. Waterbom waterpark is located here and is a great place to cool off. Your family can even learn to surf in Kuta. There are lots of restaurants and shopping in the area.
Kuta is just a few minutes drive from the airport. Be aware that Kuta is quite touristy and can be a bit annoying as people tend to follow you around and not leave you alone until you buy their wares-so its not the best spot for true relaxation!
It is great for families that want to be in the center of the action.

Nusa Dua is located in south Bali and is home to many of the luxury hotels. Club Med is here (another favorite!!)
There are beautiful beaches in this area and lots of fun water sports available here too.
There is a popular golf course in this area for Mom & Dad! You are just a short 20 minutes drive to Kuta where all the action. A beautiful place to spend your Bali family holidays.

Things To Do In Bali With Kids
You will be spoiled for choice here! There are loads of fun things to do with your family in Bali. Some of the best Bali attractions are:
Feeding the monkeys in Ubud
Spending the day at Waterbom Waterpark
Building sandcastles at the beach
Riding an elephant
Shopping!!!
Check out our complete list of the 21 best things to do in Bali with kids.

Yummy Balinese Food For Kids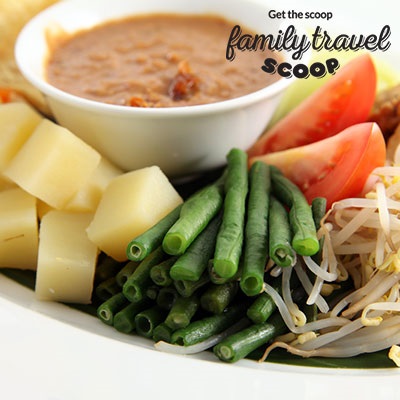 Balinese food is delicious and your kids will love it- mine ate and ate!!. From tasty banana fritters to crispy spring rolls to gado gado salads with yummy peanut sauce -enjoy trying these Bali treats.

Don't miss a visit to a fruit market to try some exotic fruits on your travels.
This is really fun and most kids are willing to try new fruits!!
You can also find food of all cuisines in the major hotels and beach front cafes.
Whatever your desires for Bali family holidays -we can help you plan an amazing trip!
Bali Family Hotels
No matter what your budget, you will find excellent choices for family friendly hotels and resorts in Bali. Choose from
Fun family beach resorts
Private villas with a Balinese flair
Cheap hotels for those on a budget
All inclusive resorts
Here are our recommendations for the best Bali family hotels and resorts.

---
Bali Scams To Watch Out For
As much as I love Bali, it isn't 100% paradise. There are a few scams to watch out for. On our last trip to Bali we tried to change money at one of the money changers in Kuta. He counted the money into 3 piles and allowed us to count it twice. Then he took it back and counted it and when he handed it to us it was missing a pile! So best bet is to change at the airport, your hotel or withdraw money from the ATM.

The other scam we encountered was some people offering a promotional card for a new hotel. They had us pull open the card and revealed that I had won a big prize. They were extremely happy (with very bad acting) and said they would both be promoted to be a manager at the hotel because I had won (haha). They said my prize was going to be either a $1000 US, a camcorder or $250 worth of coupons. There was another part to scratch to see what the prize was but I would have to wait until I arrived at their hotel and the manager would scratch it.

They would arrange a free taxi from Kuta to Nusa Dua to collect my prize and see what I had won. On reading the fine print it was required to sit through a 1 hour presentation (time share!) and be gainfully employed. We declined their offer and later scratched the prize part and guess what I won- $250 worth of coupons I would never use!!!


Related pages:

Read more at the Bali Tourism Board.
---
Home

›
Bali Family Holidays