Barque Smokehouse

Great Toronto Restaurants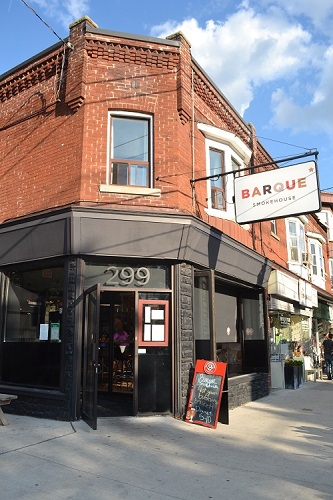 Located at 299 Roncesvalles Ave in Toronto the Barque Smokehouse is our top recommendation for a family friendly meal that both the adults and the kids can enjoy!
Sometimes it is hard to find something everyone likes but Barque Smokehouse is one of those gems!
This trendy restaurant welcomes you with a friendly smile! Located along a busy street but with parking (metered) in close proximity it is convenient to get to and was worth the drive!
With the cute outdoor patio, bar area and wooden benches comfortable seating was just what we needed after a long day our about town in Toronto!
The kids were starving and we were parched as we arrived for our 6pm reservation. We we're immediately seating and thankful for the buckets of popcorn on the table ready for nibbling!
The restaurant was buzzing and the wait staff were busy but smiling and kept checking in on us! 
The Food!
Our waitress recommend the ribs so we started with the baby beef ribs! Delicious in a succulent sauce. There are plenty for sharing.  We also got a Caesar salad which was huge and definitely enough to share!
Next we had the half chicken with two sides-there are quite a few to choose from but we opted for the potatoes with hazel nuts and the heirloom tomato and avocado salad. Everything was delicious! The great thing about this place is you can share or order your own dish which ever you prefer. We liked sampling a bit of everything so quite a feast arrived on our table!
We ordered a platter of the Moroccan quinoa which is to die for –it is delicious-loaded with artichokes asparagus and pumpkin and perfectly flavoured. I am still dreaming about this one!! Maybe I should ask for the recipe!
Dessert was equally delicious –the pecan pie is suburb and comes with a large scoop of cinnamon ice-cream.  The brownie was moist and chewy. We also had the scoops of ice-cream with two cookies which was big enough to share.
We left the restaurant full and content! This is a great place for couple, families with young kids or those with teens, there was a real mix of people in the place and a great vibe! We'll be back!
Where to find the Barque Smokehouse
Open from 11:30 am - 2:30 pm, 5:00 pm - 10:00 pm.
Phone (416) 532-7700
Email smoke@barque.ca
Website:  http://barque.ca

Things to do in Toronto With Kids
Home

›
Canada

›
Toronto

›
Barque Smokehouse