Family Eco Travel
Kid Friendly Environmental Holidays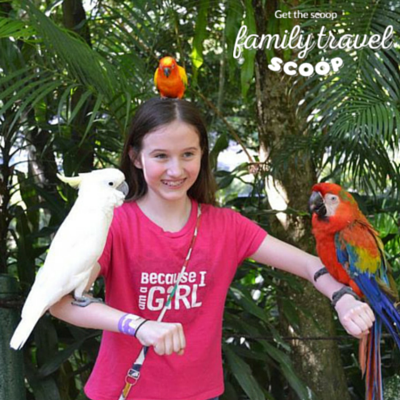 Family eco-travel has become more and more popular, with intrepid travelers wanting to visit unusual parts of the planet and see those places where no one else has been.
Most of your friends and family will have enjoyed a holiday in the Mediterranean, but how many of them have gone totally off-radar and visited a rainforest or viewed evolution in action on the Galapagos Islands? Family eco-travel can be both educational and adventurous!
Eco-tourism doesn't just give you the opportunity to see the rare natural wonders of the world, with the right tour operator this can really be an ecologically sound holiday, with offset carbon emissions and part of your costs actually helping to maintain the areas you visit, so that they are preserved for future generations.
So where would you go if you wanted to get close to nature and escape the hustle and bustle of your normal life?

Top 5 Family Eco Travel Destinations.
Middle Fork, USA

 Nothing unites a family more than an adventure in the great outdoors! The Middle Fork of the Salmon River is a wild 'n' wet setting, ideal for white water rafting, exploring, swimming and getting up close and personal with nature. 

In a remote part of Idaho, no motors are allowed into this wilderness, and that includes your electric toothbrush! Suitable for children aged 5 and above, this

adventure in the United States is still away from it all! This is an ideal eco vacation if you don't want to stray too far from home. Read more here.
Gamboa Rainforest, Panama

 If you fancy something a little wilder, you might consider the Gamboa Rainforest Resort, in Panama. 

The wildlife is prolific, with more than 250 bird species. The aerial tram and lookout tower

provide

opportunities to spot nature at its wildest and there are ample hiking excursions.

The butterfly house and serpentarium will thrill the family and the primate tour will keep your little monkeys entertained! You can visit a native Embera Indian village or travel further afield to the San Blas Islands to stay with Kuna Indians. Promoted as one of the top eco trips of a lifetime-I can't wait to try this! Read more at http://www.gamboatours.com/
King Fisher Bay, Australia

Kingfisher Bay Resort, Australia has welcomed holiday makers and eco travellers for years! Based on Fraser Island, at the southern point on the Great Barrier Reef, this sandy isle is renowned for its 75-mile long beach, rainforests and freshwater lakes.

You can rent a 4-wheel drive car here. Guided tours with a ranger are probably best but you could also just explore on your own!
With a kids' club for children

4

and under and programs for older children, there will be plenty to keep the kids occupied! With dolphin and whale cruises and opportunities for diving and snorkeling, there is something on Fraser for everyone! Read more at 
www.kingfisherbay.com
Read more about Australia here.



Timber Raft, Sweden
 Sweden has so much to offer! A little-known gem, the country has received very little in the way of tourism, but with ecotours like their Swedish Timber Raft Adventure Exclusive, it won't remain a secret for long.
This particular eco tour focuses on the southern wilderness and gives travelers a chance to get to grips with nature, building timber rafts out of logs and ropes and using these rafts to drift down the river Klaralven at the leisurely rate of 2 km per hour.
With most nights spent camping in the wild, your last night will be in a local hotel.
Receiving a certificate for Sweden's Nature's Best and nominated for a TRIP Global Award in 2008 and 2009, this amazing experience welcomes children as experienced tour guides are on hand to assist with every section of your adventure holiday. Read more here!



Animal Adventures, Belize

Belize is a beautiful part of the world and Journeys have a fabulous Belize Adventure for Families. With a number of trips included you can do as much or as little as you want.
Between your arrival at Belize City and the Cohune Palms lies Belize Zoo.
This animal retreat makes it simple to learn about the creatures living in the region. With educational opportunities and a range of eco activities available, including some gentle water sports and nocturnal hikes, your family can learn all about the locals' efforts to preserve the ecology of the area. Read more here.
Read more about Belize here.

Family eco-travel is a fantastic way to holiday and share the wonders on nature and the environment with your little ones!
---
More Eco Friendly Destinations:
More Eco Travel Tips

Also visit