Toronto Centre Island 
Fun Centre Island -picnics, beaches and petting zoos!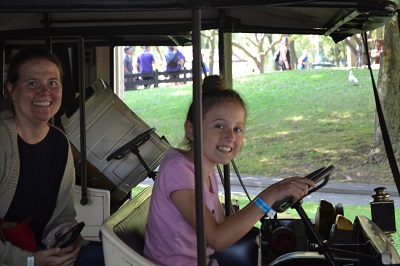 Don't miss the Toronto Centre Island! Toronto is a bit of a concrete jungle-especially in the downtown area-everywhere you look are skyscrapers, condos,  freeways and roads.   We were so happy to discover that only a 15 minute ferry ride from downtown Toronto is beautiful Centre Island filled with huge weeping willow trees, large green spaces, gardens, beaches and even an amusement park!
We caught the passenger only ferry at 9 Queens Quay drive (behind the Westin Hotel).  There were long line ups on the sunny Saturday afternoon that we visited, but they moved quick and we didn't have to wait very long at all.   We had amazing views of the Toronto skyline as we took the short ride across.   
Toronto Centre Island Tips 
 Centre Island is car free (other than service vehicles) and you can rent bikes or bring your own when you visit.  They even have quad bikes available for rent-perfect for families!  Kids loved seeing these with the family dog riding in the basket up front.
Our first stop was at Centreville Amusement Park.  This theme park is modeled after a 1900's town complete with a kiddie train that tours the park.   The rides are mostly for children under 12 years of age, however the teenagers amongst us still enjoyed the Ferris Wheel (oldest one in North America!)  and the log ride.   The children loved driving their own antique car,  bumper boats and the haunted barrel works.   Far Enough Farm is here too-you can stop by and see the animals including a pot belly pig, sheep and goats.
We had a leisurely lunch at Carousel Café.  We dined on the patio overlooking one of the waterways and watched the boats, kayakers and geese.    We enjoyed a light lunch of the summer dips (hummus,  quinoa and garlic) with pita and ceaser salad while the kids had pasta,  chicken fingers and hot dogs.   There are a few other restaurants on the island or you can pack a picnic lunch to bring with you.
More Toronto Centre Island Info!
After lunch we strolled the walkways and checked out the gorgeous gardens throughout the island.  There is even a children's garden here with animal sculptures based on the Franklin children's book series.   Don't miss out on the garden maze!

If you need to cool off, there are several wading pools and sprinkler pads throughout the grounds.   Or relax under one of the majestic trees that dot the landscape and provide lots of shade to keep everyone cool.   
There are also a few playgrounds for the kids to burn off all that energy!   There are several beaches for the kids to build sandcastles or take a dip in the lake.   The main beach is Manitou Beach which is perfect for kids as it is protected by a rock breakwater so it is quite calm and shallow.  There are washrooms nearby to change in. 
We all enjoyed our day here-it was a great way to relax on our fast paced family trip to T.O!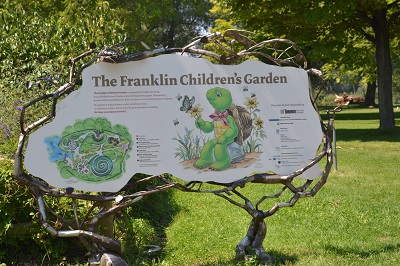 Things to do in Toronto With Kids
Home

›
Canada

›
Toronto

›
Centre Island