Survival Guide for Traveling with Toddlers
The Best Tips For Family Travel With A Little One



Traveling with toddlers does not have to be full of stress and chaos.
With careful planning and wise packing you can survive and even enjoy vacationing with kids of all ages (that is the point right!).
Your toddlers will receive a lot of attention on your travels abroad. So take advantage of all those lovely people who are willing to help entertain your little ones along the way. 
This is a wonderful age where kids are soaking up everything they see, hear, feel and smell! Traveling with your toddlers will open up new experiences for your little one, something research shows is wonderful for early childhood learning! Travel is a great hands-on and active experience for all children!
Tips for Air Travel with Toddlers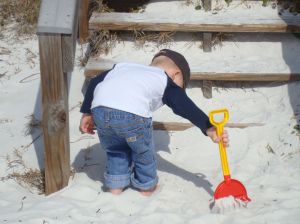 Most countries require everyone to have their own passport including babies and toddlers. Check with your country to see what documentation is required.
If you child is under 2 and you did not pay for a separate seat for them check with the airline staff if the flight is full. If not they will usually block the seat beside you so you can use it.
Air travel with toddlers can be stressful for your little ones too. If this is a new experience for them then read some books about plane travel together so they know what to expect on your trip.
Order the kids meal for your toddler and bring plenty of snacks with you as well.
Bring lots of toys to entertain your toddler on the flight. Bring a couple of your toddlers favorite toys with you on the plane and head to the dollar store to get a couple of new toys to distract them with as necessary.
If your toddler is antsy and the seat belt sign is off then walk up and down the aisles a few times with them.
Air travel with toddlers can be easier on an overnight flight. Make sure they use up all there energy in the airport and then cross your fingers that your child sleeps soundly.
If your toddler is out of the diaper stage then be sure to use the toilet often when the seat belt sign is off so there are no accidents.
Pack a change of clothes, baby wipes, toys, books, and snacks to last the length of the plane ride and for possible delays.
Be sure to arrive early for all flights and allow plenty of time between connecting flights.
A lot of airlines offer free or heavily discounted flights for children under 2 who sit on the parents lap. Take advantage of this and make sure to go on lots of trips before they turn 2!

Related Links:
More Tips for Traveling with Toddlers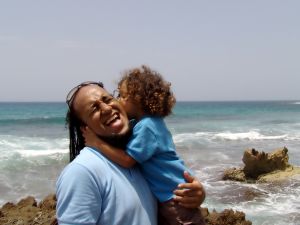 Keep your travel plans flexible for sightseeing and activities. Plan half day outings (morning is usually cooler in hot destinations) and spend the afternoon napping or relaxing.
Bring some familiar snacks from home for your toddlers to munch on. Individual Kool-Aid powders are easy to pack and add to bottled water when you are traveling with a toddler.
Traveling with toddlers does not require you to pack everything including the kitchen sink. Try to pack light and bring only necessities.
Umbrella strollers are great for traveling as they are lightweight and collapsible. Although the sidewalks in some countries may not be suitable for strollers. If this is the case bring a child back pack to carry them in.
If you are headed to a beach destination then look for one that has gentle sloping into the water so your toddler can splash about.
If you are heading to an all inclusive hotel try to find one with a kids club that accepts toddlers. Most kids clubs are for ages 4 and up but there are several resorts that will care for babies and toddlers. You may just want an hour or so break to enjoy that strawberry daiquiri by the pool.
Bring the grandparents-they make excellent babysitters!
Make sure your toddler is protected from the sun. Stay in the shade, wear sun hats and invest in some UV swimwear.
Traveling with toddlers is an excellent way to make new friends. Head to a local park at your destination so your toddler can burn off some energy and you will meet some local families.
Make sure your meals are not too spicy for your toddler if they are not used to it. Most restaurants will be happy to prepare a less spicy meal or plain noodles or rice.
Travel Tips for Families

Home

›
Travel with kids

›
Traveling with Toddlers