Parc Omega Montebello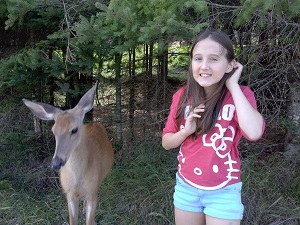 Parc Omega Montebello is an outdoor wilderness experience with many activities and experiences waiting to happen. The main attraction is a 12km long road which meanders through 2,200 acre of untouched Quebec countryside. Visitors drive along this route passing animals in their natural habitats. You can see bison, white-tail deer, bears, goats, wolves, moose and wapitis among other indigenous animals. The park is home to animals from a number of habitats, prairie, forest, mountains, lake and the Boreal region.
However the adventure doesn't end there! Visitors can exit their vehicles and follow one of the park's nature trails. The trails are in different zones like the Trout Lake Walking Trail and the Deer Walking Trail. On the walking trails and on the car path you can feed the elks and deer carrots which are bought from the gift store. The Boardwalk of the Wolves and Black Bears lets you safely observe these animals.
The Parc Omega Montebello Park House is a rustic wooden building with terraces overlooking Bird Lake. The house is popular with small creatures which come up to the visitors to say hello. Here you can picnic on the terrace, shop in the gift store or get a bite to eat from the snack bar. In the Park House basement there is a display of photos taken over the years of the magnificent animals and birds of the park and wooden sculptures.
For Families -The park puts on seasonal activities like wagon rides, experiencing an 1847 Old Farm house (May 19th-October 9th), animal shows, birds of prey shows (from June 22nd) and talks by nature guides. Parents should take into account that the car path takes about 1 to 3 hours. On the walking trails there are places to stop for picnics.
There is a family discount coupon which can be downloaded from the COUPONS section of the park website. If you are worried about the stamina of little ones you can rent a golf cart ($25 per hour with minimum 2 hours and a $500 deposit by credit card or cash) or take the tractor-drawn carriage. Access to the walking trails with strollers is "difficult" but some of the trails are easier than others. The walking trails in Zones 2, 4 and 21 are the most stroller friendly.
More Things to do in Quebec
Parc Omega Montebello Details
Location: 399 323 Nord Road, Montebello, Quebec, Canada; Parc Omega is located just 45 minutes from Ottawa and an hour from Montreal.
Open Hours: September 2nd to June 20th 10:00 – 16:00; June 21st – September 1st 09:00-17:00
Website: http://www.parcomega.ca/en/
Home

›
Canada

›

Ottawa

› Parc Omega