Ontario Science Museum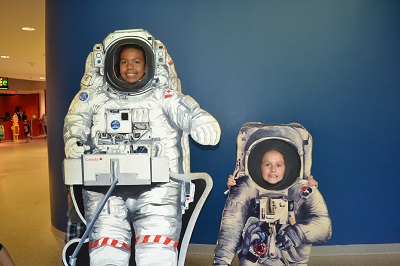 The Ontario Science Museum is a great place to bring your budding scientists for some educational fun.    Even the building itself is an engineering marvel as it is built into the ravine with connecting buildings.   This is not your usual stuffy museum-all throughout are interactive exhibits that are just asking to be touched,  climbed on and tinkered with!   Perfect for kids of all ages. 
My teenage daughter loved playing with the steel drums,   testing her driving response times  and touring the  rainforest!   The younger kids had fun pedaling the bikes to create enough electricity to light up the light bulbs,  doing the water taste test and taking apart and putting back together a computer tablet. 
More About Ontario Science Museum
There are lots of exhibitors answering questions and demonstrating different experiments, as well as a hair raising show that is perfect for the kids!   There is a specially designed area for children under 8 for them to climb, jump and touch all they want!
Outside there is an aquatic play fountain where you can block the flow of one of the water jets to create a different sound!     We all enjoyed seeing the tornado and hiding out in the caves.
There are several dining options located around the museum and plenty of vending machines offering snacks and drinks.
Attached to the museum is the only Omnimax theatre in Ontario where you can watch the latest imax movies on the full dome surrounding you!   It is a really cool experience as you feel like you are moving in the seats as the show twists and turns!    There were several to choose from when I was there including a butterfly one,  under the sea and one about orphaned orangutans and elephants.   You can buy a combination ticket which gives you access to the museum  and imax theatre. 
Things to do in Toronto With Kids
Home

›
Canada

›
Toronto

›
Ontario Science Centre