Fiji With Kids
Top 10 Things to Do - 2018 Guide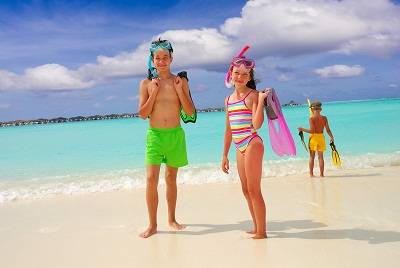 Visiting Fiji with kids can guarantee you to enjoy the white silky beaches, crystal clear waters (great for snorkeling!) and learn about the interesting culture. It is a popular island for families to travel to on school breaks!

Fiji is made up of many islands. We can help you choose the right one for your family. There are two big islands with lots of activities and several smaller private islands for those that want to get away from it all.

Fijians are known for their love of children! They will be made to feel welcome. If you are traveling with a baby or toddler it is best to bring your own diapers and baby food, especially if you are staying at one of the small islands.

Which Island To Visit In Fiji With Kids?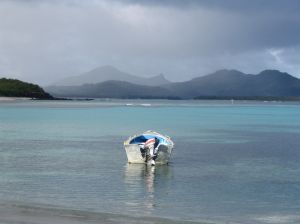 If you are looking for a relaxing family beach holiday to get away from it all then consider one of the resorts on the Mamanuca Islands or Yasawa Group of Islands. These resorts have the best white sand beaches in Fiji. Some of the resorts share the islands with a Fijian village so you will have some cultural activities available. Many of these resorts offer day trips to other nearby islands and the mainland. You will need to arrange transportation via a charter flight or sea taxi to reach your destination.

If you want a more active experience with lots of interesting activities then consider staying on the main island Viti Levu where you will have access to many Fiji attractions your kids will enjoy.

Denauru Island is attached to the main island (Viti Levu) and is only minutes away from Nadi airport. There are several 5 star resorts here and you have the benefit of being close to the airport with easy access to the mainland activities. The beaches here are not as nice though (gray sand).
Cultural activities + games + travel quizzes + artwork and much more 


Things to Do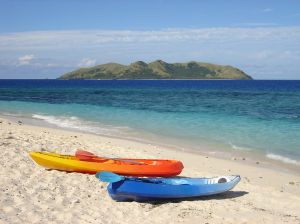 There is lots to see and do in Fiji with kids. The beaches are always a hit with the little ones. Pack some sand toys and your babies and toddlers will have a great time playing in the sand. Try some of the water sports with your family. Banana boat rides, snorkeling, glass bottom boat rides and kayaking are all available in Fiji.

On the main island of Viti Levu you can do many interesting activities such as white water rafting, locomotive rides, rope courses and zip lining.

Family Resorts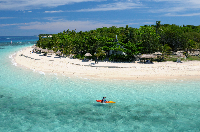 Staying in a traditional Fijian bure with your family is lots of fun for the kids. Many resorts offer this style of accommodation. The bures usually have thatched roofs and many can be found directly on the beach.

We have found the best places to stay with kids. Choose from cheap family rooms, privates bures at secluded island resorts or luxury Fiji accommodations with excellent kids clubs.
What to Eat In Fiji With Kids?

Your family can enjoy fresh fruits such as mango and pawpaw. Many of the Fijian dishes are cooked with coconut (lolo) giving it a tasty island flavor. Don't miss out on the Lovo or traditional feast cooked in the ground!
Try these Fijian foods on your family vacation:
Curries
Fresh seafood
Lovo feast
Fresh fruit
Visit the Fijian Tourist Board here
More Family Travel Articles:
---
---
Check out
Home

›
Fiji