Chelsea Hotel Toronto

Family Travel Scoop's Favorite Toronto Family Hotel!
March Break Specials available now!
So here's our favorite Chelsea hotel!
Are you planning to visit Toronto in the near future? Getting a comfortable place to stay that is affordable and luxurious should not drain your pocket. One of the best places to stay during your visit is the Chelsea Hotel. It's our favorite Toronto hotel!
Located along 33 Gerrand Street West in Toronto, it is one of the largest and oldest hotels in Canada with 26 floors, 1590 guest suites and 5 basements. The building was initially constructed as a residential building but opened as a hotel in 1975.  
Perfect for families, it has its own kid check in, waterslides and even pet bunnies! 


Family Fun at the Eaton Chelsea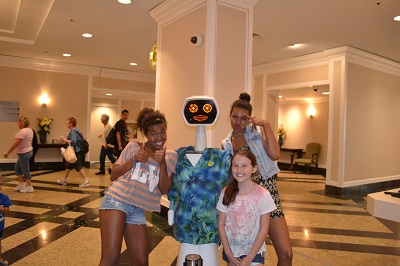 The Family Zone on the 2nd floor has an indoor family pool and waterslide; the Kid Center where there are activities, Wii games and art supplies and the Club 33 Teen Lounge with Xbox 360, foosball, pool tables and arcade games. 
The corkscrew waterslide turns and loops around the Chelsea hotel, the indoor pools are heated and has a whirlpool for maximum adventure. The teen center has old school games, LCD-TV sets, and X-box consoles.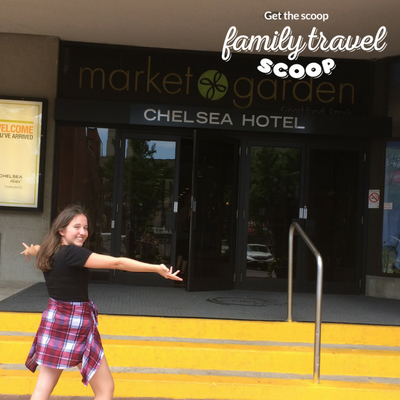 Free Wifi is a must when travelling with teens so after a day of running about Toronto my kids were super happy to get online and share with their friends!
 The kids were thrilled with the talking robot walking around the lobby too! It is still an talking point -you can spend an hour listening to him in the lobby- highly entertaining!
There are strollers available for rent and supervised childcare for a small fee.
Other perks for families choosing the Eaton are that kids under 17 years old stay free with a parent or guardian and children up to 7 years old receive a welcome gift when checking in.
 Make sure you check out there website as they offer discounts at lots of family friendly attractions on presentation of your room key!

Room sizes range from 275ft² to 450 ft². The Family Fun Suite is a spacious two bedroom suit with family-friendly extras like a kitchenette, a kids' creative corner, DVD and Xbox as well as bedding for bunk beds and a pull out sofa.
Or you could stay in a room like we did as they were sold out of the suites-it was two bedroom with a conference room in the middle, because we were 6 it was perfect-the two teens shared one room, the two mums another and the kids used the pull out bed in the conference room. There was the added bonus for them of having a whiteboard to draw on too!
For families the hotel boasts a Family Fun Package, it includes 1 night's accommodation, some food credit, parking for 1 vehicle and 2.5 hours of babysitting in the Kid Center for up to 2 children. In addition children 5 and under eat free and children 6-12 eat at half price. 
Check out the Chelsea's website as they have loads of packages and discounts on there! Read about their family travel plans here!
Where to Eat at the Chelsea Toronto!

The Chelsea Toronto has four restaurants with a range of settings, cuisine and prices.
You can choose from casual convenient dining in the Market Garden (yummy breakfast!) and  which is divine for eating outdoors in the summer! They even had an outdoor theatre and BBQ there last time we stayed! We had a delicious breakfast one morning - you can chose a la carte or buffet-we opted for the buffet and enjoyed a long leisurely feast!
Or stop by Espresso Coffee and Wine Bar; or TBar- a Bistro and Brasserie which has a lovely breakfast and lunch/dinner selection. 
We also had picnic lunches made on the day we went to Centre Island, which were very filling!
Don't forget room service, we loved the club sandwiches and had a chill evening in watching movies one night!
If you are looking for a hotel that goes out of the way to cater for kids-this is it! Book now!

Things to do in Toronto With Kids
For the Parents -Chelsea Hotel
Deck 27 Adult pool and fitness  
You can enjoy the best of Toronto's warm weather as you relax and unwind beside the adult pool and fitness center. The seasonal outdoor sundeck is open for adult members.
In addition, you can enjoy the fun of swimming in a heated pool or lose those cards in a cardio fitness center. There are male and female saunas and an awesome strength training center. 
Got any tips about the Chelsea Toronto? Share on our Facebook page!
Home

›
Canada

›
Toronto

›
Eaton Chelsea Hotel