India with Kids
Fun Things To Do and Places to Stay

India with kids is full of exciting adventures! Children will love washing an elephant in the river, playing on the beautiful beaches, and seeing the Taj Mahal one of the most famous Wonders of the World!
India is a chaotic lively country with lots of charm. It will be a shock for most children-but if they are properly prepared and know a bit about the culture it will be one of the most memorable trips of their lives!
If traveling to India with a baby or toddler be sure to bring enough baby formula and baby food for your trip. Diapers can be readily found but may not be very good quality. The roads and sidewalks are generally too crowded and bumpy for a stroller. A lightweight stroller, however, will be useful at some tourist attractions. A baby knapsack carrier is ideal. Be sure to only drink bottled water, be fully vaccinated and keep your toddler or baby's hands very clean with hand sanitizer. They will get lots of attention here!
Hire a Guide whenever possible at the sights. Try to find a guide that will engage your child. Most monuments will have guides outside and are very cheap to hire. They can really help explain the attraction's history and make your visit more interesting and meaningful!
Citizens from most countries will require a visa. You must arrange this in advance-there is no visa on arrival option. Children of all ages require a visa for their family holidays to India.
India is known worldwide for its delicious food. You can enjoy butter chicken, curries, fresh seafood and tandoori chicken on your India family holidays. Check out these tasty Indian food for kids to sample on your travels!

India with Kids - Visiting Goa

Goa is one of the most popular places to visit in India with kids. Your family can enjoy a relaxing beach holiday while experiencing the lovely Indian culture.
There are lots of entertaining things to do in Goa with kids. Kids will adore playing on the beach, washing elephants in the river, and going on a dolphin tour. Check out these 15 amazing Goa attractions for kids!

There are a few choices for places to stay with the kids in Goa. There are cheap family rooms, charming cottages by the sea, or luxury Goa family resorts. Choose from these family hotels in Goa
---
New Delhi Attractions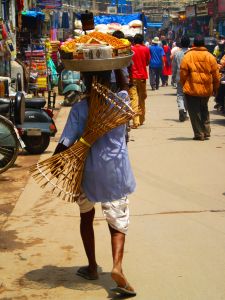 New Delhi is a vibrant bustling chaotic city! It is home to 15 million people! You will find plenty of family friendly attractions to keep your children entertained! Explore the markets with your teenagers for some colorful souvenirs, check out the peacocks in the parks with your babies and toddlers and visit the Crafts Museum with your children. Check out these 15 interesting things to do in Delhi with kids.

If you are traveling on a budget you can find plenty of cheap family rooms in New Delhi. There are also holiday apartments and luxury family accommodations. Choose from these New Delhi family hotels.

New Delhi is usually the start and finish of the popular tourist route The Golden Triangle.
India with Kids  - Golden Triangle Holidays

A tour of the Golden Triangle is a great way to travel in India with kids. Start your visit in the lively city of New Delhi. From there you head to Agra to see the Taj Mahal and on to Jaipur to see the beautiful Pink City.
You can take the train to travel between each city and it is usually a shorter traveling time then to drive. You can then hire a driver and guide to show you around each town or jump in a rickshaw and hire one of the guides hanging around each site. The other option is to hire a car or van (make sure it is air conditioned!) and driver for the entire tour of the Golden Triangle and possibly a guide. This can sometimes be more economical and you will have transportation in each town. It is a 5-6 hour drive between each city.
Agra
is home to the incredible Taj Mahal. It is a great opportunity for your children to see this wonder of the world. Agra is not just the Taj Mahal there are several interesting sites to see and it worth spending a couple days exploring it. Check out these Agra family hotels and fun things to do in Agra with kids.

Jaipur or the Pink City is the other stop on the classic Golden Triangle tour. This is one of the prettiest cities to travel to in India with kids to see the intricately carved palaces, forts and temples. Kids will adore seeing Monkey Temple and riding an elephant up to Amber Fort! Check out these Jaipur family hotels and cool things to do in Jaipur with kids.
What is your favourite thing do to in India with kids? Share with us!
More info at the official toursit board!
Home

›
India