Eganville Ontario with Kids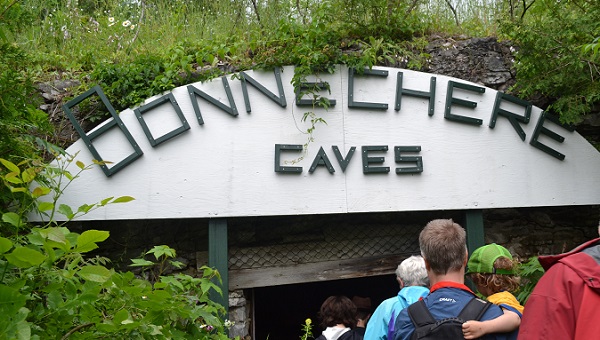 Bonnechere Caves in Eganville Ontario

Eganville Ontario has lots to offer! Fossils, caves and a great story! Your family won`t want to miss out on a visit to Bonnechere Caves in Eganville, Ontario.  Spend an hour or two exploring this fascinating site on a guided interactive tour (included with your admission). Start off with a hands on look at some of the fossils that have been found in the area.  After that you will descend into the caves.  The guides are excellent and will keep your children spellbound with the story of Tom`s (the cave`s original owner) first expedition into this fascinating cave system. It is educational and fun!

The caves are open from the long weekend in May until Thanksgiving. The tours operate rain or shine. There is a little bit of water dripping in the caves, so you might want to wear a light jacket.  This tour is great for kids of all ages. If you are traveling with a baby or toddler you will need to carry them through the caves. There is a wooden walkway throughout and it is well lit.  There is a picnic seating area outside the caves along the Bonnechere river so you can pack a lunch and make it a day.


Bonnechere Caves often collaborates with the Bonnechere Museum for family friendly fossil hunts a few times a year. Your budding geologists will love this!  They also offer unique events such as dining in the cave, live music events in the caves and there has even been a wedding! 


Admission:

Adults $17,00
Youth (13-17) $13.00
Child (4-12)  $12.00
Under 4 FREE

Spend the Day in Eganville Ontario

Eganville is about an hour and a half drive west of Ottawa. Eganville Canada is a lovely example of a Canadian small town. You can combine history, adventure and the great outdoors for a memorable day with the family!  With its short distance from Ottawa  you can easily have a great day out as a side trip.

Eganville's Bonnechere Museum

The museum located in Eganville is located in one of the prettiest buildings in the Ottawa Valley. It is located in a stone building near the river, in what was once the Post Office for the town.  The museum is great for children. Head upstairs and you can see what life was like for the pioneers.  There is a general store, barber shop and even a one room school house to see. Children will love seeing the toys from way back!  The volunteers are excellent here and really help make the history of the area come alive.

On the main floor is an excellent collection of fossils complete with descriptions. Have your kids pay close attention to the different types of fossils so they can do the nearby fossil hunt! The museum offers laminated cards to bring with you to the Fossil Rock Garden (no official name) down the street. This beautifully designed rock garden has a treasure trove of fossils just waiting to be discovered by your kids!

Admission:
Suggested Donation of $3.00 for Adults, $2.00 for Children.

Eganville Ontario's Geoheritage Trail

This is the newest addition to the Eganville attractions.  Take a short hike and enjoy some of the beauty of the area. There is a beautiful view of the Quarry where you might spot the turtles sunning on a log. Check out the markers along the way to learn about the different rocks and fossils found here.  The kids can even search through the rocks to bring home a one of a kind fossil souvenir!  Check out the mysterious trench that was dug out to empty the quarry many years ago.
Admission: FREE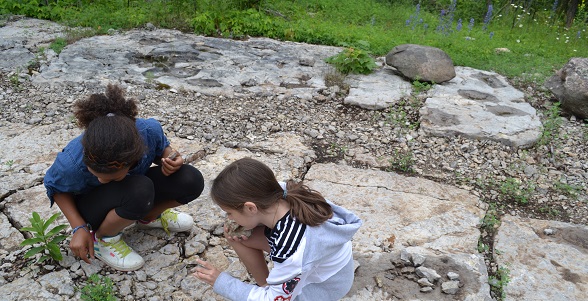 Camping, Canoeing and Kayaking

Eganville is a great spot to bask in Mother Nature`s beauty.  There are plenty of family friendly camping sites in the area and you can rent canoes and kayaks from the Outfitter`s Store in Eganville to enjoy the river.
Head back to Ottawa and check out these fun things to do in Ottawa with kids! Read more about things to do in Canada here!
Home

›
Ottawa with Kids

›
Eganville