Morocco Family Travel

Plan an Unforgettable Holiday With Kids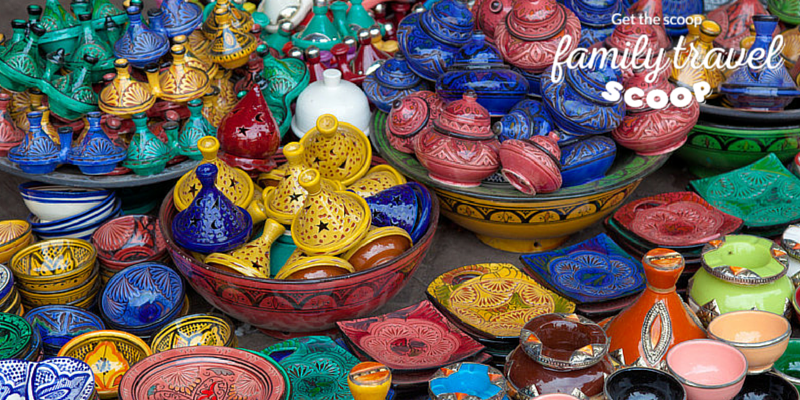 Morocco family travel is full of exciting adventures. When you visit Morocco with kids you can explore the ancient cities, the desert, the beaches and the mountainous regions.
My daughter and I had a great time exploring the narrow alleys and admiring the beautiful Moroccan architecture along the way. It is such a vibrant country with an abundance of interesting sites, sounds and smells (although do avoid the tanneries-that awful smell is still etched in my brain!!).
Morocco is wonderful to visit with kids of all ages. Teenagers will be thrilled with the heart pounding sand duning in the desert and shopping till they drop in the souks! Children will be enchanted with the snake charmers and horse and carriage rides through the narrow alleyways.
If you are traveling to Morocco with a baby or toddler then you will want to pack a light umbrella stroller or baby knapsack as the sidewalks are often uneven and not stroller friendly.
Diapers and wipes are readily available in the grocery stores, though you will need to bring your own formula and baby food. Moroccans love babies and will shower them with attention!


The weather in Morocco should be considered when planning your Morocco family holidays. The summers can be quite hot so you will want to get accommodations that are air conditioned. Keep the kids hydrated with lots of bottled water. Try to book a hotel or riad with a pool to cool off in. The winter months can be chilly so be sure to bring sweaters and jackets for everyone. Spring and fall have great weather.
One of the highlights of your family trip to Morocco will be sampling the delicious local food. Tagines, pastilla and couscous are tasty Morocco food for kids to try when you travel there.
Don't miss out on the fresh squeezed orange juice and sweet mint tea! My daughter and I loved relaxing on our riad rooftop terrace each afternoon with a pot of mint tea and yummy homemade cookies.
If you are traveling during Ramadan (traditional Muslim month of fasting) then you will find some restaurants will be closed for lunch. Tourist restaurants will still be open however. Non Muslims are not expected to fast during the day, however it is not considered polite to eat in public areas during this holiday.
Marrakech with Kids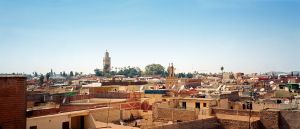 Marrakech (or Marrakesh as it is also known) is a fascinating city and well worth a visit on your Morocco family travel. The town square, Jemaa el Fna is a must do on your visit to Marrakech.
It is filled with colorful performers, musicians, snake charmers and vendors. Sand duning, henna painting and art classes are some of the fun things to do in Marrakech with kids.

Check out these Marrakech riads and hotels that will accommodate children on your Morocco family travel. Choose from beautiful traditional riads, all inclusive resorts or budget hotels for families of all sizes.


Please come back and tell us all about your Morocco family holidays. We would love to hear all about it!
Home
› Morocco