Le Dolci Cupcake Decorating Class

Are you ready for the fun and exciting Le Dolci Cupcake decorating class?
Want to sweeten up your family trip to Toronto?   Enjoy a cupcake decorating class with the kids in the heart of Toronto at Le Dolci.  
Le Dolci is a fun foodie studio offering a variety of classes, summer camps and sweet treats located near China Town.
We wanted to do something a little different on our visit to Toronto, besides the usual family adventures such as Wonderland, the CN Tower and the Zoo.  
So we signed up for a 2 hour course at Le Dolci.  
Bakers and artists we are not, but we managed to create some pretty impressive cupcakes! 
More about the Le Dolci Cupcake Decorating Class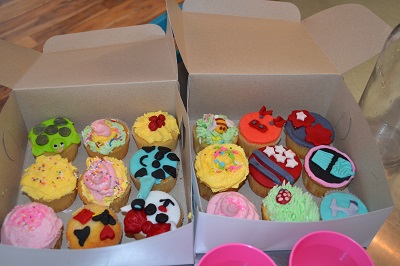 When we arrived we were greeted with everything we needed.  We had cute pink aprons to wear and  a beautiful table set up with colored fondant,   sprinkles, rolling pins,  decorating molds,  icing sugar with different piping tips and more! 
Cherry was our teacher who patiently showed us many techniques to creating our beautiful edible masterpieces.    
The kids absolutely loved this!  We had to drag them out of there-as they wanted to make more and more intricate designs on their cupcakes!  
We were each given 6 cupcakes to decorate any way we liked and Cherry showed us some amazing designs for inspiration. 
We made elephant cupcakes,  monkey cupcakes,  Hello Kitty cupcakes,  flag cupcakes and more!   Best part of all we got to bring them all back to the hotel with us!  
We had these tasty treats for snacks, dessert and even breakfast the next day!
More fun things to do in Toronto with kids:
Home

›
Canada

›
Toronto

›
Le Dolci