Delicious French Food For Kids
Discover the Cuisine of France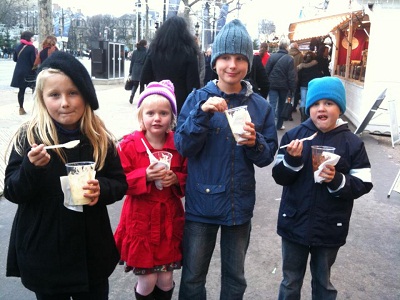 Are you wondering what the best French food for kids is? You will find many kid friendly options while dining in France. There are loads of cafes offering delicious dishes that the kids will enjoy.
Yum French food is soooooooooooooo good! Duck, pastries, chocolate treats and cheese -wow!!

Many restaurants offer set menus with 2 or 3 courses. French food is world renowned and will have a great time sampling the delicious cuisine with your children.
Food in France is not usually spicy.
You will of course find international restaurants offering food from around the world in Paris and most major cities and tourist destinations.
McDonald, pizza and other fast food is also found throughout these areas but who needs these when you can find great cuisine on almost every cafe.
One of the fun things to do in Paris with kids is to stop by a bakery and a local market to pick up some fresh baked bread, cheeses, meats and éclairs and head to one of the local parks for a picnic.
C ést Magnifique! Ahh this is the life! Learn more about a trip to France here!
---
Try These French Foods On Your Trip!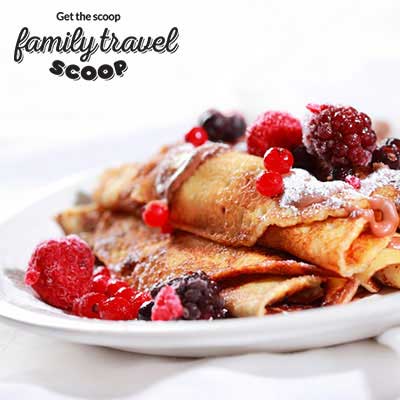 Crepes

 are another tasty food in France. You will find street vendors all over Paris serving these thin pancakes. The filling may be sweet such as 

Nutella

 (chocolate) and bananas or savory such as meat, egg, cheese and vegetables. Your kids will love these! This is one of the best French foods for kids.



Croque Monsieur is a hot grilled ham and cheese sandwich. This popular French food for kids is often served in cafes. My daughter loved these. The Croque Madame is similar to a croque monsieur but it is also served with a fried egg on top.
Stop by one of the many local bakeries for some delicious desserts that are a feast for the eyes as well as your taste buds. There are many mini cakes and pastries of all flavors to choose from. There will also be fresh croissants and pain au chocolat (chocolate croissants). The kids will love choosing a treat.
Cultural Activities + China Country Facts + Country Games + Coloring + Fun Quizzes and more for kids 4-13!
French Cookbooks for Kids : Get your Budding Chef a Copy today!
More Yummy French Dishes your Kids will Love
Fresh Baguettes are another popular food in France. You will find them served at most meals. Even the pickiest of eaters will enjoy this fresh crusty bread. You will find all kinds of delicious cheeses and hams that can used to make a tasty sandwich for lunch.

Steak Frites is another common French food. This dish is steak served with real home cooked fries. Ketchup is not usually served with them, instead mayonnaise is used as a dip.
Roasted Chicken and Fries will be found on many menus throughout France. You can't go wrong with this French food for kids.
Duck Confit is a slow cooked duck dish that melts in the mouth. This dish is often served with frites (french fries).
French Food for Kids -The Facts!
Soup a L'Onion will also be a hit with the kids. This delicious French Onion Soup is baked with bread and melted cheese. This is generally eaten in the winter. My daughter loved this!
Quiche is another option the kids will enjoy. This is a pie made with eggs and cream and baked with cheese and filling such as vegetables or ham.
Cassoulet is another delicious French food for kids. It is a rich slow cooked bean stew containing meat (usually pork) and white beans. This is a hearty dish that is perfect for a cold winter evening.
If you are visiting Paris then check out the ice cream at Berthillon. Cross the bridge behind Notre Dame to Ile Saint-Louis and join the line up for this popular treat. With flavors like caramel gingerbread, white chocolate or pear your kids won't be disappointed! This ice cream is made with all natural ingredients.
Your adventurous children will enjoy trying frogs legs, escargots(snails), mussels and rabbit. (not mine though -they stick to the crepes!)
Want to learn more about French food facts for kids? Download the Fly it Quiet French Travel Guide for kids full of cultural activities and France country facts and games!

Articles To Help You Plan Your Family Trip To France!
---
---
Home

›
France

›
French Food