10 Denmark Food Choices for Kids!
Danish Cuisine Kids will Love
Here is our list of top Denmark Food you must try on your next trip to this beautiful land!
Denmark has a rich history of farmers and fishermen, and this is reflected in the food. These workers were hard working and needed food that was packed with a lot of nutrients and energy.
That same tradition has carried into our time when it comes to Danish food. Many times this food is also packed with delicious flavors as well, which makes it appealing to kids.
Some foods may be new and a bit daring, but give them a try! Here is a list of the top ten foods for kids to try in Denmark.
Frikadeller Pan fried meatballs with potatoes and gravy. Most Danish meals consist of some form of potato. Most kids love potatoes whether they are mashed or fried. Therefore, order up, your little ones will love it!
Delicious roast pork with crispy crackling served with red cabbage and small caramelized potatoes. The Danish eat more pork than any other northern European country.
Fish is a main dish of the Danish. Whether it be plaice, cod, herring, or fried eel, have your child taste different ones to see which flavor they like best.
Smorrebrod. This is a traditional open faced sandwich. This sandwich is topped with a number of possibilities such as: marinated herring, liver pate with beetroot, roast beef with remoulade sauce and crispy onions, smoked salmon, or smoked eel.
Danish pastries. Pastries are a popular food item with almost all Danish people. Your young ones are sure to love the sweet pastries as well as the fresh breads.
Kammerjunkere. This is like a thick vanilla wafer added to yogurt or thick buttermilk oatmeal porridge, delicious!
Hyldeblomst juice or elder flower juice. This is made with summertime berries. These berries produce a sweet juice that most children come to love.
More Denmark Food Choices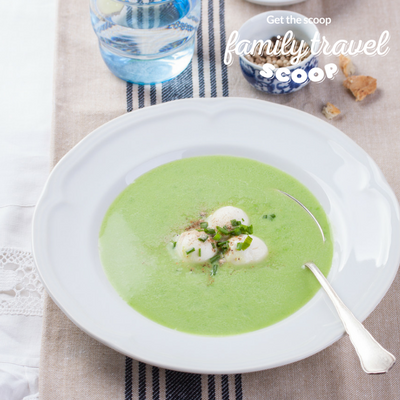 Klapsammen. Literally this means "fold up". This consists of two pieces of rye bread with a slice of salami or other lunch meat in it. This is the typical food brought to school for lunch by kids.
Gule aerter. This is a typical dish of the average working danish family. This is a yellow split pea soup served with rye bread and mustard. A classic, most children will recognize.
Biksemad. This consists of a mixture of different types of meat, potatoes, and fried eggs on top.  Most kids might not like the looks of this, but the taste is sure to please them.
Kids can be particular when it comes to strange food. However, the typical Danish cuisine is built around their history of being hard workers and needing plenty of nutrition.
Kids will find plenty of the traditional meals in Denmark to be filling and tasty. There is no doubt that there are multiple choices of Denmark food for kids.
Also try:
Home

›
Denmark

›
Danish Food