Delicious Spanish Food For Kids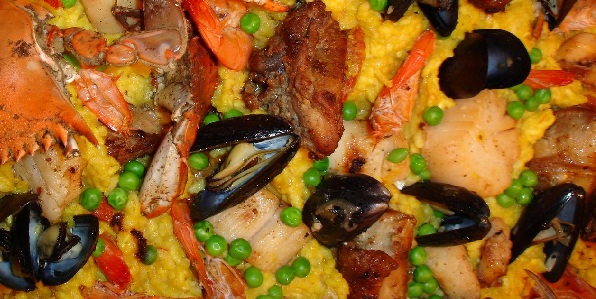 Yum-Spanish food -it is one my favorites!! There are many tasty Spanish food for kids to sample on your family holidays. If your children love seafood they will love all the fresh options available straight out of the Mediterranean Sea but not to fear if they are like my nine year old- they might prefer tapas and the bakeries!
Most restaurants in Spain do not offer a kids menu however most will have grilled or breaded chicken or pork served with fries (chips) or pasta dishes so if you have picky eaters it shouldn't be a problem!

There are lots of cafes and restaurants offering delicious local Spanish dishes as well as restaurants offering international cuisine. In all the major tourist cities you will find fast food restaurants such as McDonalds, KFC and Pizza Hut.
Be sure to stop by one of the local bakeries for fresh empanadas, croissants and other baked treats!
Read on below to learn about Spanish food!

Cultural activities + games + travel quizzes + coloring and much more

Yummy Spanish Dishes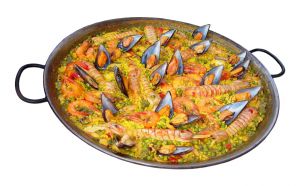 Paella is one of the most famous Spanish dishes. It is a mixture of rice, vegetables, meat, beans, saffron and other seasonings.Seafood paella is very common and usually includes shrimp, lobster, and fish instead of the meat and beans. Some restaurants will offer a vegetarian paella option.While this might be a bit sophisticated for some kids- my teenage daughter gobbled it up! Try to go somewhere you can see it being made too!
Our Favorite Spanish Cookbooks for Kids
More Yummy Spanish Food For K
Sausages are commonly served in Spain with Chorizo being one of the most popular types. This is a spicy sausage that is cured and smoked with red peppers.Makes a great sandwich meat for a picnic in one of the parks!
Rice Pudding (arroz con leche) is a delicious Spanish food for kids to try on your family travels. This popular dessert is made with rice, milk, sugar and flavored with cinnamon or lemon.
Gazpacho is one of the unique Spanish foods for kids. This is a cold tomato based soup with raw vegetables. Adventurous eaters will like to try soup that is served cold!
Churros are a fried dough pastry made with potato dough. Your kids will love them for breakfast dipped in thick hot chocolate (cafe con leche). Oh my- these are delicious and something my kids still ask for! Yum!! The great thing about traveling is discovering these amazing treats!

Potato Omelette (tortilla de patata) is a one of the tasty Spanish food for kids. It is a thick egg omelet fried with potatoes and sometimes onion. Most kids like this as it is quite plain -although still very yummy-like an Italian fritatta!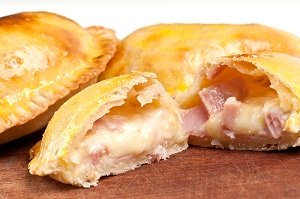 Empanada -are a sweet or savory stuffed pastry. Our favorites were the ham and cheese but you can get them with beef, egg and spinach, chocolate and jams! This is usually one of the favorite Spanish foods for kids. Stop by one of the local bakeries for these as well as flaky croissants.
Papas Arrugadas are commonly served on the Canary Islands. These boiled salted potatoes are served with a pepper sauce (mojo).
Pisto is another great dish for your family to try. This dish is made of tomatoes, eggplant, peppers and onion. It is commonly served with a fried egg and fresh bread.
Best Spanish Tapas For Kids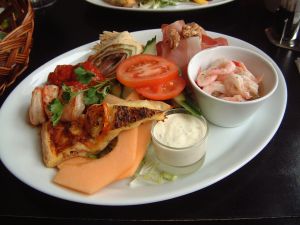 Tapas are a variety of Spanish appetizers found at many eateries. These are great for kids as they can sample a few different varieties of bite sized foods.  I love love love tapas -the perfect food-it is like a mini buffet of options!-see more ideas for tapas at the bottom of this page! These famous Spanish appetizers are great for kids to sample some of the local fare! These are some of the best tapas for children:
Albondigas Meatballs served with sauce
Calamares Rings of battered fried squid
Tortilla De Patatas Potato omelet

Tortillitas de Camarones Fried battered prawns
Empanadas Small pastry stuffed with meat and vegetables
Pincho Murono Spicy chicken or pork served on a stick
Patatas Bravas Fried potatoes with a spicy tomato sauce
Aceitunas Olives stuffed with red pepper
Want to learn more about Spanish food facts for kids? Download the Fly it Quiet Spain Travel Guide for kids full of cultural activities and Spain country facts and games!
Read more about European vacations here!
---
Plan your Spanish holiday here!
| | |
| --- | --- |
| Madrid Attractions | Barcelona With Kids |

| | |
| --- | --- |
| Tenerife With Kids | |
Home

›
Spain

›
Spanish Food
---