Delicious Egypt Food for Kids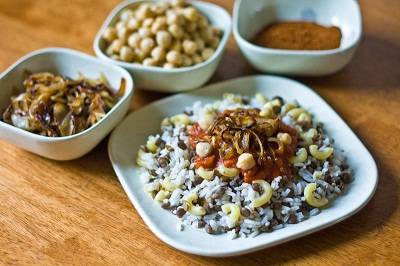 Egypt food is primarily vegetable based with beans as a source of protein because meat was traditionally quite expensive. Bread (pita or flatbread) is a staple Egyptian food and is served with most meals. It is used to scoop up the many different dips, foods and sauces or as a wrap for meats or falafels.

Your kids will find plenty of delicious foods to try. There are international restaurants serving a variety of cuisines from around the world in all the major tourist cities. There is also the usual KFC, McDonalds, and pizza available for when your kids have had their fill of Egyptian food and they want a familiar taste from home.

It is best to drink bottled water and avoid ice in your drinks to avoid any stomach issues. If you want to be extra cautious you should avoid street food, salads and only eat fruit that has a thick skin that you can peel.
When we visited Egypt, my kids and I had no issues with the Egyptian food and we ate shawarma from a street vendor, koshari from a non touristic restaurant and the most delicious home made meal along the banks of the Nile river. We generally do not have any problems with the local food when we travel though.

If you are traveling with a baby you will find jars of baby food (and diapers) available in the larger grocery stores in the major tourist areas (Sharm El Sheikh, Cairo etc). It is generally higher priced though so you may want to bring your own.

Most Egyptian restaurants catering to tourists will offer several different meat dishes which are accompanied by rice and salad. The food in Egypt is generally mild -though it may be best to check with the server if your kids are not used to spicy foods as some dishes are cooked with chilis.

Mezze consist of several different salads and dips served with pita or flatbread and are a great option of Egypt food for the kids to try. A selection of mezze is generally served before the main course.


Cultural art and activities + games + travel quizzes + food and much more
Great Egypt Food Kids Will Love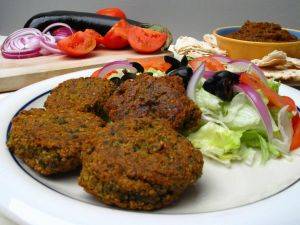 Tahini is a dip made of sesame paste and olive oil

Baba Ghanoug is a dip made or smoked eggplant, chickpeas, lemon and tahini. My favorite Egyptian food! Delicious!

Gibna bi tomatim is a salad of tomato, soft white cheese, oil and spices.

Eggplant fried with spices and tomato sauce

Zabadi yogurt with cucumber-delicious and refreshing.

Tomeya garlic dip

Koshari is a delicious Egypt food that will be a favorite of your kids. This dish is a mix of noodles, rice, garbanzo beans, lentils, fried onions and tomato sauce. This popular local dish is easy on the wallet as well. Ask a local for the best place to sample this Egyptian food. My kids loved it!

Fuul is another common Egypt food. Broad beans are cooked slowly until they become a bit soupy. They are then topped with butter, olive oil, or tahini and served with fresh pita bread.

Tamiyya or Egyptian falafel were my kids favorite Egypt food. These deep fried patties are made of ground broad beans, parsley and spices. They can be eaten alone or served in a pita sandwich with tomato, cucumber and tahini.

Shawarma-Spit roasted meat (lamb or chicken) sliced and served on pita bread with cucumber,tomato and tahini.

Mahshi- Minced meat, rice and herbs stuffed in a vegetable such as eggplant or peppers , topped with tomato sauce.

Kofta- minced meat mixed with spices and grilled on a skewer.




Hummus is a dip made from ground chick peas, lemon and tahini.
Kabab Grilled meat marinated in spices, skewered and cooked over charcoal.

Samak Mashwi is a grilled fish dish served with salad, bread and dips.

Omm Ali is a sweet Egyptian dessert consisting of filo pastry soaked in milk with sugar, cinnamon, coconut and raisins. This treat may be served warm or cold and sometimes with ice cream. My daughter loved this Egypt food.

Baklava is another tasty dessert made of filo pastry with honey and nuts.

Sugar Cane Juice is a popular drink that your kids will enjoy. This sweet juice is usually made from fresh sugar cane.

Home

›
Egypt

›
Food in Egypt