Italian Food For Kids
Italian Food Facts for Children
Cultural Activities + China Country Facts + Country Games + Coloring + Fun Quizzes and more for kids 4-13!
Pizza and gelato are some of the tasty Italian food for kids to try on your family trip to Italy.
Italy is a kid's food paradise!!

You'll be sure to find something even for the pickiest eaters on any menu in Italy.
Your family will find plenty of tasty Italian dishes at the trattorias which often offer set menus or the many stand up pizza places offering a fresh slice.
There are of course International restaurants offering food from around the world in the main tourist areas and the regular fast food chains that are found around the world as well but who needs these when Italian food is so yummy!
Lasagne is another favorite with children. You will find large servings of this traditional dish served with ragu sauce in most restaurants and often other varieties such as vegetarian or mushroom. There is nothing tastier than lasagna made with fresh pasta.
Pasta You can have it anyway with any sauce!! This makes it a great kid's treat!! Rigatoni, macaroni, spaghetti, spaghettini linguine, rotoni, penne, capellini, fusilli, fettuccine....the list goes on and on!!! Kids can have fun trying all the different shapes!
Then for sauces... there is Bolognese (tomato and ground beef), carbonara (bacon, egg and Parmesan cheese), pesto (pine nuts, basil and parmesan cheese), vongole (clam), marinara (seafood) and many more....how many will your child try....? This one of the most popular Italian foods for kids to eat on your family holidays.
Gnocchi is another delicious Italian food for kids to try on your travels. This soft dumpling is often stuffed with potato and served with a tomato or pesto sauce or topped with Parmesan cheese. My kids love this!
There are many other dishes kids are sure to like Osso Bucco (veal stew) served with polenta (mashed potatoes consistency but made of cornmeal-it is bright yellow in color! Be careful some polenta is coarse and children may not like the texture!).
Pizza is A favorite with young and old. But this is different than what you are used to back home! Wood fired and with over a hundred varieties on offer at many restaurants, pizza is a food everyone can enjoy! The best thing about pizza in Italy is you can eat it very cheaply from the stand up counters you will see in every village.
There you will usually find pizza cut in squares and served on a thick base. In a trattoria you will be served a large pizza- yes that is all for one person!
Usually as the crust is super thin each person gets their own pizza! This is of course one of the best Italian foods for kids to eat on your holidays. Here are some typical kinds of pizza served in Italy:
***Margarita-Plain with tomato, cheese and basil. This will be popular with your finicky eaters.
***Capricciosa-Artichoke, ham, black olives and a mix of other items is good for your adventurous eaters.
***Pizza Patatine Pizza covered in French fries! This is always a favorite with the kids- my daughter orders this everytime (the same one who insists French fries are a vegetable!).
More Italian Food for Kids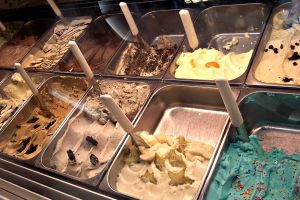 Gelato is one of the must try Italian food for kids. This is fresh made Italian ice-cream and it is delicious! The ice-cream looks so appealing as you can see the softness and creaminess before your eyes. Most Gelaterias have over 50 kinds to choose from including Nutella, Cream and lots of fruit types! Scoops are usually very generous!
If parents feel like stopping in a local coffee shop for a cappuccino or an espresso be sure to order your kids an Italian hot chocolate or Cioccolato Caldo. The hot chocolate is very thick and creamy, almost like a warm pudding! Kids everywhere LOVE it! Served with whipping cream! Yummm....one of the great Italian food for kids!
Another great place for an Italian treat is to stop at one of the many pastry shops or Pasticceria around. Kids will love 'miranda' or afternoon tea when they see the lovely array of éclairs, tarts and other mini cakes they can choose from!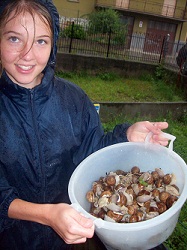 Fresh fruit is a must at the end of meal in Italy and fresh figs are one of the fruit your child may not have tried that are very popular in Italy!
Grapes, blood oranges, apples and fresh apricots are other common Italian fruits.
Anyway you look at it; Italy has something for everyone in the food category!
Another food popular with Italians is snails! Yes they are not only for France!
Rumaki or snails are popular as a meal.
My daughter had fun collecting them but refused to eat any! Not to worry though as there are plenty of other choices available!!

Want to learn more about Italian food facts for kids? Download the Fly it Quiet Italy Travel Guide for kids full of cultural activities and Italy country facts and games!
Home

›
Italy

›
Italian Food