25 Best Things to do In Paris with Kids

2018 Paris Family Travel Guide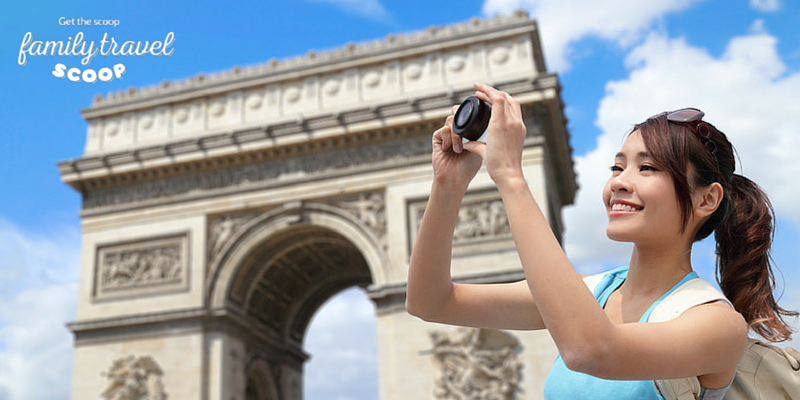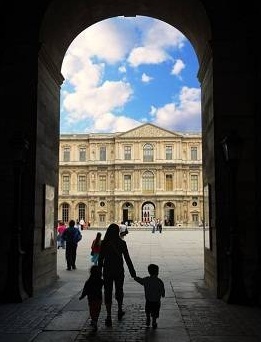 Traveling to Paris with kids will be an unforgettable experience! Our trip to France was filled with incredible art, interesting museums and beautiful parks.  It was a fabulous learning experience for the whole family -soaking up the rich culture and exploring the long and intricate history of this decadent country!

Toddlers and younger kids alike will enjoy a boat ride up the Seine. Our children really enjoyed climbing the stairs up to the Bell Tower of the Notre Dame Cathedral. My teenage daughter loved exploring the flea markets and the fascinating catacombs. Our whole family relished in the delicious pastries and cakes found at the local bakeries.  It is an easy town to explore with children. You can take the metro, ride the boats down the Seine or even bike ride around town to the attractions.
Watch our video about things to do in Paris

The Paris Pass will save your family lots of time and money on entrance fees and transportation! This is a wonderful family travel pass as it includes so much and helps cut your costs while traveling around. It's packed with all sorts of fun things to do in Paris with kids!

The Paris Pass includes:
*Free Entry to 60 Paris Attractions
*2 Day Hop On Hop Off Bus Tour
*Discount Prices For Children & Teenagers
*Free Transportation on Metro Zones 1-3 & Free Bus
*Skip The Lines-A must when traveling with kids!
*Purchase Now!-Valid for one year from purchase
Paris with Kids
25 Paris Attractions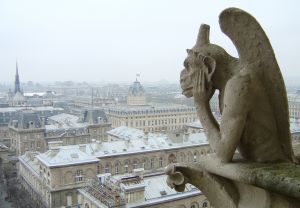 A visit to Notre Dame Cathredral is one of the best things to see on your trip. Babies and toddlers will love the colorful stain glass windows inside while older kids and teenagers will have a great time climbing the stairs up to the bell towers.
I climbed up with my five year old daughter and she loved it. Climbing up may be a bit tough to do it with a toddler or baby though. We checked out the gargoyles along the way and enjoyed the beautiful views of Paris. After we had a delicious chocolate crepe outside the cathedral.

Free with Paris Pass
Enjoy a Family Bike Tour though the quiet streets of Paris and on the bike path along the river. You will be able to experience Paris in a whole new light. Fat Bike Tours provides children's bikes and is fantastic family experience. This is definitely a unique way to see the city- you'll feel like a local! Our favorite thing to do in Paris with kids!!

Cultural Activities + China Country Facts + Country Games + Coloring + Fun Quizzes and more for kids 4-13!
Join a free walking tour of Paris with kids. There are various tours available and they last for two hours. This is lots of fun for older children. Explore the Gothic architecture of the Latin Quarter or visit Van Gogh's house in Montmartre.

More Fun in Paris with Kids
A visit to the Eiffel Tower is another one of the best things to do. Stop at the Cineiffel on the ground floor and pick up a game book for your child (ages 6-10). 

The book has facts, riddles, mazes and more fun activities. After head up to the observation decks to see the magnificent views of Paris with kids. Be sure to catch a peak of the tower when it is all lit up at night.

Don't miss the ice-skating in front of the tower if you visit in winter!
Head to Marché aux Puces which is a huge flea market. If you travel to Paris with teenagers, they are sure to buy a lot of goodies to bring back! The whole family will have fun exploring the thousands of stalls offering new and vintage clothes, antiques and more.
The Quai Branly Museum is another great option for families that are traveling here. Children will enjoy this collection of artifacts from all around the world. The museum often has hands- on, practical children's activities.

Free with Paris Pass
A visit to Jardin D'Acclimation is sure to please the whole family. This huge park has several amusement rides, a splash water pad for the kids to cool off in and a small zoo. This is a great place to spend a few hours relaxing together in Paris with Kids.
A show and dinner at the LIDO is a great thing to see here in Paris-with magicians, acrobats, ice-skating and comedians kids will love it (beware there are some bare breasts during the show).

You can enjoy visiting Le Jardin Des Plantes. It is a gorgeous botanical garden with a small zoo. This is a great place to visit with babies and toddlers as they can explore the gardens and see the animals which is always a hit in Paris with kids!

---
Spend a relaxing afternoon at the Jardin de Luxembourg with your family. Your little ones will have fun on the playground -beware there is a fee. Your kids will also enjoy sailing a mini sailboat in the pools of water. There are beautiful statues and water fountains to enjoy. There is also an open air cafe and a puppet theater. This is a great place to have a stroll with your baby.
Cirque d'Hiver Bouglione is another one of the fun things to do. It is a circus show with acrobats, clowns and magicians. The kids will love this! This is really entertaining. My kids just loved watching the show -especially the magicians! This is one of the most magical things to do in Paris with kids!
Parc Asterix is a newly reopened theme park located outside of the city. The kids will have fun exploring this park which is based on the Roman Empire, Greek Mythology and Paris in the Middle Ages. There are loads of rides and games to keep your family entertained for the whole day.
A visit to Paris withkids is not complete without a stop at the world famous Musee de Louvre. Grab a map of the museum and be sure to see the Mona Lisa and Venus De Milo. 

Kids will enjoy visiting the Egyptian section where they can see some mummies. The sculpture garden is also a great spot to visit. Children under 18 are free.

Tip: Pack some water paints, paper and molding clay in your luggage before you come to Paris with kids, they can create their own masterpieces back at the hotel.

Free with Paris Pass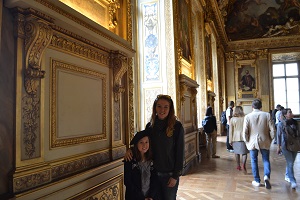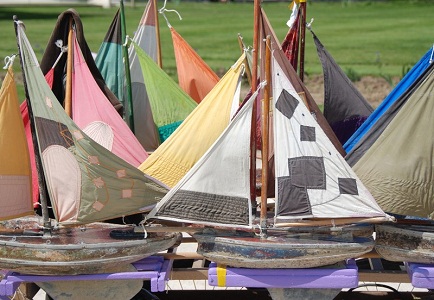 La Cite des Sciences et de L'lndustrie is an interactive science museum. The kids will get a kick out of the various hands-on exhibits. 

There is an excellent discovery zone for toddlers and small children. Replica work sites, mazes, and a circus station round out the visit.

Free with Paris Pass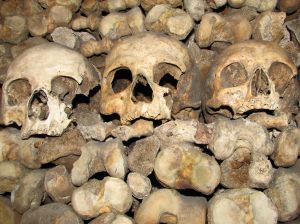 Teenagers may enjoy a visit to the Catacombs This underground maze of tunnels has a cemetery section that is lined with skeletons. 

As Paris rapidly expanded in the 18th century, there was not enough room to bury the dead so they started to move the bodies underground. 

There are approximately six million bodies in the catacombs. This is one of the most popular attractions so make sure not to miss it-a live history lesson (so much better than a textbook isn't it!).
Don't miss out on all the delicious French food for kids. Children will devour the fresh crepes, delicious cakes and yummy croque monsieurs. Have a picnic in one of the many parks. Stop by a local bakery for some fresh bread or croissants and pastries. Grab some cheese and drinks from the local markets. Delicious! The joy of eating in Paris with kids can not be understated- it is a must to savor the care and passion that goes in to every bite!
A visit to Paris Disneyland is lots of fun for the whole family. It is easy to get there on the subway as well which is an added bonus. 

There are lots of fun rides available similar to other

Disneyland parks in Florida

, Tokyo and Hong Kong. The park is geared for younger children as most of the rides are pretty tame. My

5-year-old daughter had a great time when we went to Euro Disney. Book your tickets online here! 

Arc De Triomphe is one of the iconic buildings here. This historical memorial was ordered built by Napoleon. The view from the top are magnifique.

Free with Paris Pass
Chocolate lovers will enjoy a visit to La Maison du Chocolat. Enjoy a delicious cup of hot chocolate and a decadent chocolate eclair. This cafe is located a couple blocks off the Champs Elyse. It is quite pricey though so you might need to budget for it!
Visit the Aquarium Tropical de la Porte Dorée and check out the colorful fish, seahorses, sharks and crocodiles that are housed in this historic building! My kids were enchanted by all the sea animals and I had to drag them out of the building!

Free with Paris Pass
---
Plan your trip to Paris with kids here!
---
| | |
| --- | --- |
| Shows | Bus Tours |

| | |
| --- | --- |
| Bike Tours | Montparnasse |
---
Useful Links when planning your trip:
Home

›
France

›
Paris