Delicious Thai Food That Your Kids Will Love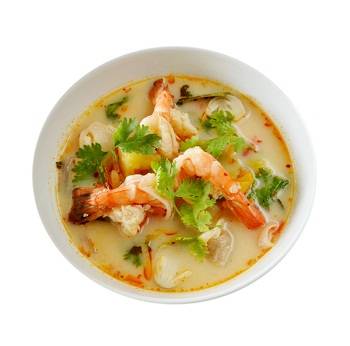 Thai food is delicious! Your kids will love it. Thai cuisine is a balance of spicy, sour, sweet and salty. Thai food is generally cooked with fresh herbs and spices and fish sauce. If your kids are not used to spicy food then check with your server and request a mild dish.

Meals are usually eaten with a fork and spoon. Several dishes are generally served at the same time and accompanied by rice.

Many restaurants will offer you a choice of protein for some dishes such as beef, chicken, pork, seafood or tofu.

In the main tourist destinations you will find many options for dining out. There are restaurants serving food from around the world. There is also the usual KFC, McDonalds, and pizza for when your kids want a familiar taste from home.

A great way to introduce your kids to Thailand food is to take a cooking class. There are lots of cooking schools offering half day courses in all the main tourist areas. Your kids will have a blast learning to cook Thai dishes and then eating the delicious meal they have cooked!

Most restaurants in the tourist areas will have menus in English with a description and photos to help you order.

One of the best things to eat when you travel to Thailand is the delicious fresh Thai fruit. Head to a local fruit market and try some new fruits with the kids.
What To Eat in Thailand With Kids?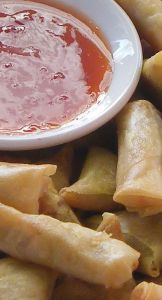 Spring Rolls Vegetables and sometimes shrimp is wrapped in rice paper and deep fried. Served with a sweet sauce for dipping.


Pad Thai is a popular noodle dish that is pan fried with chopped peanuts, egg and a protein such as chicken or seafood. My kids loved this dish.


Kai Yang is a popular dish with kids. This is marinated grilled chicken.


Khao Pad Gai is a fried rice dish made with chicken. This is another Thailand food that your children will enjoy.


Kaeng Khiao Wan or Green Curry as it is known is a coconut curry made with basil and green chillies and usually chicken. This can be quite spicy so check with the server if your kids are not used to spicy food.


Satay is a grilled meat dish (pork or chicken) that is served with a peanut sauce and cucumbers.


You will find BBQ fish at most street food stalls. Delicious especially if its fresh from the ocean.


Kai Pad Med Mamuang Himmapan is another popular Thailand food. This dish is made with stir fried chicken and cashews. This is a great option for children as it is a mild dish that is a little bit sweet and salty.


And for your adventurous kids you can also pick up some deep fried insects such as grasshoppers, silkworms or crickets at one of the night markets!
Fresh Thai Fruit Your Family Will Enjoy

Coconut Drink the delicious coconut juice from a young coconut. Very refreshing!


Noi Naa or Custard Apple. This sweet fruit has pale green bumpy skin that breaks easily apart to reveal a juicy white pulp with big black seeds. This is my favorite Thai fruit-delicious.


Durian is a big fruit with a very strong odor. Not for the faint of heart. The stench of this fruit is so strong it is banned on many subway systems in Asia.


Lychee is a popular one. It has a hard red outer skin and inside is a sweet, fragrant white flesh.


Mango This hearty orange fruit is not to be missed. This fruit is commonly served with fresh sticky rice and coconut cream. My kids love eating mangoes.


Mangosteens are another fruit that you don't want to miss. This dark purple skinned fruit breaks open to reveal a fragrant white pulp. Be careful when the kids are eating this one as the purple peel can stain clothes.


Dragon Fruit has a pretty pink skin. Inside is a white flesh and tiny edible seeds. Your kids will enjoy sampling this unique Thai fruit.
Plan Your Family Holidays In Thailand Here!

---
---
Home

›
Thailand

›
Thai Food