12 Yummy Dutch Foods For Kids -Cuisine of the Netherlands!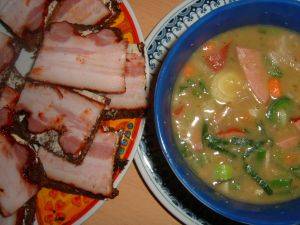 Stomppot, rijsttafel and vla are some of the best Dutch food for kids to try in the Netherlands. Dutch cuisine is heavily influenced from France and other European countries but it also has an influence from Asia.
Most kids will enjoy the tasty cheese, sweet or savoury pancakes and of course the frites (french fries with sauces). Pea soup is also a good option for children.
In Amsterdam you will find many restaurants offering food from around the world. There is also the usual fast food restaurants. FEBO is a popular Dutch fast food restaurant. It is a vending machine type cafe. Pop in your coins and you can enjoy krokets, frites and more!
Cultural Activities + Word Searches + Colouring Pages + Fun Travel Quizzes & More!

The Best Food in the Netherlands For Kids To Try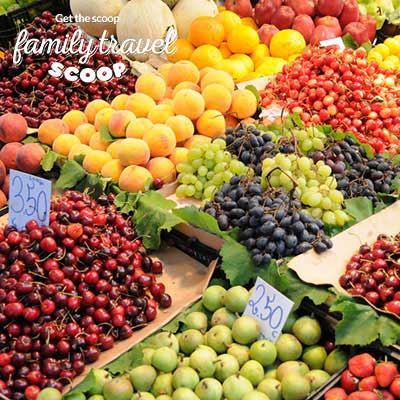 Pea Soup is especially good on a cold winter day. It is thick and chunky. This split pea soup is made with winter vegetables, bacon and sausage. Delicious!
Poffertjes are warm pancakes served topped with powdered sugar. The kids will love this.
Uitsmijter is a popular breakfast or lunch item. Bacon or ham is fried, then a couple of eggs are cooked on top and finally cheese is melted on top. Once it is cooked it is placed on top of toast as an open faced sandwich.
Stamppot is a popular Dutch food! It is a twist on the classic mashed potatoes. Vegetables such as carrot, spinach or kale are mashed together with the potatoes. It is often served with rookworst (smoked sausage).
Rookworst is a popular smoked sausage made of ground meat and spices. It is often precooked and then reheated in boiling water.
Kroket are deep fried morsels filled with various ingredients. A common stuffing is meat ragout.
Stroopwafel is a delicious snack served in the Netherlands. Two thin waffles are filled with a caramel flavored syrup. Stop by a bakery for one or look for a vendor making a fresh batch at one of the markets.
Haring Roll is a famous dish from the Netherlands consisting of raw herring and diced onion.
Rijsttafel is originally from Indonesia, however is now a common meal served in the Netherlands. It consists of many (usually 30-40) side dishes such as various rice dishes, eggrolls, satays, fish, pickles, nuts and vegetables. With all those dishes even your picky eaters will find something to eat!
Frites or french fries (chips) are found everywhere! These tasty fried potatoes are served with a delicious mayonnaise type sauce called frittesaus. You may also find them served with a curry mayonnaise sauce or peanut sauce.
Sweet or savory pancakes are another delicious treat to eat on your holidays. The savory pancakes are cooked with meat (sausage, ham, bacon) and cheese. The sweet versions are cooked with fruit and served with stroop (a caramel-like sauce).
Cheese is one of the famous products of the Netherlands. Most cheese are of the hard or semi-hard variety and include gouda and Edam.
Vla makes a great dessert. It is a custard served in many varieties. You can pick some up at the local supermarket.
Licorice is a popular candy found in the Netherlands. A salty licorice candy is a nice treat for the family!
Loempia is a tasty spring roll with origins in Vietnam. They can be served fresh or fried and can be filled with a variety of ingredients including meat, vegetables and spices.

More European Holiday info here!
Plan your trip to the Netherlands here!
---
| | |
| --- | --- |
| Netherlands w/Kids | Amsterdam Fun |

| | |
| --- | --- |
| Amsterdam Hotels | |
---
Home

›
Netherlands

›
Dutch Food