Delicious Cambodian Food -Cambodia Food Guide

Don't Miss these Yummy Local Dishes when you Visit Cambodia!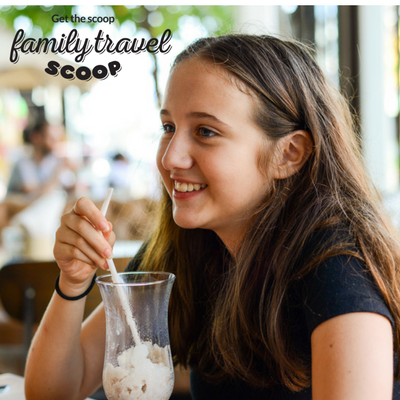 Photo credit: Serey Siv
Cambodia food is delicious! Your kids will find plenty of things to eat while traveling in Cambodia. Cambodian food, or Khmer cuisine as it known, is generally rice or noodle based dishes. Cambodia food is similar to food in neighboring Thailand and Vietnam, though not as spicy.
The influence of the French colonization and Chinese culture are both seen in the cuisine. Prahok or fermented fish paste is what usually signals a distinctly Cambodian flavor. Prahok is used primarily in rice based dishes and rarely in noodle dishes.
Fresh juices are a favorite with kids! Pretty much everywhere you go you'll be able to order juices, smoothies and shakes in all kinds of yummy combos! Watermelon, Pineapple and Mango are the most popular ones but there are lots of others too!

Fish sauce is also commonly used to flavor the dishes. Kroeung is commonly used to flavor the food as well. This is a blend of herbs and spices including Kaffir lime leaves. Lemongrass is another signature flavor of Cambodia.
Coconut based curries, stirfrys, soups and fresh fruits are some of the tasty dishes your family will enjoy in Cambodia. Chili is usually served on the side-so you can spice up your food as you please.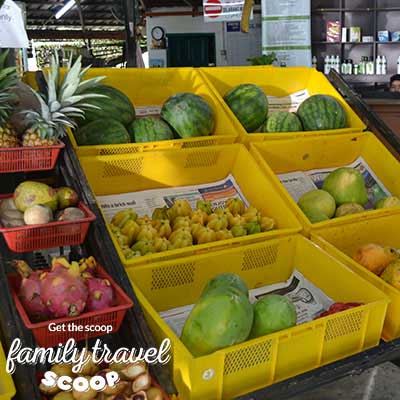 One of the best ways to introduce your kids to Cambodian food is to take a cooking class together when you visit. There are many restaurants and hotels that offer the classes, they usually include a visit to the local market, instruction on how to prepare the food, and then you get to eat your creations.


If you are traveling with picky eaters or if you want a taste of home, you will find many international restaurants (though no chain restaurants such as McDonalds but there is a Burger King and KFC) in the main tourist areas. Pizza is readily available in the main towns. There are lots of fresh bakeries and ice cream is readily available.


One of my favorite things to do when I travel with my kids is to head to a local fruit market and sample some of the delicious fruit. Mangosteens, sapodillas, pineapples, mangoes, rambutans are some of the best Cambodian fruits to sample!
Yummy Cambodian Dishes -Cambodia Food Guide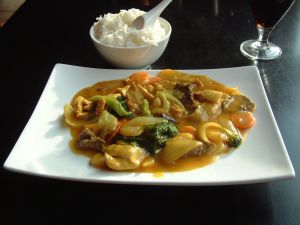 Curry Dishes are a popular Cambodia food. Most curries are made with coconut milk, meat, vegetables and spices. Delicious! Amok is the name of the local curries- try it with chicken, eggplant or pork!


Amok Trey is a common Cambodia food. It is coconut fish topped with kroeung then covered with banana leaves then steamed.


Ansom Chek will be a hit with the kids. This is a rice cake loaded with bananas and wrapped in banana leaves.


Bai Cha is a fried rice dish made with Chinese sausages, garlic, spices and soy sauce.
Satay is found everywhere with chicken, pork and beef options. Don't forget the peanut sauce!



Stir Fry is a commonly served dish consisting of meat (pork or chicken) and various vegetables. Ginger is often used to flavor the meal.


Khmer Chicken Soup is a great option for kids. This soup has a great flavor and is usually made with lemon or lime, garlic and coriander.


Spring Rolls are served 2 ways in Cambodia. Crispy or deep fried spring rolls are made with vegetables and/or meat (chicken, beef, pork). Fresh spring rolls are rice paper soaked in water and then filled with vegetables and/or meats. This is usually served with a sweet dipping sauce.


Sticky Rice and Mango is a delicious dessert for your family to try. The sticky rice is served with sliced mango. It is covered in shredded coconut and palm sugar syrup.


For the adventurous eaters you can sample crickets, tarantulas, frogs and turtles.
Other Asian food for Kids
Don't Miss Trying these Cambodian Fruits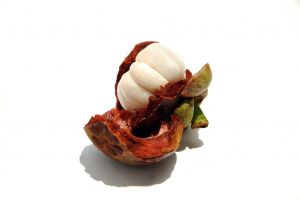 Mangosteens are a favorite for kids. These rich purple fruits break open to reveal juicy white flesh that can be eaten. Be careful when the children are eating this as the purple juice can stain hands and clothing.


Durian is known as the King of fruits. This strong smelling fruit is banned on most subway systems in Asia. You either love this or hate it!


Sapodilla is one of my favorite fruits. Try this one if you can. It looks similar to a kiwi, with brown rough skin. Inside is a sweet brown pulp that tastes like brown sugar and molasses and large black seeds.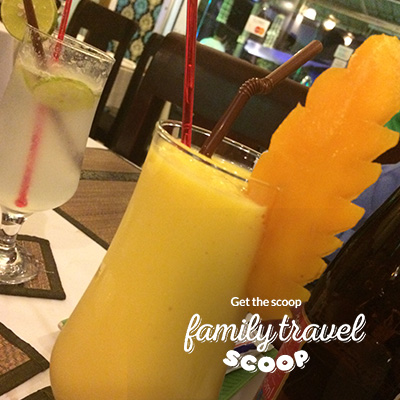 Pineapple and Watermelon are everywhere! Fresh juices are delicious and so cheap too!

Rambutans are a small red hairy fruit similar to a lychee.


Dragon Fruits are one of the prettiest fruits with a bright pink skin. Inside is a mild flavored white pulp with small edible black seeds.


Mango are one of the most delicious fruits in the world. Enjoy a fresh mango by peeling the skin and eating the sweet meaty fruit inside. If you are in Siem Reap try the cashew mango smoothie at Common Grounds! Yum!


Pomelo are a refreshing citrus fruit similar to a large grapefruit.


Saray tastes like a combination of an apple and pear. Crisp and juicy
Plan your family trip to Cambodia here!
---
| | |
| --- | --- |
| Cambodia with Kids | Siem Reap w/Kids |

| | |
| --- | --- |
| Siem Reap Hotels | Phnom Penh w/Kids |
---
Home

›
Cambodia

›
Cambodia Food