Delicious Balinese Food For Kids!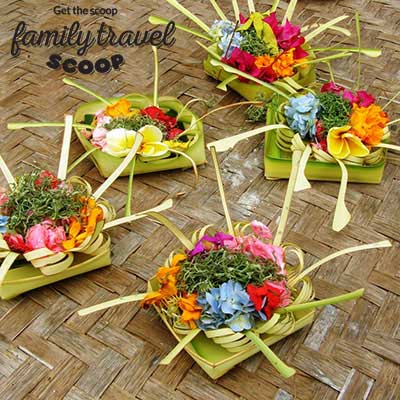 Are you ready for our Balinese food picks?
Many kids are picky eaters or weary of trying new foods when they travel. Not to worry though, Bali has lots of child friendly dishes!
Typical Balinese food is rice served with meat and vegetables and it is usually spiced with chili. You will see the rice growing in those gorgeous rice terraces around Bali. Grilled meats and fish also popular and are usually cooked over coconut husks giving them a tasty flavor.

Don't miss out on trying the delicious fresh fruit available at the local markets. Most restaurants serve fresh fruit juices such as mango, papaya, banana, watermelon and pineapple. My kids couldn't get enough of these delicious juices at the local restaurants.


Bali has a wide range of restaurants available from 5 star eateries to street food. And yes, there is the usual McDonald's, KFC and pizza(especially in Kuta) available if you are looking for some familiar foods!
Cultural Activities + Word Searches + Colouring Pages + Fun Travel Quizzes & More! 

Tasty Balinese Dishes Kids Love

Lumpia are fried spring rolls filled with meat, bamboo shoots and other vegetables. They are served with a sweet sauce for dipping. These were a hit with my children!

Nasi Goreng is the most popular food in Bali. This delicious dish is made of fried rice with vegetables and chicken or shrimp and usually served with a fried egg on top. Check with the server if you can order a less spicy dish if your kids are not used to spicy food.
Mie Goreng is similar to to Nasi Goreng but made with noodles instead
More Balinese Food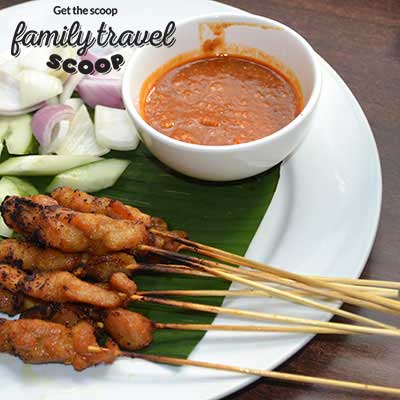 Satay Skewered marinated meat grilled and then served with a spicy peanut sauce. Chicken, beef and pork are commonly served in a charcoal filled pot to keep them nice and toasty!
Crispy Duck is a famous dish served in Bali. It is mouthwatering delicious! If you are in Ubud, check out the restaurant Tepi Sawah for the best crispy duck in Bali.
Soto Ayam is a spicy chicken noodle soup. This was one of my kids favorite meals!
Babi Guling is another famous Balinese food. This is roast pork (suckling pig).
Pisang Goreng are deep fried banana fritters. These make a great snack for the your children. Delicious!
Bubuh Injin is great for those family members with a sweet tooth. This is a black rice pudding dessert served warm. Made with rice, palm sugar and coconut creme.
Balinese Fruits!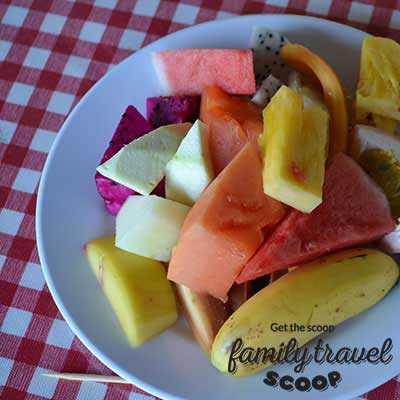 Durian is the world famous king of all fruits. This large fruit has a strong odor and has been said to taste like onions! You'll either love it or hate it.
Rambutans are hairy red fruits with a delicious sweet white flesh inside.
Sweetsop or custard apple is my favorite Bali fruit. This green bumpy fruit breaks apart to reveal a sweet white flesh. Don't miss out on this one!
Mangosteens are another delicious Bali fruit. Be careful when the kids eat this one though as the dark red outer skin can stain. Crack one open and eat the delicious white fruit inside.

Home

›
Bali

›
Bali Cuisine