Japanese Food For Kids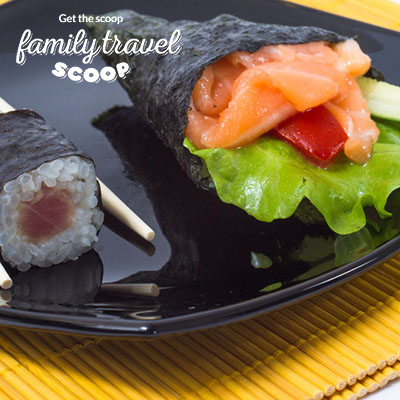 There are lots of delicious Japanese food for kids to sample when you travel to Japan. We are all familiar with sushi, however there are lots of interesting and tasty food in Japan that your family should try.

Chopsticks are commonly used in Japan. If your children don't know how to use chopsticks then pick up some at the dollar store before you go and have fun practicing.  Grab a bag of gummy worms and let the kids practice their skills.

Japanese food is known for using fresh seasonal items and being beautifully presented. Rice and miso soup are commonly served with meals.  Your family will have a great time sampling all the delicious food.
One of the great things about eating in Japan with kids is that most restaurants will have plastic food displays outside showcasing their menu, so the kids can see the different dishes offered.You can buy these fake plastic food at some of the toy shops. They make a great souvenir for the kids to bring home.

In most major tourist cities you will find all the usual international fast foods such as McDonalds and KFC. Pizza is also readily available.  Try some of the Japanese fast food chains such as Matsuya (curry),  Mos Burger and our favourite, Freshness Burger.
Cultural Activities + Word Searches + Colouring Pages + Fun Travel Quizzes & More!

---
More Food from Asia

---
Japanese Food Your Kids Will Love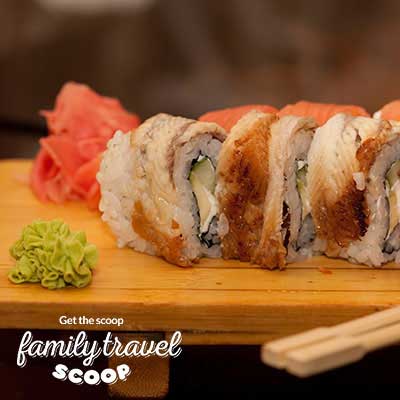 Sushi is of course served all over Japan and is delicious. This dish consists of rice topped with fresh raw fish or seafood or rolled into seaweed. If your kids don't like fish they have sushi made with cucumbers or other vegetables.
Miso Soup is a yummy traditional Japanese soup. It has a mild flavor and often has tofu, shitake mushrooms, scallion and seaweed in it. The soup is soybean and fish broth based.
Udon is one of the best food in Japan for kids.  It is a hot noodle soup with a mild soy sauce based broth. It is often topped with tempura or a fish cake and chopped scallions.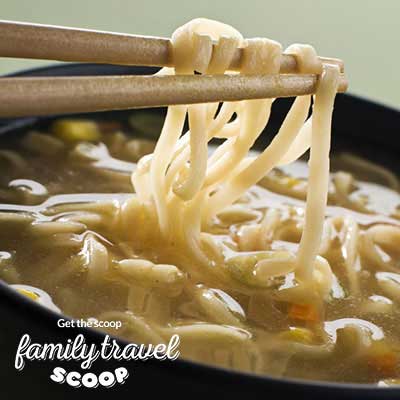 Yakisoba is a tasty food in Japan. This dish is fried noodles with pork and vegetables with a sweet sauce.   You will also find this in supermarkets and vending machines in a bowl version where you just add water. This is one of the yummiest Japanese food for kids.
Yakitori will be a hit with your picky eaters. This Japanese food is bite sized chicken pieces on a bamboo skewer that is then grilled. You can order this plain or with a soy sauce based sauce.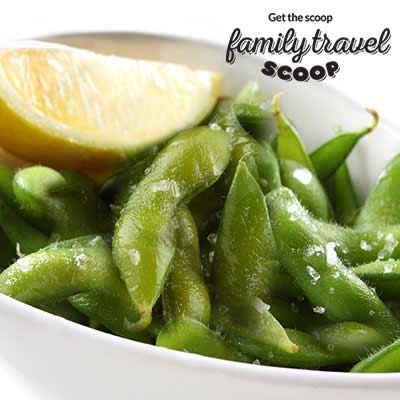 Edamame or soybeans are a popular snack in Japan. The soybeans are steamed in their pod and lightly salted. Grab the soybean by its stem and stick the whole thing in your mouth and pull the pod leaving the tasty beans behind. This are my daughters favorite!!
Tempura is another one of the delicious food in Japan. Shrimp or prawn is deep fried in a light batter. Vegetable tempura is also popular. Bell peppers, yam, shitake mushrooms and eggplant are commonly used. One of the best Japanese food for kids to try!
Tonkatsu is another great choice of food in Japan for kids. Pork is breaded and deep fried and is commonly served with rice and miso soup.
Green Tea Ice Cream may be a hit with the kids-but it wasn't with mine. The flavour was a bit too strong for their liking.  They did love the strawberry and banana crepes though.
Japanese curry is another great option when traveling here. Japanese curry has a unique flavor as it is made with honey and apples.
Plan your family holiday to Japan here!
More Asian holidays here!
---
Home

›
Japan

›
Japanese Food