Top 10 Caribbean Food for Kids
Don't Miss our List of the Best Food from Jamaica, Dominican, Bahamas and more! Yum!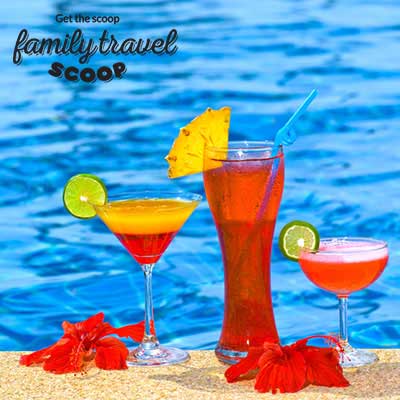 Traveling with kids to the sunny Caribbean? What Caribbean food for kids is available you may be wondering? In the Caribbean the food is always fresh with the added twist of local spices. It is soooooooooo good!

French fruit and tropical drinks are staples! Think pineapple smoothies! Fresh watermelon juice! Hello! These are so yum! Hotels and restaurants often create non-alcoholic drinks for kids too which is loads of fun! Teens love these! 
Rice and beans, chicken staples and plantains are some of the foods that are common across the Caribbean countries, however, each has their own unique twist and flavors!
Here are the top foods from the islands that you simply can't go home without trying. 
Top 10 Caribbean Food for Kids
The Very Best Bahamas Food for Kids 
Conch - Seafood in general is a must-try food in the Bahamas but if you have to choose then try the conch. Conch is a large marine mollusk and a staple food in the islands. The light pink flesh is packed with flavor and can be eaten raw with lime juice, as chowder, in a salad, as fritters, steamed or if you order you conch "cracked" it will be deep-fried. 
Jonny Cakes - The cakes are made with seasoned cornmeal and then pan fried. They are palm-size, crispy on the outside and soft on the inside. The bread is used to soak up all the juicy sauce in Caribbean dishes especially conch chowder or stewed fish.
Read more about Family Trips to the Bahamas here!
Yummy Cuban Food for Kids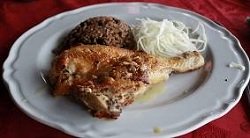 Black Beans and White Rice – Moros y Cristianos are packed with flavor and seasoned with black pepper, bay leaves and oregano. The staple meal gives you a good helping of carbs and protein and can be served as a main dish or side dish.
Ropa Vieja – This is a Cuban comfort food made with braised shredded meat or mince and mixed with garbanzo beans and potatoes all soaked in a tomato sauce. Red peppers, onion, chili, garlic, cumin and olives add to the symphony of flavors.
Delicious Curacao Food for Kids
Funchi – the Caribbean form of polenta is corn flour mixed with water and served with seasoning and a dollop of butter. Left over funchi is cut into cubes and fried to make a scrumptious snack.


Stoba – This is a stew prepared in a number of ways, with beef or even iguana meat. Fresh fruit (often banana or papaya) and cubes of beef or goat meat are cooked with pumpkin, plantain and potatoes and flavored with cinnamon, cloves and allspice.
Read more about Curacao here!
Dominican Republic Food for Kids
Boca Chica – This dish of fried fish and tostones is finger licking good! Red snapper is marinated in a mix of garlic, paprika, peppers and onion then fried and served with tostones – fried green plantains.
Sancocho – Beef, chicken and pork pieces are cooked into a stew with local vegetables like plantains, cassava, white yams, eddoes, onions and potatoes. Flavor comes from the coriander, lemon fruit, garlic, oregano and peppers.
Read more about Dominican here.
The Best Grand Cayman Food for Kids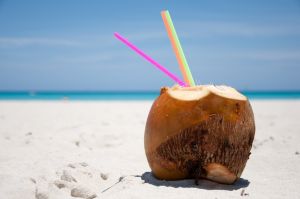 Cassava Cake – Cassava is also known as arrowroot, manioc or tapioca and in this dish it is cooked into a cake with coconut milk, brown sugar, vanilla, nutmeg, cinnamon and cloves. The aromatic golden brown cake is also called Heavy Cake.
Iced Coconut Soup – there is nothing like a dish of this chilling soup on a hot Caribbean day. Chicken broth, coconut milk, pepper and curry powder mix to make a flavor-packed cold soup served with slices of melon.
Read more about Grand Cayman Here!
Don't Miss this Jamaican Food For Kids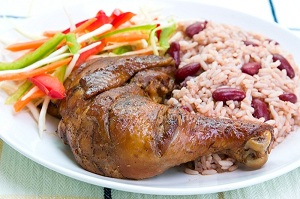 Jerk Chicken – Lots of spices (including allspice and Scotch bonnet peppers) are used to prepare the fiery jerk sauce. The meat is dry-rubbed then roasted over pimento wood. The result is a sweet and spicy treat. 
Jamaican Patties - Bite into one of these pockets of pastry to find spicy minced beef, lamb, chicken, lobster, cheese, fish or vegetable filling. The pastry is flaky and tinted yellow with Turmeric. 
So what did you think about our Caribbean food for kids guide? Do you have a favorite? Tell us on Facebook and share to us your favorite Caribbean food for kids!
More Food Facts for Kids
Home

›
Caribbean Holidays

›
Caribbean Food for Kids