Jamaican Food Your Kids Will Love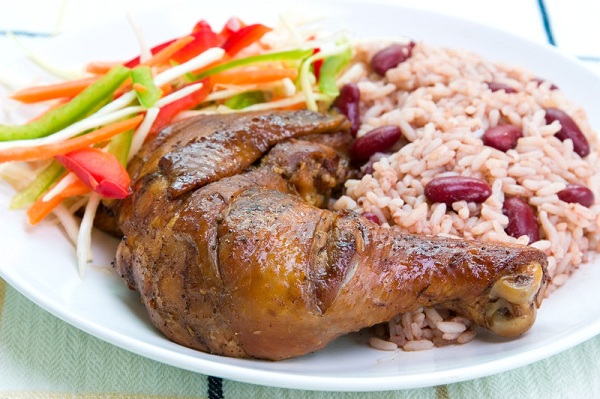 Jamaican food is delicious and a great reasons to visit to this stunning Caribbean island.   Fresh fruit straight off the tree or made into a refreshing juice is a must. Spicy meats right out of a steel drum or one of the savory patties not to be missed!
Jamaican Patties are going to be a hit with even your pickiest eaters. These flaky pastries are stuffed with a variety of ingredients such as beef, chicken, vegetable or cheese. Check out a

Juici Beef Patty

restaurant for a fresh one or wait for the beach vendor to pass by.
Jerk Chicken is my kids' favorite. Get it fresh from the steel drum vendors in the evenings with a few slices of sour dough bread. Be sure to check with the chef to determine how spicy it is first if your kids aren't used to spicy foods.
Chicken and Rice and Peas is a Jamaican staple-you will find it at most local restaurants. The chicken is usually fried with a side of rice and peas (the peas are actually kidney beans). Delicious!
Ackee and Salt Fish is Jamaica's national dish. It typically is served in the morning for breakfast with a side of fried dumplings. Ackee is a fruit that when cooked up looks like scrambled eggs. If your children don't like seafood ask the restaurant to make it without the fish.
More Jamaican Food for Kids
Mangoes are a must try in Jamaica. There is nothing like a juicy fresh mango picked straight from the tree.
Papayas are sweet and delicous in Jamaica. Stop by a roadside fruit stall and sample some of these.

Sweetsop is my daughter's favorite. This soft green fruit breaks apart easily to reveal sweet white pulp and big black seeds that is well worth the mess it creates while eating it. Soursop is a similar fruit that makes a delicious fresh juice.
Naseberry is my favorite. This brown skinned fruit resembles a kiwi on the outside but inside is a delicious pulp that tastes like brown sugar and molasses.
More Caribbean Holidays!
Plan your holiday in Jamaica here!
| | |
| --- | --- |
| Negril Attractions | Ocho Rios Fun |

| | |
| --- | --- |
| Mobay Activities | Is Jamaica Safe? |
Home

›
Jamaica

›
Jamaican Food
---