London Theatre Shows for Kids
Broadway Shows in the London's West End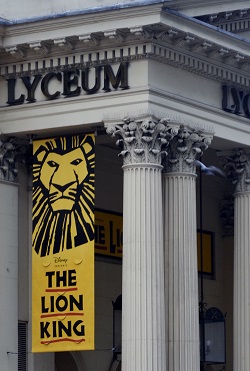 Seeing one of the shows in the theatre district is great entertainment for families.  There are lots of fun shows for kids!
London is paradise for theatre loves when arriving for a short visit there is usually only time to see one or two shows and so it's best to concentrate of on the famous productions. The added bonus with these shows is that they are presented in historic theatres which are an attraction in themselves. Here is a rundown of the most famous, most popular, best and most loved of London shows at the moment:
War Horse, New London Theatre, Drury Lane -

This is the story of a teenage boy during WWI whose beloved horse is sold into the cavalry, the boy is determined to find his horse and goes after him. The story is dramatic with music, actors and huge horse puppets. Although the protagonist is a teen the show includes scenes of death and war so is preferable for kids over 12.
Matilda, Cambridge Theatre, Earlham Street – Musical -

This story will delight both adults and parents, it tells the tale of little Matilda from the Roald Dahl book. Matilda is an imaginative, book-loving firecracker who challenges the adults around her, stands up for what she believes and takes her future into her own hands. Music, dance, comedy and a cast of youngsters makes this a great show for kids.
Jersey Boys, Prince Edward Theatre, Old Compton Street -

The musical biography of the Four Seasons through professional and personal trials and tribulations. The upbeat, colorful musical show has all the visual and audio ingredients of a show for the

young

but they won't really appreciate the nostalgia and there

is

some heavy swearing and sexual innuendos. Perhaps older teens that are into music will enjoy this one.
Billy Elliot the Musical, Victoria Palace theatre, Victoria Street -

A true family show about a kid with a dream overcoming obstacles to become a ballet dancer when his father would rather he play a "man's" sport. There

is

music, comedy, dance, a young protagonist and a worthwhile moral message. This show runs for more than 2 hours so kids need to be able to go the distance. There is also a fair amount of bad language so perhaps best for over 12s.
The Book of Mormon -

The creators of South Park and Robert Lopez (Avenue Q) present this

award-winning

musical which follows the adventures of two Mormon missionaries in Uganda. There are old-fashion-style big song and dance

numbers

but the subject matter is contemporary. No taboo is left unchallenged: sex, religion, AIDS and violence are all in-your-face, yet the show gets rave reviews. Not for the kids at all but kids in their late teens who are familiar with South Park may appreciate it.
We Will Rock You, Dominion Theatre, Tottenham Court Roam -

The iconic band, Queen, together with Ben Elton created this theatrical presentation of 32 of their songs. It is set in the future where rock music is banned. The storyline may be difficult for kids under 10 to follow, there is mild swearing and the story is not "about" Queen, it just features their music. Any

music loving

child will enjoy the show but probably best for over

12 year olds

. We Will Rock You is a musical featuring the hit songs of the iconic British band, Queen. The musical was written by members of Queen together with Ben Elton and it doesn't tell the story of the band but rather their music is used as a backdrop to a futuristic tale. 

The plot is set in the future when there is complete globalization, no originality and musical instruments are outlawed. The Bohemian Rebels form a band and

call themselves The Rhapsody and the show follows their search for Galileo, a guitar god who will lead them to a world where rock is accepted.
There are a few sexual innuendos, swear words, racy costumes and a style which make this show more suited to older children. Although tweens would appreciate it this show is really a gift to teens looking for "culture" in the West End that they can really relate to. 
We Will Rock You plays at the Dominion Theatre near Tottenham Court tube station. Ticket prices range from £16.25(standing) and £35.25 to £91.25 depending on the day and time of performance.The teen generation which expects instant, fast moving action and multifaceted entertainment will find the show captivating. They'll love the motorbikes, punkie hairdos and cool costumes.  Teens will probably also be familiar with the music and definitely the genre.
Thriller – Live, Lyric theatre, Shaftesbury Avenue -

This is a non-stop musical with dazzling costumes, pyrotechnics, the Jackson hits, dancing and songs by the King. It celebrates the career of the Jackson 5 and Michael. The show is officially recommended for over 5s and the great thing is that most kids will recognize the music. This is a dazzling musical which celebrates the life and career of Michael Jackson and the Jackson 5. Jackson's unforgettable and unique style of music and dance is brought to the stage including his many hit songs, familiar iconic costumes and dance steps. The show uses multi-media effects (huge digital screens, lasers etc), dynamic sets and bedazzled costumes in fact it is like attending a music concert.
The show is suitable for over 8s and the whole family will appreciate this show. With Jackson's career spanning 40 years his music bridges the generation gap between parents and kids. Even if your kids are unfamiliar with Jackson (which is unlikely) the upbeat show will keep them entertained. From the early scenes of young Jackson and his brothers to the later highlights in Jackson's career the show is uplifting. The audience is encouraged to join in the celebration at one point in the performance which really gives the evening a party feel.
The mix of familiarity with the protagonist, interest in the music and the showmanship of the presentation will keep both adults and kids transfixed. The fact that Michael Jackson is part of such recent history and was alive during the live time of all family members is another factor that makes this a winning family show. Thriller is on at the Lyric Theatre, London near Piccadilly Circus tube station. Ticket prices range between £27.5 and £85 depending on where you sit.
The Lion King, Lyceum Theatre, Wellington Street -

This is an award winning adaptation of the Disney classic, music by Elton John, extraordinary costumes and special effects makes it an overall winner for family entertainment. If you are in any doubt about what London show to see with your kids this is a sure bet however no children under 3 years of age are permitted in the theatre!
Phantom of the Opera, Majesty's Theatre, Haymarket Street -

Andrew Lloyd Webber's masterpiece tells the love story of a "Phantom" hiding his physical appearance from his love, a young protégée. A dramatic, colorful and musically brilliant production which will best be appreciated by older teens with sophisticated musical and theatrical tastes.
Wicked, Apollo Victoria Theatre- 

The untold story of the witches from the Wizard of OZ, two student witches meet at Sorcerer's University and they evolve into the famous witches from Oz. Under 3s are not admitted to the show and it is recommended for over 7s. Great family fun with fun costumes, special effects, characters kids know from the Oz and an uplifting musical score.
Fun Things to Do in London with Kids
Home

›
United Kingdom

›

London Attractions

› London Theatre Shows