Delicious British Food For Kids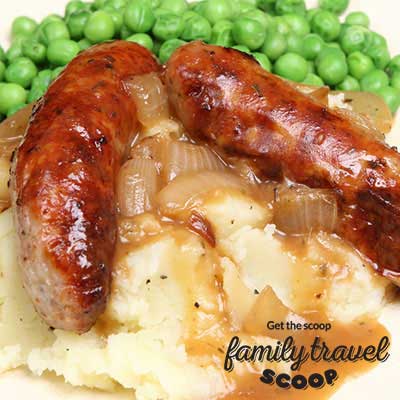 British food is known for its comfort style, pub grub dishes. Fish and chips and roast dinners are popular dishes. You will however find lots of international restaurants from around the world. Curries are now rumored to be the most popular British foods! Your kids will find lots of tasty dishes to try when your family travels to the UK.
There is of course the usual fast food restaurants such as McDonalds, KFC and pizza available everywhere. You will also find lots of shops offering all kinds of different sandwiches as well as savory pies (great for a picnic in one of the beautiful parks!).
The candy (or sweets) are a must try for kids heading to the UK. Stop at a local sweet shop and the kids will love trying the delicious treats. Galaxy chocolate is delicious- they make it with real cream. The kids will also love jelly babies, chocolate buttons and jelly tots.

Best British Cuisine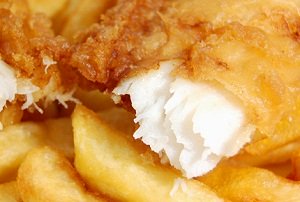 Roast Dinner is a popular meal served in England. This is roast meat (beef, lamb, turkey etc) served with roast potatoes and vegetables and covered in gravy. It may be accompanied by Yorkshire puddings which are light, airy muffins made from batter.
Fish and Chips is sure to be a hit with the kids. Battered and deep fried fish (usually haddock or cod) served with French fries. Douse it in malt vinegar and ketchup. Yum! This is one of the best British food for kids to try. Many chippies now serve things like fried Mars bars - I personally think this is a tad too far but..obviously some people are eating it! British culinary skills at the best:)
Mushy Peas are often served as a side dish with fish and chips. Dried peas are soaked overnight then simmered with sugar and salt and often green coloring. This creates a thick lumpy soup. You either love them or hate them! I love them -my kids hate them! :)
Steak and Kidney Pie is another popular pub dish. This savory pie is filled with diced beef, kidney, fried onions and gravy. Yum!
Bangers and Mash will surely be a hit with the kids. Sausages served with mashed potatoes and sometimes topped with onion gravy.
Start your day of sightseeing with a traditional English Breakfast consisting of eggs (scrambled or fried), sausage or bacon, baked beans, mushrooms and half a tomato.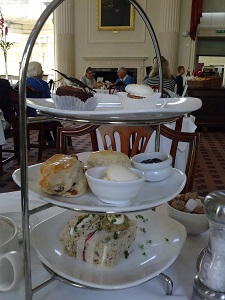 Afternoon Tea is a fun experience for your children. Get dressed up and enjoy afternoon tea just like the Queen does! Many upscale hotels and restaurants offer this. You will be served a pot of tea alongside finger sandwiches, scones, jam and delicious Devonshire cream as well as some mini cakes. We love this -it is so much fun and so yummy! A real UK culinary experience! Check out our favorite at The Royal Garden hotel in London or the Pumphouse in Bath!
Want to learn more about British food facts for kids? Download the Fly it Quiet British Travel Guide for kids full of cultural activities and British country facts and games!
More articles to read!
Home

›
United Kingdom

›
British Foods