FREE printable luggage tags for the kids when you sign up for our newsletter! Plus we share our best travel tips!
✕
Bankside Area London -with Kids

Explore this London Borough -2017 Family Guide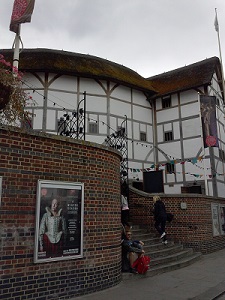 Bankside Area London is a district in London's Borough of Southwark on the southern bank of the River Thames east of Blackfriers Bridge and up to London Bridge.
This is one of the oldest areas in London, during Shakespeare's time it would have been alive with a bustle of activity around the Globe Theatre, bear-baiting pits and other theatres. The area became the hang out of low-lives and a hive of brothels. In the 19th-century Bankside because a hub of industrial factories and warehouses which have now been converted into trendy venues. Bankside's colorful character and history has made it a vibrant and trendy hub for culture, cuisine and an eclectic mix of architecture. The area can be explored on foot, follow the quirky lanes and streets along the river bank and take in the sites. You can reach Bankside via the London Bridge, Southwark and Blackfriers tube stations.
Although Bankside is an urban area it has many pockets of greenery and urban parks. Potters Fields Park runs from the City Hall to Tower Bridge along the south bank of the Thames. The Riverside Walk runs along the south bank of the Thames offering great views of St. Paul's Cathedral and Blackfriers Bridge as well as picnic areas, recreational areas, green lawns, eateries and play areas. There are many art galleries and small unique eateries and shops. The overriding impression of Bankside is one of a community that promotes individual expression of creativity and is enthusiastic about life.  
Behind the Tate Modern is Bankside Mix, a compact group of small eateries serving delicious food. Inside the Tate there is a restaurant with brilliant views across the rooftops of London. You can find all styles of cuisine in Bankside including Feng Sushi where they serve up Japanese food, the Wright Brothers Oyster & Porter House and the 24/7 CanteenM. Nearby is Vinopolis, 2.5 acres of wine, food and hospitality where you can taste wines and visit the Whisky Exchange. Bankside is home to several historic pubs like The George, The Anchor and The Rake which is the city's smallest pub.
Bankside is a great place for finding unusual and unique stores and specialty shops like the Konditor & Cook which sells delicious cakes and the Wine Pantry which is the world's only wine shop which sells only English wine.
Bankside Area London Attractions
Shakespeare's Globe – A theatre has been built on the site of Shakespeare's Globe theatre, the architecture and style of the original Elizabethan structure has been faithfully recreated and productions are regularly staged here using the styles and methods of Shakespeare's Globe.
Rose Theatre – This theatre dates back to 1587 and is still being excavated. Here you can see a light and sound presentation and a large model of what the Rose would have looked like when Shakespeare's company performed here.
Golden Hinde – Docked at Pickfords Wharf is the ship which took Sir Francis Drake around the world in 1577-80. Tours are conducted by costumed guides and you can even stay overnight on the ship.
Borough Market – This colorful market is located under a series of railway viaducts, it is a huge gourmet food market with more than 70 stands. The produce on offer comes directly from the farms. You'll be able to sample the delicious food on offer. We tried the delicious brownies for sale-yum don't miss these!
Menier Chocolate Factory – This is an up-and-coming theatre housed within a former chocolate factory, you can often catch West End "transfers" here, productions which were previously at West End theatres.
Tate Modern Museum – Housed within the impressive former Bankside Power Station this is one of the world's best modern art museums. There is currently an amazing Matisse exhibition on -read more here.
The Shard – The ultra-modern 244 meter high bullet-shaped building has an observation deck, The View from which you can see over the Thames and the skyline of London.
If you want to go further afield then Bankside is less than a half hour walk to other attractions like the London Eye, the Garden Museum and the National Theatre. To learn more about Bankside visit www.visitbankside.com

Bankside London Restaurant Reviews
Enjoy a lovely meal at the Real Greek, in Banksideexcellent food and views at reasonable prices!

Fun Things to Do in London with Kids
Home

›
London

›
Bankside