London Rock Tours

Beatles Ticket to Ride Night Tour
London Rock Tours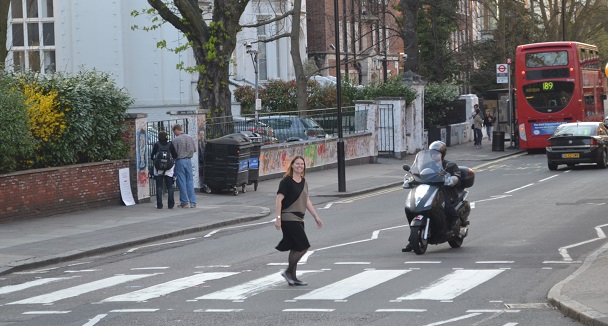 Calling all Beatles Fans!! London Rock Tours are awesome! You don`t want to miss out on this fun tour celebrating England`s most famous band (no not One Direction)!  Share with your children the original boy band`s famous history!  Stop by John Lennon`s London Home, walk across the famous Abbey Road and see some of the studios that they recorded at!

The Access All Area's mission statement is to "identify, preserve, protect and promote the UK rock Heritage" and they do this by providing an extensive variety of music related rock tours of London. The rock tours take you to the places where famous musicians have lived, died, made films, performed and partied.
They cover a wide range of rock music genres and artists whose careers have spanned from the 50s to present day. No matter what your taste in music they have a tour to suit you and you'll see sites which you would otherwise not know about.
The tour guides all have a passion for music and most have either been musicians or seen some of the great artists featured live in concert and even performed with them. You could say that the guides themselves are rockers. On the tours you'll hear gossip, anecdotes and trivia about the famous musicians of London. Our guide Mike was so funny and charming-he was a passionate music fan and full of great stories!
Tour Options


The company covers many genres of music and has a tour for every musical inclination.
Tour options include:
Classic Rock and Beatles
Sex, Drugs & Rock 'n' Roll
 Monsters of Rock
Pink Floyd's Cambridge & London
 A Ticket to Ride – Beatles by Night
Experiencing Hendrix in London
The Rolling Stones 50th Anniversary
 Punk & New Wave
 Queen, "We'll Rock You"
Long & Winding Road, Beatles 50th
Climbing the Charts
 Golden Oldies and more
So you can see homes where the stars lived, hotels where they trashed rooms, recording studios and familiar movie locations. Some of the stars covered in the tours are Bowie, Elton John, Geldof, Hendrix, Led Zepplin, Lennox, Madness, Madonna, Queen and many, many more.  Your teenagers will love it!
The Ticket to Ride Night Tour (£30 adults/£22.5) takes place from April to September between 6pm and 8:15pm. The tour leaves from the Original Tour Visitor Centre at 17-19 Cockspur Street, Trafalgar Square and covers 35 Beatles' sites. The sites covers 50 years of the Beatles' careers and include Paul's house,  photo locations for album covers, clubs where they performed and the art gallery where John and Yoko met among other sites.
Rocking Teens


Somehow when traveling with kids it's the teens that are hard to please, nothing seems cool enough or modern enough, but this attraction will have teens that love rock music tapping their feet. These days with all the electronic gadgets which put music at the kid's fingertips teens are very music savvy and from the wide range of tour options there's sure to be one which interests your teen. If there's a particular genre that your teen loves which isn't covered in one of the tours the company can tailor-make a private tour for you.

The Details

The Access All Areas is located at Mayfield House, Wooburn Green, Bucks, to contact them visit the Access All Areas website. The average price of rock tours is £32.50 for adults and £22.5 for kids under 12 years old.
More family travel info!

Fun Things to Do in London with Kids
Home

›
United Kingdom

›

London Attractions

› London Rock Tours