FREE printable luggage tags for the kids when you sign up for our newsletter! Plus we share our best travel tips!
✕
London Dungeons

Fun things to do in London with Kids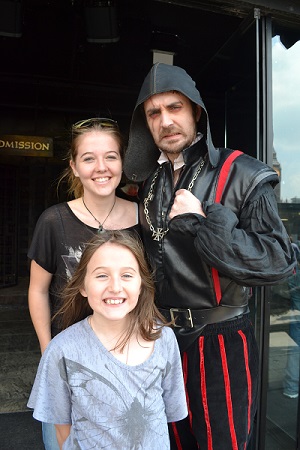 The London Dungeons are a fantastic place to visit with kids! They will love this spooky interactive experience highlighting some of London`s most memorable characters.
The new venue is both entertaining and educational, although you'll be thrilled and spooked you'll also learn about some of London's macabre history. The Dungeons are a walk-through experience with special effects, audio, sets, props and real live actors.
There are 18 "shows" performed by 20 costumed actors who take on the roles of Sweeney Todd, Jack the Ripper and other infamous characters. A costumed guide, dressed up like a scary historic figure, takes small groups through the Dungeons from show to show, in all this takes about 90 minutes. The visitors become part of the historic scenes as they step into the sets and are surrounded on all sides. Of course this means that creepy characters could jump out at you at any moment.  My kids love screaming in fright as we went along.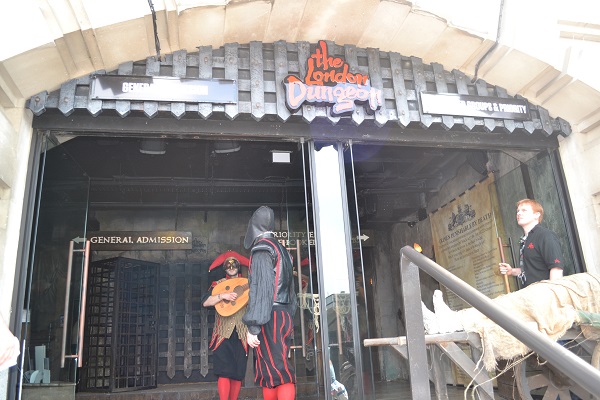 Part of the journey takes you through the fearsome labyrinth of Whitechapel lanes known for their crimes, poverty and plagues 100 years ago. You'll also enter torture chambers, meet Guy Fawkes and the Judges of London.
Within the Dungeons are several theme rides like Henry's Wrath, a boat ride on the way to the Tower of London for execution. Another thrill of the Dungeons is the Drop Dead Ride to Doom. You get to experience the gallows and drop down from the hangman's noose as used in 1783 in Newgate Prison. 

Every spine chilling experience in this place is planned to educate as well as thrill starting with the descent into the Dungeons. The descent is made in a rickety old elevator together with a leper and you'll learn about whether the disease is contagious. In the plague house you'll learn about the 1665 Black Plague, the rats and rotten bodies as well as people who were buried alive. In fact on the London Dungeon's website they list what you will experience and what you will learn from each show. This is definitely more than a theme park and not quite a museum, but something in the middle!

Dungeon Late

Leave the kids with a sitter and enjoy this late night show and tour of the history of London. You can buy drinks, and mingle with the cast in the Dungeon's bar after the show which must be booked online for £20. 

As the website says the Dungeons are fun for everyone "except very young guests and wimps!" Tickets to the Dungeons are £24.60 for over 16s, £22.5 for students and £19.2 for under 16s. If you book online at the London Dungeon's website the tickets are £2 cheaper and you get a timed entry so you don't have to wait in line when you get there. There are also Combo tickets available with other London sights.
The Dungeons are open daily from 10am-5pm, from 11am on Thursdays and during the holidays they stay open until 7pm. Be careful of where you get your information as after 40 years at the same location the London Dungeons have moved and now they can be found at County Hall, Westminster Bridge Road.
Fun Things to Do in London with Kids
Home

›
United Kingdom

›

London Attractions

› London Dungeon