St Ermin's Hotel -Kid-Friendly London Hotels

Family Luxury In London - Perfect for Families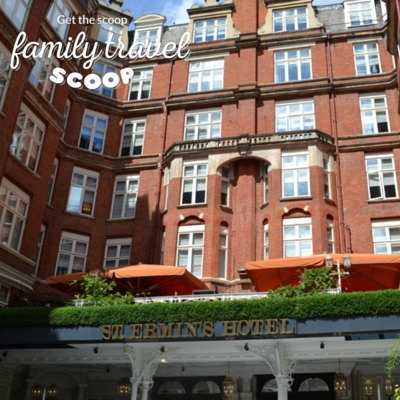 Looking for a kid friendly London hotel? St Ermin's London is the one!

St. Ermin's Hotel is a 4 star deluxe hotel which offers accommodation as well as public rooms, restaurants and bars (I have stayed in a lot of hotels and this is 5 star in every way!). The hotel philosophy is that a hotel is more than just a place to lay your head.
They offer public areas to spend your time so that you might not even want to leave. There is a welcoming lobby, a library lined with antique books and there are 15 individually designed venue and meeting rooms.
The hotel has been created out of the Ermin Mansions built in 1889 and guests are surrounded by history; it was even the venue where Winston Churchill met with Special Operations Executives in WWII and was the site of M16 quarters and spy dealings in the 1950s. Together with the history the hotel has all the mod-cons you could want.

Among the hotel amenities there are Internet booths with printers, a state-of-the-art gym, library, 24 hour front desk, 24 hour room service, in-room MP3 docking stations, multi-national electrical sockets, valet parking and free WiFi.  The hotel rooms feature crisp quality linen, luxurious soft furnishings, fluffy bathrobes and pampering toiletries.
Yummy Food at St Ermin's London
The hotel has an award winning restaurant, Adam Handling at Caxton Grill. The food is simply exquisite. A real treat for parents- why not get a babysitter for the evening and enjoy! It is just a wonderful array of colour and tastes! Adam is a rising star and this is the restaurant everyone is raving about in London. Adam is a culinary genius! Parents, don't miss this for a lovely date night out!

Alternative eating venues are the Caxton Bar and Caxton Terrace. Breakfast can be either full-English, continental or "wake and take" coffee and muffin served in the lobby.
In the hotel's Tea Lounge you can indulge in a traditional English Afternoon Tea. On the roof top the hotel keeps hives with 300,000 bees which provide honey to the hotel kitchens.

St Ermin's Hotel for Families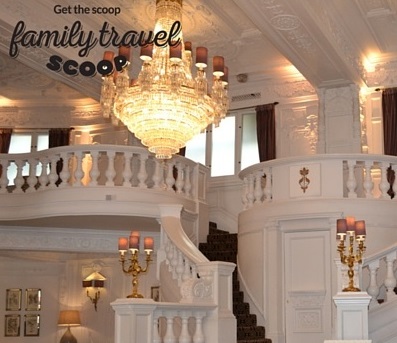 Families get a few complementary extras like the iSpy for St. Ermin's Pack for each child. The pack celebrates the hotel's spy history with puzzles, codes to break, ID cards and alcohol-free "shaken not stirred" cocktails at the hotel's Caxton Bar. Families can also loan Playstations and games from reception.
The free WiFi connection is up to 1mb and for greater bandwidth there is a ₤8 daily charge. Babysitters are available if booked 24 hours in advance. The tree-lined front courtyard is a great place to run around.
Kids can join in the Afternoon Tea experience with the Busy Bees Afternoon tea. The kids' tea includes delicious treats inspired by the hotel's bees. There are chocolate and honey comb brownies, hazelnut and bee pollen cake and savory treats. The Busy Bee Afternoon Tea includes a visit to the bee hives on the roof (viewed from a glass gallery).

The Family Room has two queen size beds, two en-suite bathrooms and a day bed. The rooms can accommodate parents and three children or four adults. The Deluxe Family Room is slightly smaller and can accommodate a family of four. Alternatively there are suits and deluxe suits. Ask about the hotel's upgrade program; for an additional ₤50-₤100 you could be upgraded from a room to a suite.


Details

Website: St. Ermin's Hotel
Contact: +44 (0)20 7222 7888
Busy Bees Afternoon Tea: ₤12.5 must be ordered in advance with an adult afternoon tea. Available daily in August and on weekends throughout the year.
Home

›
United Kingdom

›

London hotels

› St Ermin's Hotels