Giraffe Restaurants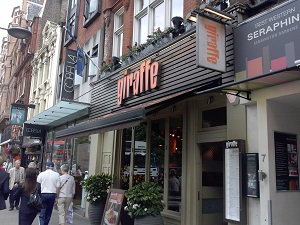 Giraffe is a chain of eateries throughout the UK which serves up an eclectic menu of delicious dishes.
The restaurants have rapidly become one of the most popular chains in the UK having first opened in 1998 and in 2013 they were taken over by Tesco.
The multiple award winning restaurant has 55 outlets in the country with 15 of them in London. The food is freshly prepared with top quality healthy ingredients and offers a wide range of cuisines for reasonable prices.
The key to Giraffe's success is their solid policy of serving up freshly cooked food with an emphasis on hospitality and making every meal an occasion. The atmosphere is relaxed and family-friendly.
There is always feel-good music playing and the staff seems to have been trained to smile! Why the name Giraffe? Well giraffes see the world from above and get a different view of the world, they have the largest hearts out of all land mammals and one of the founders had always dreamt of having a business called giraffe! The food and music come from around the globe.
Giraffe menus have something for everyone and many special deals. They have food for those with allergies, vegans, vegetarians, gluten free and those who want only organic ingredients. Among the quality ingredients are Irish-reared beef and mature cheddar cheese as well as plenty of fresh vegetables.

Their Lunch for Less offer gives you a hearty meal for £6.75 Monday to Friday 12 to 5pm. The Feel Good Dinner Menu lets you choose a starter and main for £10.75. Giraffe sells takeaway lunchbox meals.
Giraffe for Families

Kids get served first and with lots of love and attention. They are given coloring books, balloons and other small treats to keep them seated. The décor and atmosphere with its cool music keeps kids interested long enough to enjoy a relaxing meal. There is pushchair parking and tables with plenty of room. The restaurant has a kids' menu and you can get a mini-main with a drink for £5.65. The kids' menu has foods which looks like fast-food to kids like a kid's burger (£4.35) or all-beef hot dogs (£5.50) but they have been made with the finest ingredients and have healthy elements sneaked into the dish. There are many healthy options on the menu and like a caring mother they seem to have added as many vegetables as possible to each meal! You can even order a glass of milk, organic porridge for breakfast or a bowl of fresh cut fruit for dessert. The many regular deals at the restaurant make it economical for the parent's meals as well, for example, Good Morning Brekkie for £5; Steak Express for £9.95 from 5pm on Wednesdays and 50p take-out coffee on Wednesdays before 10:30am.
Locations: With 62 locations in the UK you should check out their website!
Open Hours: Mon-Thurs 08:00-23:00, Fri 08:00-23:30, Sat 09:00-13:30, Sun 09:00-23:30
Fun Things to Do in London with Kids