Warner Brothers Harry Potter Tours 
Warner Bros. Studio Tour in London England- Let the Wizardry Fun Begin!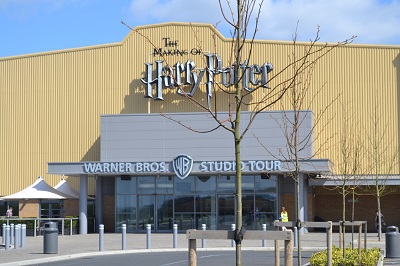 If your children have anything in common with most children in the western world then they've fallen in love with the Harry Potter films and books.
So what better attraction to visit than the actual studios where the epic films were made. Visitors can see the actual sets, costumes and props from the films and learn "behind the scenes" facts and insider information.
Learn about how the effects were done and even take part in reenacting some of them. See how the animatronics were achieved and how the creative technical side of the films was mastered.
As the website says "secrets will be revealed." This is not a theme park but rather a real look at what went into making the movies.
Warner Brothers Harry Potter Tours
The Studio Tour is located at the Warner Bros. Studios Leavesden where the Harry Potter films were made over the course of 10 years. The original sets, costumes and props are still there waiting for visitors.
An experienced guide will take small groups around the studio explaining where Harry Potter scenes were filmed and how.
Among the things you can see on the tour are a number of the original sets like the Great Hall, Dumbledore's office and others.
You'll be able to walk down Diagon Alley, see the shop fronts and visit the Gringotts Wizarding Bank. Among the props on show are Harry's Nimbus 2000 and Hagrid's motorcycle.
More About Warner Brothers Harry Potter Tours!
The Studio Tour lasts about 3.5 hours but you can stay as long as you want. Tickets to the tour are according to a time and date and you need to arrive 20 minutes before your tour begins. There is no minimum height restriction and the tour is suitable for all ages. Although under 4s enter for free they still require a ticket (so the organizers know how many people there will be). It is possible to take pushchairs and buggies into the attraction.
Each child needs to be accompanied by an adult and adults can be responsible for up to 6 children. A family ticket can be for up to 2 adults and 2 children but could also be 1 adult and 3 children. Tickets need to be booked ahead of time so that you can reserve a time slot. Once you've booked your tickets you just need to arrive at the allotted time with your booking number or confirmation email. For all information you can visit the Warner Bros. Studio Tour website or call 08450 840 900.
Tickets for the Harry Potter Studio Tour cost £29 for adults, £21.5 for kids aged 5-15 years and a family ticket costs £85. Although tickets must be booked for a specific time and date if you are unsure when you will be visiting it is possible to buy a gift ticket.
The studios which are a little outside of London can be reached by train from London's Euston station (20 min.) or Birmingham New Street (60min.) which will take you to the Watford Junction station near the studio. There is a shuttle bus from Watford Junction station to the studio (15min. for £2). Alternatively there is a coach transfer from London to the Studio Tour run by Golden Tours which leaves Victoria Station at 8am, 11am and 2pm daily. The price of the transfer includes entrance to the Studio Tour.
Fun Things to Do in London with Kids
Home

›
United Kingdom

›

London Attractions

› Warner Brothers Harry Potter