The Real Greek, Bankside UK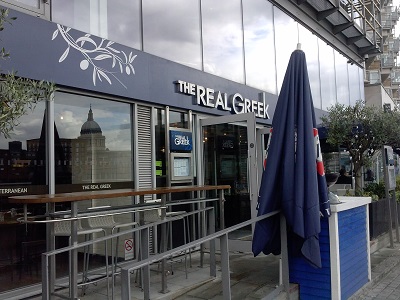 The Real Greek is a popular restaurant among locals, visitors and even Greeks! The biggest selling point of this dining establishment is the wide variety of freshly cooked Mediterranean cuisine using top quality ingredients and at reasonable prices. And let me tell you it is delicious!
The restaurant serves up authentic Greek dished like Moussaka, souvlaki, sharers and mezedes. The restaurant has a kids' menu, party menu and a lunch, dessert and main menu. Some of the favorite Greek and Eastern Mediterranean dishes include classic side dishes like hummus, olives, crudités, Greek flatbread, tzatziki and dolmades. Main dishes include lamb cutlets, halloumi and veg skewers, bikteki and calamari.The service was friendly and helpful. Our waiter carefully explained all the choices available and gave us great recommendations! All items are served on layers and stands and it offers a great selection of different tastes and textures!

The restaurant offers souvlaki wraps with pork belly, chicken, lamb, halloumi or falafel for under £6.25. There is a set menu for £29.75 which includes a huge meal of seven items from the menu. All the Real Greek menu items are labeled so that you know if they are vegetarian, vegan or gluten free. The calorie count for each dish is also listed (even on the kids' menu). The restaurant is licensed and has a wide selection of wines and spirits including classic Greek ouzo tsantali and several Greek wines and spirits.
The restaurant décor is modern and clean-cut with use of white, dark blue, grey, stainless steel and wood. There are large windows letting in natural light and an outdoor eating area with views of the Thames.
The Real Greek for Kids
The kids' menu costs £6.75 and includes many choices of healthy main dishes as well as a soft drink and sorbet or ice-cream. Although the kids' menu still has a Greek flavor with lots of Greek foods there are also several options like chicken and chips which will appeal to the less adventurous palates. When young diners get their Kids' Menu they will find a coloring section where they can create their own flag. Then they can enter the weekly Kids' Coloring Competition.
Location: 1&2 Riverside House, 2a Southwark Bridge Road, Bankside, London. The restaurant is conveniently located next to the Globe Theatre and in an area where there are several attractions including the Tate Museum. The Real Greek has branches in Windsor, Marylebone, Covent Garden, Westfield London, Spitalfields and Westfield Stratford City as well as Bankside.
Open Hours: Mon-Sat 12:00-23:00, Sun 12:00-22:30
See the Real Greek website here!

Fun Things to Do in London with Kids
Home

›
UAE

›
Real Greek