10 Simple Hacks to Baby Proof your Hotel Room

Keep your Little Ones Safe this Holiday

Are you ready for your baby's first vacation? Baby proof your hotel with these tips! Understandably, many parents worry and may even feel overwhelmed – don't worry, its only natural and we have all been there!
If you are planning a hotel stay and are wondering what you can do make your visit a happy and safe one for your infant, you have come to the right place! Here are a few tried and true suggestions to put your mind at ease.
Check with the Hotel
Creating a safe environment is almost a parents job description, and yes, it can be done in a hotel room. To begin, you will need to plan ahead. Many hotels are happy to cooperate with you and accommodate you any way they can. Take advantage of this when planning a stay with your baby.
Ask the hotel in advance if they have any rooms set aside designed to accommodate the needs of parents with infants. They may suggest taking a room on the ground floor, where there are no balconies.
Others offer cribs, high chairs, nightlights or locks for cabinets and the like. This is a good start to getting your room baby-proofed! See our baby travel accessories page for great travel cots.
More Family Travel Articles
More Baby Proof your Hotel Tips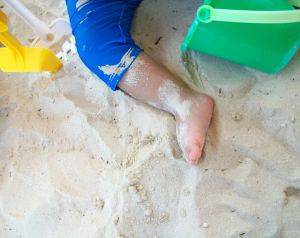 Be Prepared
The next line of defense is basically up to you. In many ways, prepping a hotel room for your child is much like child-proofing your home. With that in mind, here is what we found.
Before you leave, you will want to pack a few of the items listed below. Other parents have found these to be invaluable when baby-proofing a hotel room.
· Cabinet locks (if the hotel does not have them available)
· Doorknob covers
· Rubber bands (used to tie back curtains, cables and other wires and just about anything you don't want within your baby's reach)
· Table and other sharp corner covers (if you don't have these on hand, try duct taping a washcloth to the corners of a table- works just as well!)
· Outlet covers
At the Hotel
Well, you have finally made it to the hotel! Now you can put your excellent parenting skills to work and baby-proof your hotel room. Here again are a few suggestions from seasoned travelers/parents.
· Check EVERYTHING! From drawers and cabinets to the floor – especially the floor!- be sure there is nothing within your baby's reach that could be potentially harmful. Many parents who have traveled with their babies will tell you its worth getting on your hands and knees to scope out the room and make sure its safe.
· Bring an extra sheet with you to lay on the floor if your little one wants some crawl time.
· Move the furniture around if it makes things easier for you and safer for them.
Once your hotel room is baby-proofed, you can relax. Enjoy the time you have to spend with your little one and the rest of the family – memories are just waiting to be made!
Have any tips to baby proof your hotel? Share on our facebook page!
More Tips for travel with Babies
Home

›
Getting organized for Travel

›
Baby Proofing