Best Hotel Kid's Clubs

Kid's clubs can range from unsupervised rooms with a few toys to non stop action packed clubs with cultural activities, children's menus and doting staff. Trust me, you want the latter!

Yes, while we do go on family vacations to spend time with our munchkins, we also deserve a moment or two of floating in peace in the swimming pool without having our kids doing cannonballs beside us! Having a romantic dinner, while the kids are well taken care of, is a nice bonus too!

When the kids are happy, everyone's happy, that's why it is so important to make sure your hotel or resort has the best kid's club on offer. Here are our pics of some of the best clubs around. Now most hotels offer painting, toys, T.V., video games etc.
So we have chosen only the really extraordinary and unique activities and perks that these hotel kid's clubs offer.

---
Other pages you may like!
Our Favorite Kid's Clubs

The Breakers, Palm Beach, Florida
The Breakers, Palm Beach, Florida -Parents Magazine named this as the number one child-friendly resort in the USA and rightly so. In addition to the Kid's Camp, there are also child and parent activities organized. The ratio of care giver to child is 1:5.
The activities are both indoor and out. There is a Family Entertainment Center close to the dining room where kids can safely play while they wait for their parents to finish eating. There is also a Junior Golf Academy and a tennis Academy.
There is the Coconut Crew Interactive Camp which focuses of education, health and relationship building and the Coconut Crew Night Camp. The cost of a camp "season" includes lunch and lasts for 3.5 hours.
Age Groups:

3-5 years; 6-12 years.
Golf Academy from 6years up.
Tennis Clinic from 3 years and up.

Extraordinary Activities:

Golf and tennis clinic.
Family Entertainment Center adjacent to dining room.
Coconut Crew Night Camp 17:30-21:00

Night Camp $65USD.
Kid's Club 3-12 years old $20USD per hour
Club Med, Bali
Club Med, Bali -Club Med is a trusted name in all-inclusive resorts worldwide, Bali is no exception. What you read here you can probably say goes for most Club Meds where ever they are in the world. The Pajama Club provides a babysitting service in the evenings for young babies, at a fee.
From about 4 years old the kids get to participate in some awesome water sports and activities. Passworld is the teen zone at Club Med and they also have Junior Club Med with a space to hang out or take part in activities.
Kid's get to try out things like trapeze at the circus schools, kayaking, face painting, archery and much more! Kid's participate in show in the evening like a fashion show, production of a play (it was Peter Pan when we visited!) and much more!
Age Groups:

4 months-23 months, Pajama Club, babysitting service at a fee
4 months-under 2 years, Baby Club Med

From 2-4 Petit Club Med
From 4-11, Mini Club Med
11-18, Junior Club Med and Passworld

Cost:

Club Med is an all-inclusive resort




Extraordinary Activities:

Many or should I say most of the Club Med activities are free as are meals and other extras
Staff are plentiful and always in a good mood!

Hours:

Baby Club 09:00-19:30
09:00-21:00 for older kids



Loews Coronado Bay, San Diego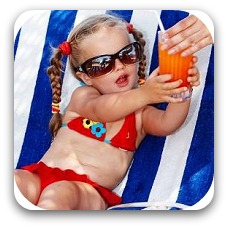 Loews Coronado Bay, San Diego -The Loews kid's program is called SoBe Kid's Club. Also voted as one of the best beach resorts in the US here even your teenagers are taken care of in a teen-lounge and teen spa with specific teen interest items like music downloads and on-call entertainment.
The kid's club offers Fisher Price toys, a lending library and among the standard activities also camping.
Age Groups:

3-6; 7-9; 10-12; 13+ in the teen lounge.

Cost:

Starting price $40USD for half day session (4-12-year-olds).

Extraordinary Activities:

Lending library
Tours
Complimentary gift bag for kids on arrival

Hours:

Full day and half day activities.
Ritz-Carlton, Grand Cayman
Ritz-Carlton, Grand Cayman -With the 7 mile beach right next door and the hotel's Ambassadors of the Environment this will be both an entertaining and relaxing family vacation.
The kid's program was formulated with the help of Jean-Michel Cousteau and takes advantage of all the surrounding natural resources like the sea, mangroves and coral reefs. Kids choose 6 out of 40 daily activities each with its own focus and target age group. The sessions are in the morning, afternoon and even in the evening up until 9pm.
Parents can choose whether to join their kids on their adventure. Some of the 40 themed activities are getting up close and personal with green sea turtles; fun with the sun; eco-chefs; traditional Caymanian craft and a submarine adventure in the resort's Atlantis XI submarine which submerges 100 feet beneath the sea. An amazing hotel kid's club!
Age Groups:

Cost: • Starting at $65USD per session.

The same high standard is maintained at all the Ritz-Carlton resorts and hotels, on deserving special mention in the Bahrain Ritz-Carlton which includes gym facilities for the older kids.

Extraordinary Activities:

Wide choice of themed adventures including explorations into the surrounding environments and a focus on the environment.
Yoga for kids 4-12 years old during the summer
Golf and tennis clinic.'

Hours:

09:30-12:30; 14:00-17:00; 18:15-21:00



Sea World Resort, Gold Coast, Australia
Age Groups:

4.5-12 years old
Younger kids (under 4.5) can participate if they are accompanied by an adult

Extraordinary Activities:

The evening sessions include a movie and meal

Hours:

Supervised evening meal from 17:00-21:00, 15:00-17:00; 19:00-21:00

Cost:

$10AUD per hour on weekdays
$23AUD-$33ASD for a session on weekends
Grand Wailea, Hawaii 
Grand Wailea, Hawaii  -This place has a large (20,000 square feet) Camp Grande for the kids, it includes a pool; play kitchen; movie theater; game room; sandcastle building and nature walks.
There are also night camps which include dinner. Most families don't make it to the beach due to the ample activities and attractions in the resort! The poolside workshops do activities like necklace making, tie dye and woodwork.
Age Groups:

Extraordinary Activities:

Activities introduce kids to local Hawaiian crafts and tradition
As far as I can gather the Camp Grande facilities are open to all guests.
Kids under 13 must be accompanied by an adult

Hours:

09:00-12:30; 12:30-16:00; 17:00-22:00
Camp Workshops beside the pool from 10:00-16:00

Cost:

Camp Workshops full day $125USD; mornings $75USD; afternoon $65USD
Night Camp $95USD
If you have more than one child there are discounts (2-3 kids 15% off, 4-5 kids 20% off; 6-7 kids 25% off and 8 or more kids 30% off!
Smuggler's Notch, Vermont
Smuggler's Notch, Vermont -This club makes the top of many "best club" lists, it is a ski resort which operates all year. The resort provides ski lessons for kids as young as 2.5 years old!
When the weather is warmer there are kid's camps which include swimming, hiking, biking and theater. Treasure is the younger kid's zone at this resort where adults really do need to have kid-free time in order to ski.
Age Groups:

6 weeks-3 years; 3-6; 7-10; 11-14; 13+

Extraordinary Activities:

Ski lessons for kids in winter (December-April)
Parties for teens and teen center. Outer Limit Teen Center (no adults but with supervision)
Teen Alley for 13-15-year-olds
One way mirrors for parents to check up on kids

Hours:

Full day programs
Teen centers 17:00-12:00

Cost:

$66USD 6 weeks-2 years approx. per day including lunch
$25USD approx. 3-5yrs. 

Discovery Dynamos Ski Camp full day including lunch
Heron Island Resort, Australia
Heron Island Resort, Australia -This resort is located in a place with plenty of natural wonders in the nearby including indigenous wildlife and aquatic life, coral reefs and beaches. So when the kids go off to the Junior Rangers Program they get to explore these natural wonders together with a qualified ranger.
The program was developed in conjunction with the Queensland Research Station and marine biologists. The program is aimed at environmental activities and adventures into nature.
The Junior Rangers get to go on reef walks, bird watching and beach-combing. There is even a turtle tracking and tagging activity in season. Kids earn badges for each mission they complete and get a hat and workbook. This is a really interesting kid's club but would only appeal to kids who are interested in nature.
Age Groups:

Extraordinary Activities:

Free hat, badges and workbook
Exploration into the nearby natural surroundings i.e. reef walks

Daily programs. Seeing as the cost is a 

onetime

 fee, the hours are less critical




Cost:

One time $65AUD registration fee!
Money goes to the Queensland Turtle Conservation Program.
Note: Club only operates during the Australian school holidays.
Home

›
Best Attractions

›
Best Kid's Club
What is your favorite? Share on Facebook!