Under the Desert Moon Dinner

A Gastronomical Feast under the Stars at Kings Canyon Resort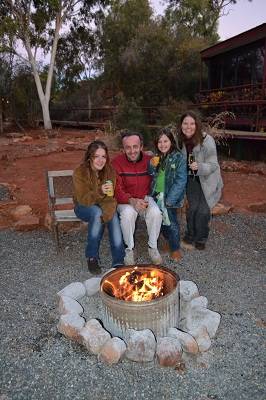 Experience Australia under the Desert Moon!
Tucked away in the Northern Territory, Australia is Kings Canyon. This is a spectacular area of Australia often missed out as people visit Uluru, and then move on, but it can be easily incorporated into your itinerary! Don't miss a trip to see Kings Canyon National Park, a visit to the resort and a breathtaking feast under the stars on your nexr Australian vacation!

As a special treat for mum and dad- do not miss the Under the Desert Moon Dinner at Kings Canyon Resort. This was a truly spectacular evening and one we will never forget!
Go first to the sunset viewing point and enjoy a glass of wine at sunset before you head to the Desert Under the Moon Dinner.

Guests meet at 6:30pm and make their way to this intimate dinner venue -accommodating no more than 8 couples!
A fire is set and you can enjoy champagne around the fire before you start. We had our kids with us here before Alex and Francesca went on to enjoy a pizza together (we are lucky we have a daughter old enough to babysit!)!
It was July so pretty chilly at night so be sure to bundle up if you are enjoying this feast in the winter! Having said that, there were plenty of heaters etc around so it wasn't too cold!
Things to do in the Australian Outback
A Six Course Extravaganza

We really enjoyed the scrumptious food at the Kings Canyon resort dinner. I tried kangaroo, emu and crocodile for the first time!
We started with a variety of appetisers including my favourite a baramundi and ginger gyoza! Yummy. This was followed by soup with crocodile wontons inside. The presentation was amazing as well!
Next we were served kangaroo bonbons! This was a sweet kangaroo entree wrapped in filo pastry served with a blue cheese aioli. This was followed by a delicious, light, tangerine sorbet.

I chose the Cape Grim Tasmanian Beef for my main course and it was superb and perfectly cooked! It was served with an emu pate, kipfler potato and an onion jam! Delicious! Giampaolo had the Northern Territory baramundi with scallops coked in paper bark and I pinched a scallop which was amazing too!
The wines accompanying every course were perfect and made the meal extra special (and kept us warm!)


Dessert at the Under the Desert Moon Dinner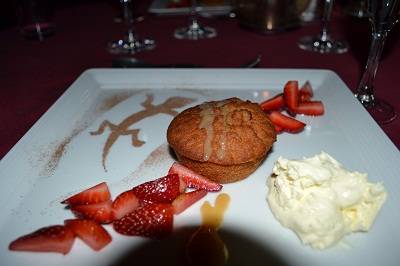 Oh my, the dessert was lovely and the perfect ending to a wonderful meal! Strawberries, cream and a delicious sticky tart. This was accompanied by a lovely dessert wine.
During the meal we were well taken care of by the staff and the young chef came out to say hello as well. After dinner you could retreat to the fire again but we headed back to check on the kids who had a fabulous time as well!
Don't miss this if you are on a Kings Canyon vacation!

Read more about this fabulous resort.

More Travel Tips About Australia

Australia

›
Under the Desert Moon Dinner at Kings Canyon Resort